Are you looking for the best remote desktop connection manager?
Then you're in the right place.
As a System Administrator, it is common to establish multiple RDP connections on a day to day basis. You may also make other daily connections like SSH or telnet to manage and troubleshoot network equipment.
To manually establish these connections over and over again is a major pain.
How many times a day do you enter in your credentials? Somedays I could end up making 50+ connections a day. That's 50+ times I manually enter in my credentials to make a remote connection.
This is why I started using a remote desktop connection manager.
It saves me time and is much more efficient.
Let's take a look at some of the best remote connection managers.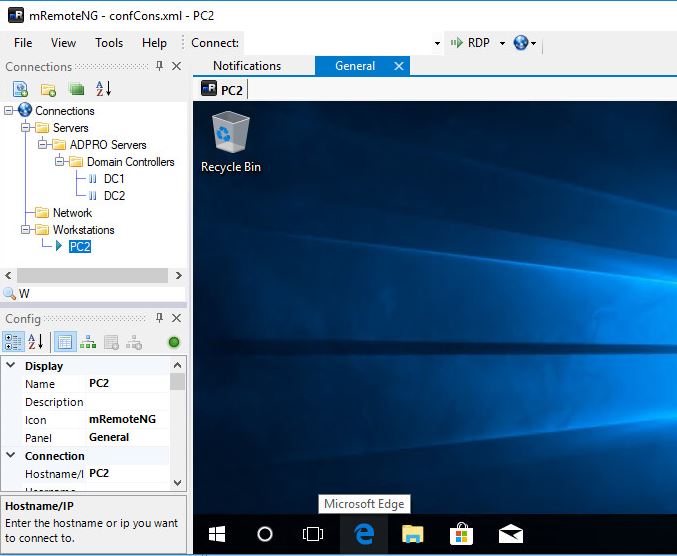 mRemoteNG is a multi tab remote connection manager. Just like RDCman it is a centralized tool that manages connections to remote systems. mRemoteNG has many features that RDCman does not have such as the ability to manage different connection types.
In addition to RDP, it supports VNC, ICA, SSH, Telnet, RAW, Rlogin and Http/S protocols.
The tab feature comes in handy when you open multiple sessions and need to jump back and forth between them.
More features include, easy to organize and maintain a list of connections, store credentials for auto logons, importing from Active Directory, fullscreen mode, allows for grouping and nesting folders, and more.
I really like this tool, it is easy to use and has a clean interface. I can group together all server connections and create separate groups for all other types of connections like SSH. MRemoteNG is also a very popular Windows SSH client and has a tabbed interface.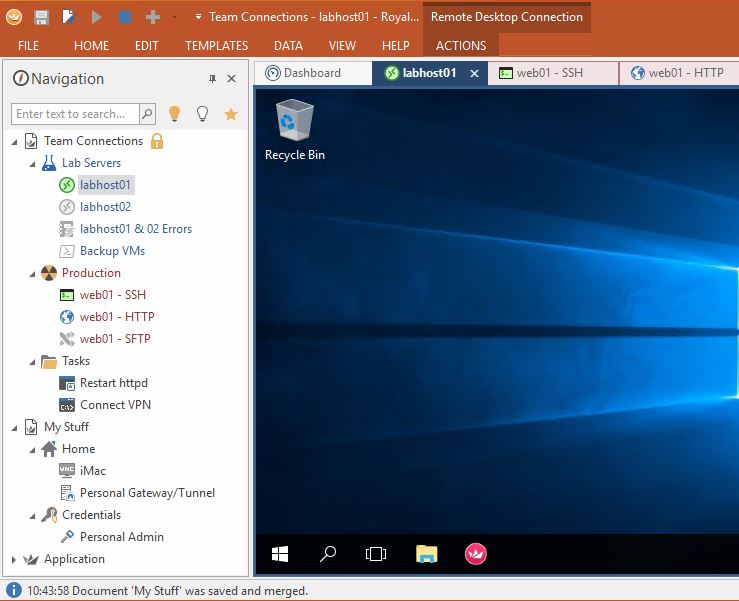 RoyalTS is a connection manager that supports a variety of connection types such as RDP, VNC, SSH, S/FTP and web based interfaces.
It includes a built in credential manager, team sharing options so you can share a list of connections.
You can also automate tasks like command sequence and streamline workflows.
When researching connection managers, RoyalTS kept popping up on searches and in forums. It appears to be a popular choice by other System Admins.
I personally found it to be a bit clunky and complicated to get started. It does have a lot of features that other connection managers do not have but I just found it difficult to get started compared to other products.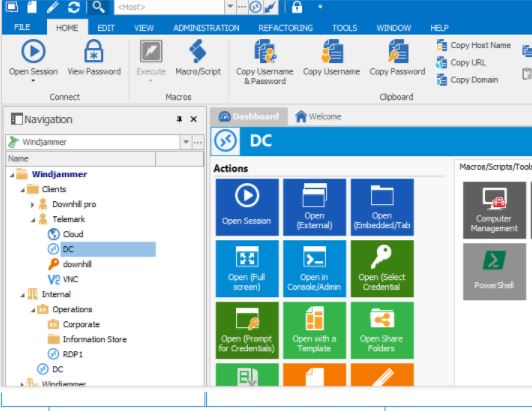 Devolutions is another centralized connection manager that can handle different protocols and centralize credentials You can even integrate existing password managers such as keepass and lastpass.
This product includes a two factor authentication features. This will enforce two successive steps of authentication to grant access to the data source.
It also has the ability to manage desktops and servers with a mobile application. Devolutions comes in a free edition and paid edition. The free version is good for standalone users, the enterprise is best for teams.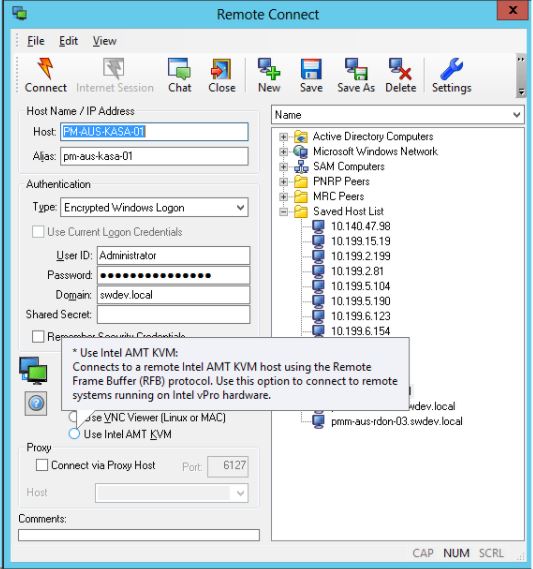 Damware is a tool primarily used by help desk staff and support technicians to easily establish connections with end user devices.
The main difference between this and an RDP connection manager is it allows the screen to be shared. With RDP the remote system will log off so you can't share the screen with the end user. That's why RDP managers are best for servers.
Damware is supported on multiple platforms and allows remote control of Windows, Linux, and Max computers.
Additional Features
Chat message to communicate with remote users
Built in screenshot tool
Secure file transfer
Lock end users keyboard
Remote Wake on LAN
Remotely edit BIOS settings
Active Directory integration
and much more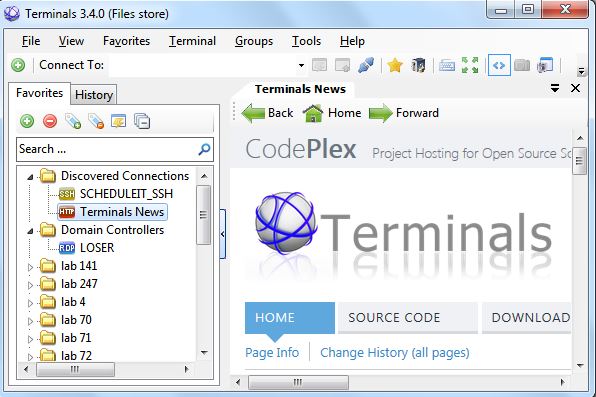 Terminals is a multi tab remote desktop manager that supports several protocols such as RDP, VNC, SSH, Telnet, Citrix, HTTP and HTTPS.
Key features include a multi tab interface, open terminal window in full screen, resizable windows, connection history, customizable toolbars and search.
Terminals also includes several network tools such as ping, tracert, wak on lan, port scanner and who is. This can come in handy for some basic troubleshooting.
Terminals is an open source project and is currently not under development. It does still work on Windows 10.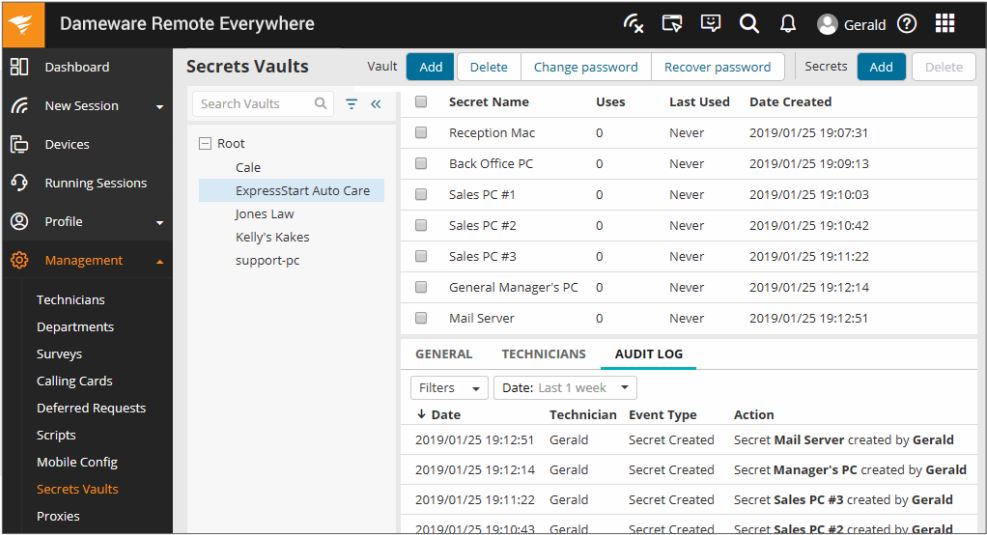 Dameware remote everywhere is a cloud based remote support solution that allows IT professionals to access nearly any platform (Windows, Mac, Linux, iOS and Android).
Remote everywhere allows you to quickly gain remote access to systems that are on premise such as users in the office or remote workers like when they are at home, at a hotel, or anywhere with an internet connection. The cloud based web portal makes it easy to manage connections and support remote workers. This is a great tool for helpdesk or any IT professional that needs to remotely support end users.
Key Features:
Session recording
Hide wallpaper and screen blanking
Screen sharing and multi-monitor support
Organize and manage connections
Live chat and video conferencing
Built in troubleshooting tools
Remotely restart and shutdown devices
and much more.
Final Thoughts
Each remote connection manager has its pros and cons. To find what best fits your needs I recommend downloading and trying them out for yourself. I personally use mRemoteNG and Damware mini remote control.
I use MremoteNG to manage RDP server connections and ssh connections to network switches. I like that it has a clean interface it's simple to use and is not bloated with extra junk that I don't need. I can also share the connection file with my team to make the whole team more efficient.
Helpdesk and my team use DamWare to connect to end users desktop and laptops. It allows us to remote shadow end users systems to troubleshoot and assist with any issues they have. With its wide range of features, it's a great tool for end user support.
That's all. I hope that this list helped you find a remote connection manager for you and your team. You may also want to see check out my list of Active Directory Tools.