Active Directory Reports
The AD Pro Toolkit includes over 200 pre-built Active Directory reports
AD User Reports
Security and compliance reports
Groups & GPOs
Active Directory User Reports
Active Directory User reports provide administrators with detailed information about the user accounts domains and sub-domains.
The Active Directory reporting tool easily reports on all active users, disabled users, inactive users, find users last logon time, recently created or modified users, and more.
The AD Pro Toolkit includes a comprehensive list of pre-built user reports for Active Directory. Create user reports for security and compliance requirements.
---
Active Directory Security Reports
The reporting tool includes password status reports, bad password attempts, create last logon reports, accounts that have security issues, password policy reports, and so on.
These reports will help you with your compliance and regulation requirements. For example, do you need to report when users last changed their password? Click on user reports and select the "Users password last set date" and click run. It is that easy.
---
Automate Active Directory Reports
By using the built in scheduler you can automate reports and have them emailed to your inbox.
Define which report to automate, and select the schedule (daily, weekly, or monthly)
Select the email receipts
Select the report parameters
This is a huge time saver and eliminates the need to manual create those reports that you need on a regular basis.
Included Active Directory Reports
The AD Pro Toolkit includes the following AD Report categories.
User Reports
User reports are grouped by general, password status, account status, logon status, and account options.
Computer Reports
Computer reports are grouped by general, account status, OS, and last logon.
Group Reports
Create reports on Active Directory security groups, distribution, local, global, and universal groups.
Group Policy Reports
Report on all GPOs, recently created or modified, link not enabled, security and WMI filtered GPOs.
OU Reports
Quickly report on all GPOs, recently created or modified, protected and not protected OUs, managed and unmanaged.
AD Security Reports
Report on admins with old passwords, logon status, password changes, inactive users, account options, and more.
Active Directory Reports FAQs
How do I get reports from Active Directory?
Active Directory is a database that contains objects such as users, computers, groups, and organizational units (OUs). You can organize these objects into OUs to make them easier to manage and utilize a structure for defining permissions and roles.
Over time the objects in Active Directory can contain a lot of information. For example, a user account can have an address, street, phone number, email, display name, city, state, and so on. Trying to review each object and create a report is complicated and very time-consuming.
The AD Pro Toolkit offers AD reporting tools that simplify the process of creating reports on the objects in your Active Directory domains. For example, to create a report on all users and their group membership it would only take 2 mouse clicks. This report will query the Active Directory database for all users and get their group membership details along with other account properties. This would be complicated to do with PowerShell or other scripting tools.
How does the AD Pro Reporting tool work?
The AD reporting tool utilizes Microsoft API and LDAP to query the domain for objects, permissions, and account details. For example, if you select the "Disabled Users" report the tool will query your AD for accounts that have been set to "Account is disabled". The tool will display details such as the account name, status when the account was created, and when the account was changed. All of these details are stored in the AD database that the tool can pull down to create an easy to read report.
These reports will help you with compliance and auditing requirements. In addition, they will help you to better understand the objects that you have in your Active Directory domain. Over time, you can end up with thousands of objects in your domain, some of which are no longer used or needed. The reporting tool can help you report on these objects and find the ones that are no longer in use.
How do I create a report of Inactive users?
When a user authenticates to the domain the lastlogonTimestamp attribute is updated for the account. This attribute can be used to find inactive users in your domain.
Click on User Reports – > Inactive users for 90 days.
Note: You can also select from 120 days or use the AD Cleanup Tool to enter a specific date.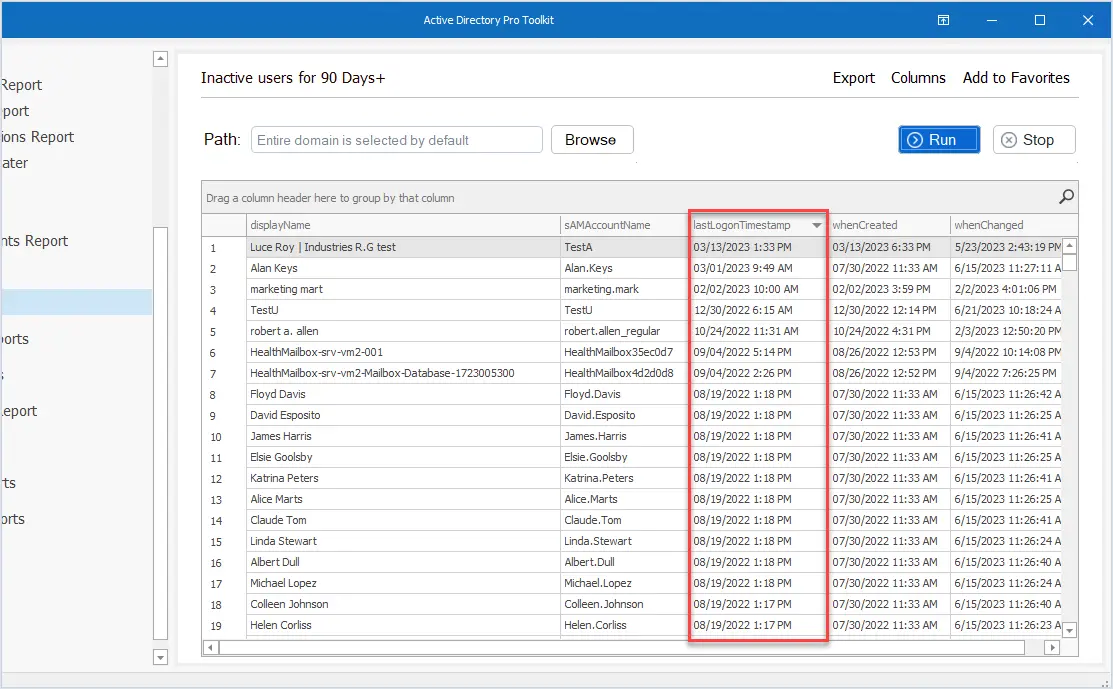 How do I download a report from Active Directory?
From the AD Pro Reporting Tool click on the export button and select your format.
For example, to export all enabled users to CSV click on User Reports -> Enabled users and click run. When the report is finished click on export -> Export to CSV.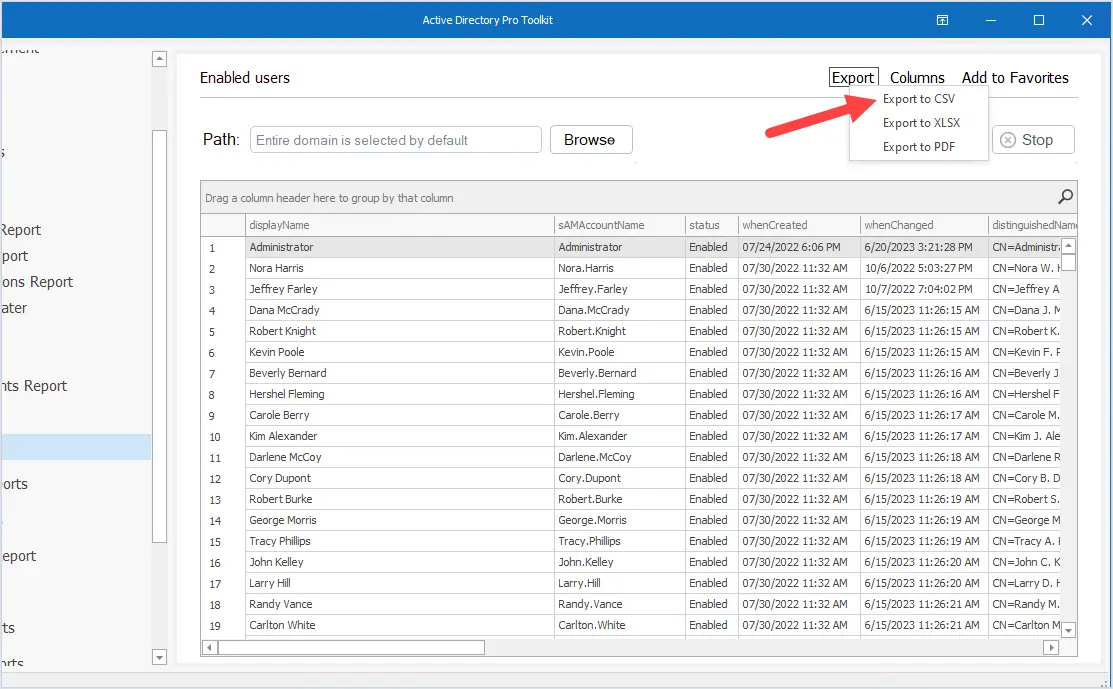 Related Tools
Try The AD Reporting Tool for FREE
Join thousands of IT professionals using the AD Pro toolkit to generate reports and simplify Active Directory management tasks.