The
All-In-One

Active Directory Toolkit

Avoid the administrative gaps created by native tools with the all-in-one toolkit created to manage critical
Microsoft AD environments and make your job simpler.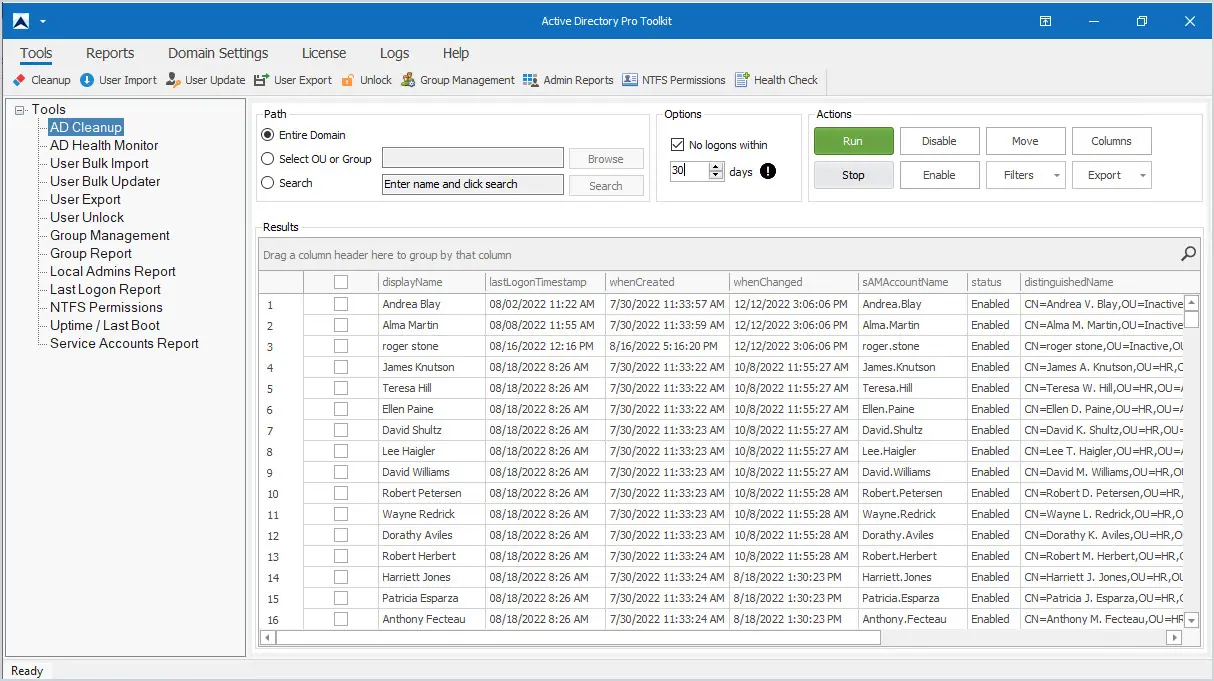 "Our Active Directory was a huge mess. We used the AD Pro Toolkit to find unused computer accounts and disabled them. We started with over 900 computers and found 300+ inactive accounts."

Brian Stillwell – Sr. System Administrator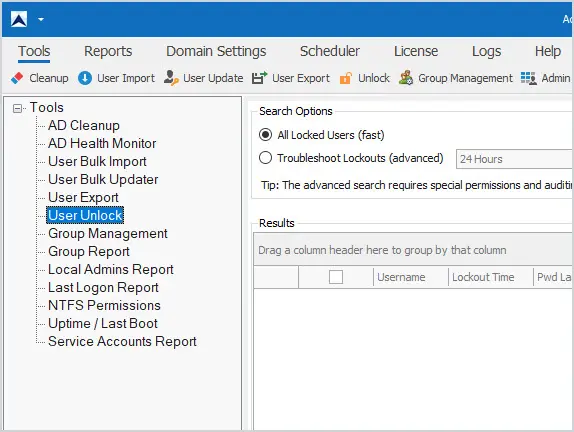 Management Tools
The AD Pro Toolkit is a collection of Active Directory Management Tools to help you simplify and automate the management of Active Directory. Bulk import and update user accounts, check domain controller health, find inactive users, report on local admins, troubleshoot account lockouts, and much more.
Go from manually creating hundreds (or thousands) of users to bulk actions that save you hours of work and free up your schedule to focus on critical IT tasks instead.
Over 200 Built-in Reports
Find the data you need to deliver accurate reports without getting trapped in the time-sucking task of creating PowerShell scripts to do the job for you. The built-in Active Directory Reporting software contains over 200 reports on users, computers, group policy, OUs, and security.
Whether you're working with HR, payroll, or marketing, AD Pro offers the all-in-one toolkit that makes your job easier and more efficient.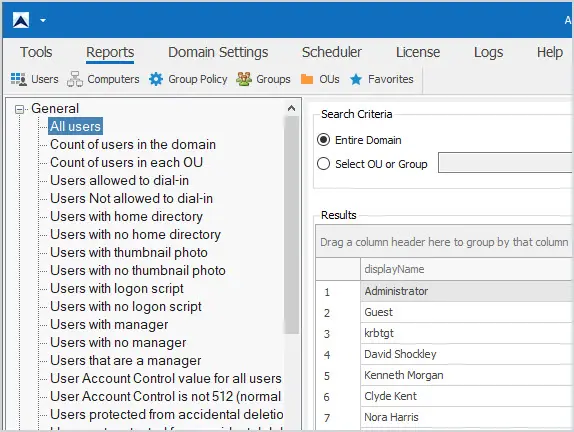 AD Pro Toolkit Features
Active Directory Pro has helped countless IT experts, HR managers, and system administrators become more effective and efficient.
Here are the features includes in the toolkit.
Bulk User Import
Easily bulk import new Active Directory user accounts from a CSV with just a few clicks.
Last Logon Reporter
Get users TRUE last time for all users, single or users from an organizational unit.
Export Users to CSV
Quickly export Active Directory users, groups, and OUs to CSV.
NTFS Permissions Report
Report folder permissions for shares and local folders. Get user permissions.
Mass Update Users
Bulk update user properties from a CSV with just a few clicks.
User Unlock Tool
Find all locked users and quickly unlock them. Also, troubleshoot repeat lockouts.
Domain Health Check
Check the health of all your domain controllers.
Group Membership Report
Report groups and user membership. Export to a CSV.
AD Cleanup Tool
Find old user and computer accounts, bulk disable, or move to another OU.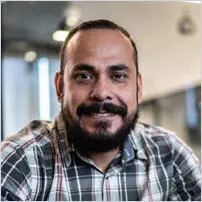 "The AD Pro Toolkit allows me to pull reports quickly for users, groups, and computers. It is very easy to use and I have saved a lot of time by using these tools. I would highly recommend this product."

Jeff Stamps – IT Manager
Active Directory Pro Advantages
Here's how the Active Directory Pro Toolkit makes managing AD easy..
Easy Bulk Management
Easily bulk import and update user accounts. Bulk update passwords, email addresses, group membership, address information, phone numbers, and many other user account properties. Avoid the hassle of manually updating accounts.
Task Automation
Do you need to regularly update user account details? Does HR send you a list of accounts that need to be updated? Use the built-in task scheduler to automate updating user account details.
No Complicated Scripts
The AD Pro Toolkit has a very simple and fast user interface. Manage Active Directory with no coding or scripting required. Simplify user account management and free up hours of time you'd otherwise spend updating and changing complicated scripts.
Streamline Access Permissions
Generate reports on group permissions for all users, single groups, or OUs. Bulk add or remove users to AD groups. Check folder permissions to see who has access to what.
Accurate Reports
Easily export user data from Active Directory to create reports for supervisors, managers, auditors, and so on. You can also export data to a CSV and import it into a new domain. This is great for moving to a new domain.
Improve Security
Quickly find users with local administrator rights. Audit Active Directory for stale user and computer accounts that can be used by attackers, bulk disable and move these risky accounts.
Plus Much More…
The Active Directory Pro toolkit includes all the features you need to reclaim your time.
Ready to Easily
Manage Active Directory

and Save Hours of Manual Work?

Join 100,000+ global IT professionals and enjoy efficient, optimized, and intuitive Active Directory management that saves time and makes your job easier.