This page provides a mapping of common Active Directory fields to its LDAP attribute name.
When using Active Directory users and computers you will see the Microsoft provided friendly names. Under the hood of Active Directory these fields are actually using an LDAP attribute. You can see the LDAP attribute name in the attribute editor.
When working with scripts or creating a program you will need to use the LDAP attribute name.
This page provides a visual reference of the LDAP field mappings in Active Directory. In addition, I created a table view for a quick reference.
General Tab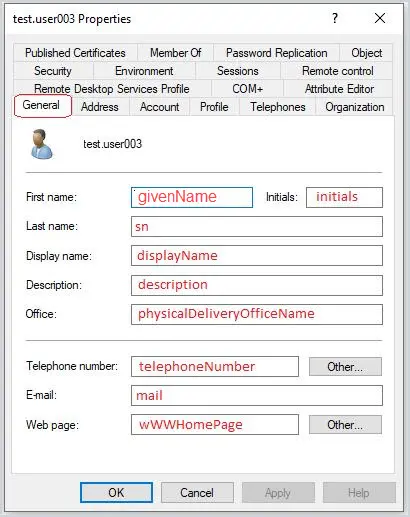 Address Tab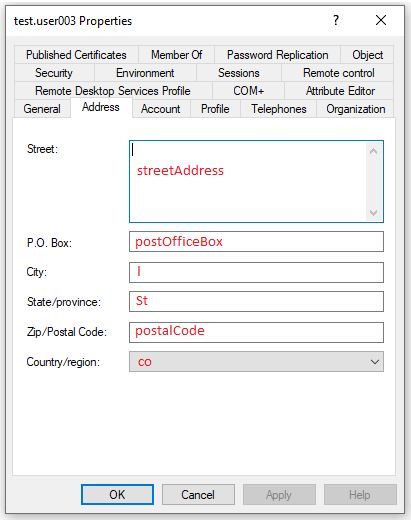 Account Tab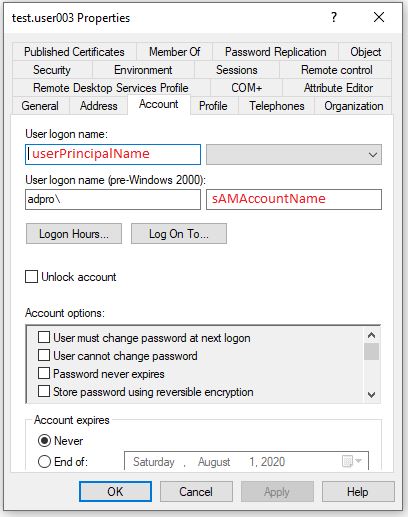 Profile Tab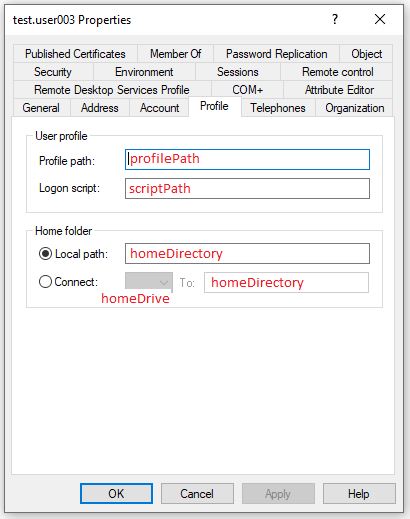 Telephones Tab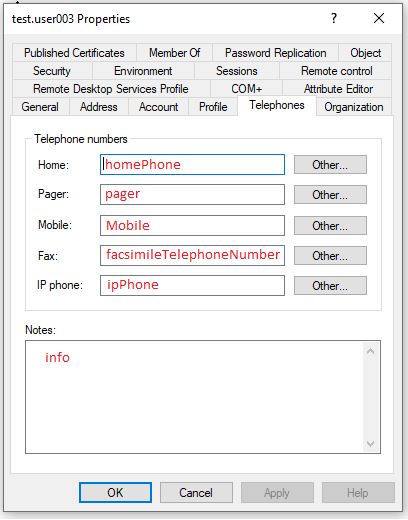 Organization Tab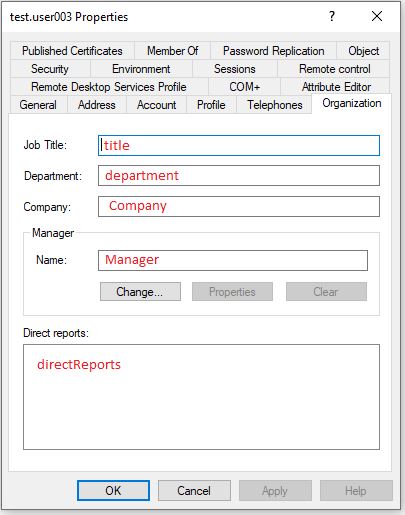 LDAP Mappings Table View
| | | |
| --- | --- | --- |
| TAB | Active Directory Field | LDAP Attribute |
| General | First Name | givenName |
| General | Initials | initials |
| General | Last name | sn |
| General | Display name | displayName |
| General | Description | description |
| General | Office | physicalDeliveryOfficeName |
| General | Telephone number | telephoneNumber |
| General | E-mail | mail |
| General | Web page | wWWHomePage |
| Address | Street | streetAddress |
| Address | P.O Box | postOfficeBox |
| Address | City | l |
| Address | State/province | St |
| Address | Zip/Postal Code | postalCode |
| Address | County/region | co |
| Account | User logon name | userPrincipalName |
| Account | user logon name (pre-Windows 200) | sAMAccountName |
| Profile | Profile path | profilePath |
| Profile | Logon script | scriptPath |
| Profile | Local path | homeDirectory |
| Profile | Connect | homeDrive |
| Telephones | Home | homePhone |
| Telephones | Pager | pager |
| Telephones | Mobile | Mobile |
| Telephones | Fax | facsimileTelephoneNumber |
| Telephones | IP Phone | ipPhone |
| Organization | Job Title | title |
| Organization | Department | department |
| Organization | Company | company |
| Organization | Manager | manager |
| Organization | Direct Reports | directreports |