Are you looking for the best IP Address Management (IPAM) solutions?
Then you're in the right place.
IPAM is a tool that manages and monitors your IP addresses on the network. Most enterprise IPAM solutions also integrate with your DNS and DHCP servers to provide a single console for managing IP services.
Years ago I started with a spreadsheet but as we added more networks and devices the spreadsheet became a mess. I made the switch to an IPAM and never looked back. It has been a huge timesaver.
Let's check out the best IP Address Management solutions.
1. Solarwinds IP Address Manager (IPAM)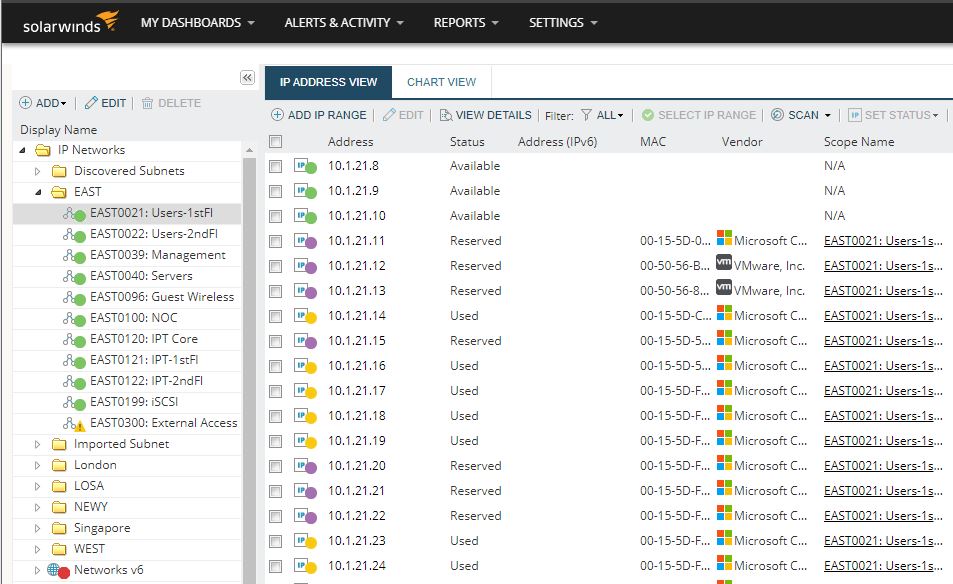 I have evaluated several IPAM solutions and SolarWinds IPAM is my top choice. It is very easy to install, loaded with features, and works great with small or large networks. I moved all my spreadsheets into SolarWinds IPAM and it has made IP address management much easier.
The best part is my network team no longer has to ask me for an available IP, the interface is very user friendly and makes it easy for my team to find a free IP address and set the status.
Learn More | Download 30-day Free trial
Top 5 SolarWinds IPAM Features:
Here is a quick overview of what makes this tool one of the best IPAM tools.
1. Automate IP4 and IPv6 address discovery
IPAM actively identifies and manages IPv4 and IPv6 addresses and uses active scanning to discover and track subnets and associated address blocks. Finding
an available address is as simple as navigating to a target subnet, viewing, and selecting an available IP address.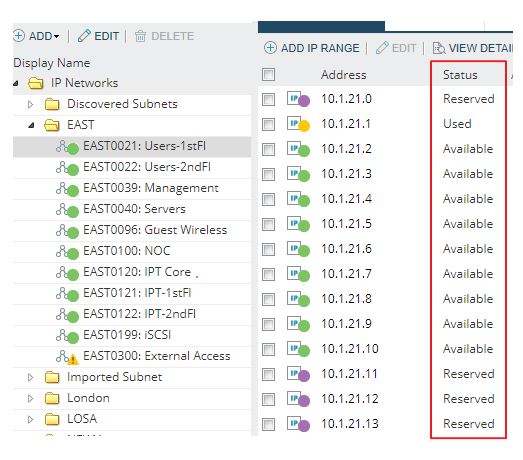 2. Easily Organize Your Subnets
You can create folders then name the subnets however you like. This makes it easy to organize by location, by IP address range, by the office, or any way you like.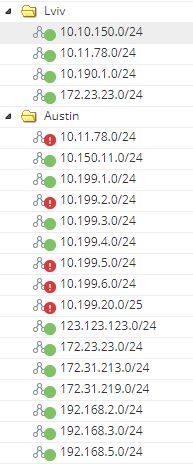 3. Automate IP Address scanning
When you add a subnet you can choose to scan the entire subnet on a time interval. This helps to reduce manual errors and keep the information up to date. For example, you picked an available IP but didn't change the status. With the automated scan, it will automatically set the status to in use when it scans the subnets and determines it is in use. You can enable or disable this per each subnet.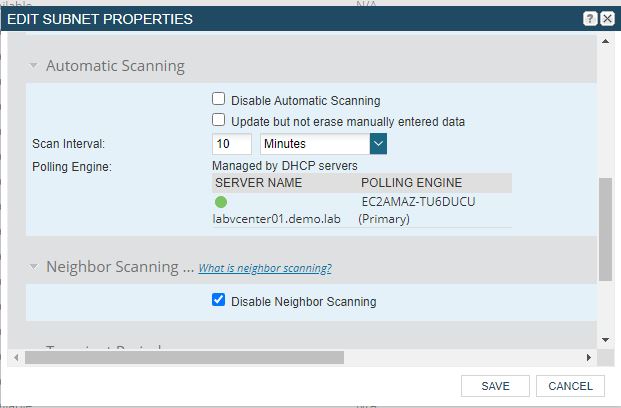 4. Integrate with DHCP and DNS
You can easily unify and manage your Microsoft, Cisco, and ISC open-source DHCP servers and your BIND and Microsoft DNS servers. The DHCP and DNS changes you make in IPAM are seamlessly propagated to the respective servers, enabling teams to easily find and configure IP addresses from a single management console.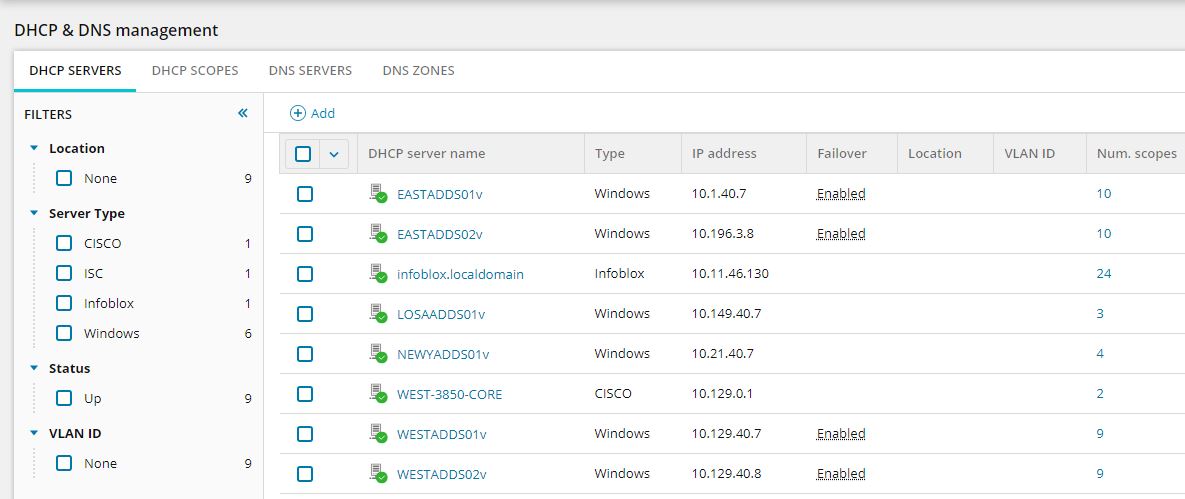 5. Global IP Search
I love this feature. You can search on IP, hostname, group name, comment, alias, and many other fields. This is a lifesaver when you don't know what the IP address of something is. In the example below I searched on "eastesx" and it found all the IP addresses that had that keyword in the hostname.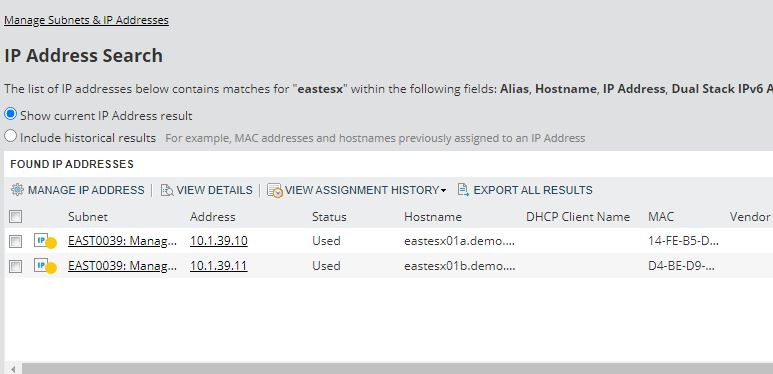 I've been running the SolarWinds IPAM for over 5 years now with no issues. As our network grew from a few subnets to now over 100 subnets the tool has easily scaled and is very easy to use.
To Lean more about SolarWinds IPAM click here.
To download a fully functional 30 day free trial -> Download Here
2. phpIPAM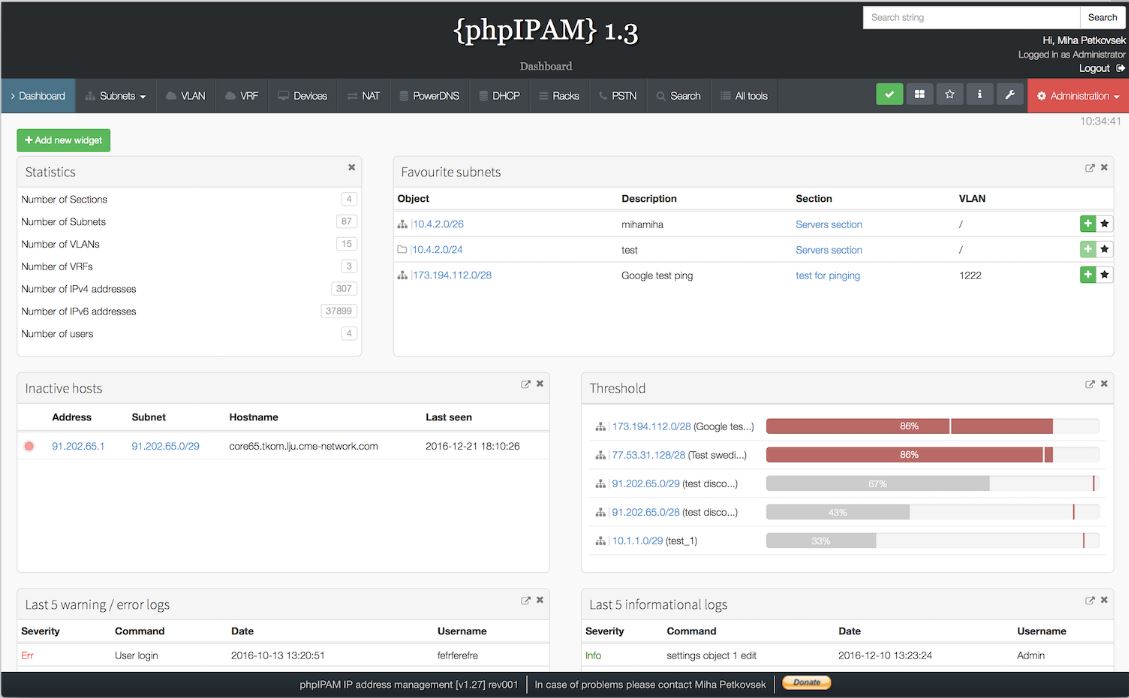 phpIPAM is an open-source web IP address management application (IPAM). It provides a light, modern and useful IP address management. It is php-based application with MySQL database backend, using jQuery libraries, ajax and HTML5/CSS3 features. It is recommended to install phpIPAM on CentOS or Debian, it does not have a Windows installer.
Features Overview:
IPv4/IPv6 IP address management
Automatic free space display for subnets
Automatic subnet scanning
VLAN management
changelogs
IP database search
To learn more about phpIPAM click here
3. ManageEngine opUtils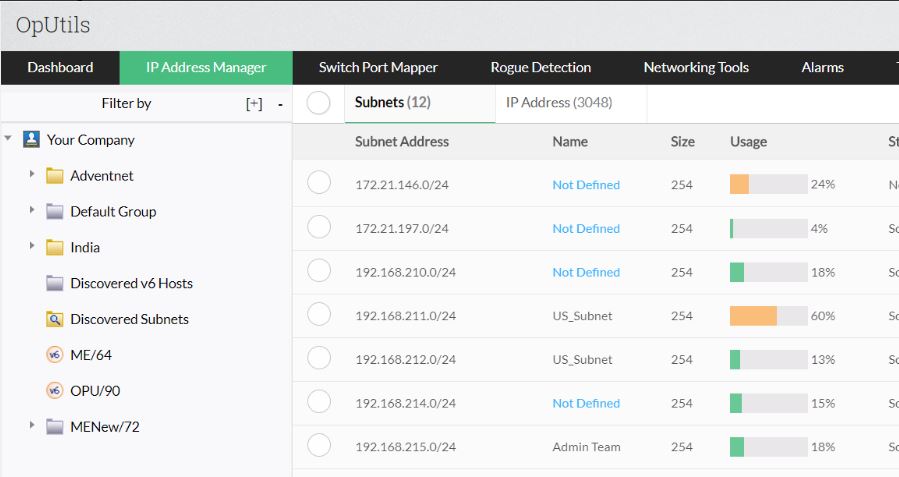 OpUtils IP Address Management (IPAM) helps you effectively monitor your IP Address space, including your IPv4 and IPv6 addresses using IP Address tools. IP Address Solution by OpUtils provides centralized IP management of all the networked devices. Thus, it helps network engineers to identify whether an IP Address is currently available or not, in an enterprise network thereby aiding you in a complete IP Address management.
Features Overview:
Active Directory Integration
Hierarchical Tree View
IP History and Audit
Discovering Adding Subnets
IP Address Reports
To learn more about ManageEngine OpUTils click here
Bonus Tool: Free IP Address Tracker
SolarWinds offers a free version of their IP address Manager tool. It is limited in features and allows you to manage up to 254 IP addresses.
Eliminate IP Conflicts by scanning, tracking, and managing up to 254 IP addresses
Detect IP conflicts and other problems using integrated monitoring and alerting
Fix problems faster with detailed logs and histories
Click here to Download the Free IP Address Tracker
Benefits of IPAM vs Spreadsheets
In my experience here are some benefits to using an IPAM vs spreadsheets.
1. Easier Administration
It is so much easier to find available IP addresses with an IPAM. Most solutions allow for easy organization so you can quickly drill down and find a free IP address or check the status. For example, for each network I may have 10 different subnets multiple that by 100 and I've got 1000 subnets to manage. With an IPAM I can just click on the site then see a list of subnets in that site.
2. Reduce Human Error
Years ago when using spreadsheets it was very common to find an IP marked as not in use but later found out it was in use. Also, all the IP addresses that were not documented, no hostname, no status, no comments, nothing. An IPAM helps to reduce human error by automatically scanning and tracking the status of IP addresses. It can also automatically add the hostname, mac addresses, DNS name and so on. Now when I go look up an IP address and it says not in use I feel confident that it is truly not in use.
3. Access Control & Audit Logs
With an IPAM I can assign users different levels of access to the system. I can give someone read only access, give them full rights to a specific subnet, and so on. I can also audit changes to the system, I can see who logged in, who made changes, changes to IP address, and more. You can secure and have complete control over your IP addresses.
4. No locking of spreadsheets.
Don't you hate it when a spreadsheet is locked for editing? Since the IPAM data is stored in a database you will never have this problem.
5. Single Interface for Managing IP Servers (IP Addresses, DNS & DHCP)
With an IPAM you can manage all your network IP services in one console, something you cannot do with a spreadsheet. Instead of switching to the Microsoft DNS console, DHCP console and a spreadsheet an IPAM lets you view, monitor, track and maintenance all of these services in a single console.
Final Thoughts
If you are looking for a simple and easy to use IPAM solution then you can't go wrong with any on this list. There are many IPAM solutions on the market but I feel these three are simple and work great no matter the network size.
As I mentioned at the beginning of the article I started out years ago using a spreadsheet. Then as the network grew and I had more and more devices to track I ditched the spreadsheet in favor of an IPAM.
With the automatic subnet scanning, I no longer have to worry about manually keeping track of IP space usage. My team can easily find available IP addresses as they deploy new equipment.
So which IPAM solution is the best? My top pick is SolarWinds IP Address Manager, I recommend you download and test multiple IPAM tools to find what best fits your needs. It might look good through an online demo but you need to get your hands on the product and navigate the interface to make sure it's the right fit.