This article walks through creating a new Active Directory user account using the Active Directory Users and Computers MMC.
1. Open Active Directory Users and Computers MMC
2. Right click the folder where you want to create the new user account, select new and then click user. If you have not created additional organizational units, you can put the new account in the Users folder. In my example, I'm putting the account in the Winadpro Users folder that I have created.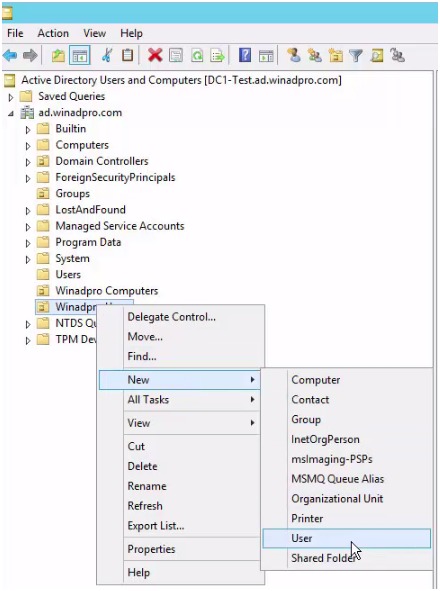 3. Fill out the fields in the New Object – User window
First name: Fill in user's first name.
Initials: Fill in user's middle initials. This can be used if there are conflicts when creating the user logon name.
Last name: Fill in user's last name.
Full name: This will fill in automatically.
User logon name: This is the name used to log into windows domain. You will want to come up with a naming convention for logon names: The two most popular methods I've seen are first initial and last name and complete first name and last name.  For an in depth look at naming conventions see my article Active Directory user naming conventions.
last name = osmith
Complete first and last name = oliver.smith
If there are conflicts add the middle initial: oasmith or oliver.a.smith
Click Next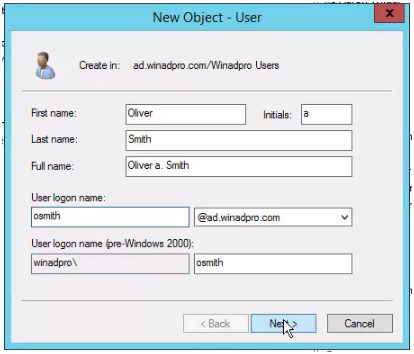 In the password and confirm password field type the user's password, click next and finish.
What you make the password depends on your company's security policy. I would recommend using at least 8 characters which include a special character, numbers and upper case letters. I would also check the box "User must change password at next logon". You want all the accounts to have unique passwords so forcing users to create their own passwords is more secure and best practice.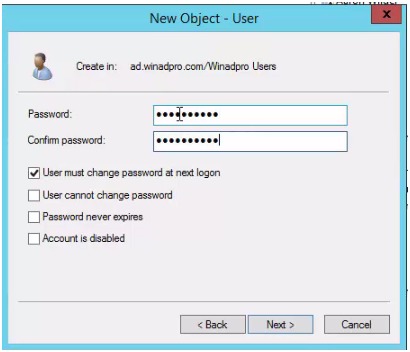 This completes creating the new Active Directory user account. At this point you may need to open the account and add additional information such as: Address, Profile path, Logon script, Organization details and adding the user to other Active Directory groups to provide access to additional domain resources.
See Also: 
Create Bulk Users in Active Directory (Step-By-Step Guide)
Active Directory User Naming Conventions