In this tutorial, you will learn how to deploy printers using Group Policy.
In this example, I will use group policy preferences and item level targeting to install printers based on user security group membership.
For example, users in the "HR_Printers" group will get the HR-OfficeJet9025 printer installed and users in the "Marketing_Printers" group will get the Marketing-HP4200 installed.
Why deploy printers using Group Policy?
This simple answer is it helps to automate the user setup process. It's a step that almost every computer setup needs so automating this step speeds up the computer configuration process. This is a big win for your helpdesk or another IT staff that helps configure computers. This is also a big win for your customers as it is often a call to the helpdesk to get a printer setup. This will eliminate that phone call because as soon as they login the printer is automatically installed in the background.
Step for installing printers via GPO:
Step 1: Create AD Security Groups
The first step is to create security groups for the printers. In this example, I'm going to install printers by the department so I'll create a security group for each department. I've named my groups the "department_printers". You can name the groups whatever you like.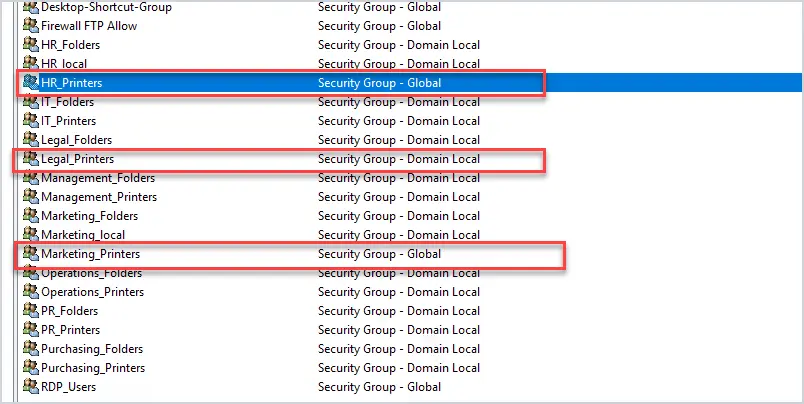 Next, add members to the new groups and move to step 2. You can also use existing groups, but I recommend creating groups for each resource.
Tip: To quickly add or remove members to groups you can use PowerShell or the AD Group Management Tool.
Step 2: Create a New GPO
Now I'll create a new GPO and link it to my Users OU.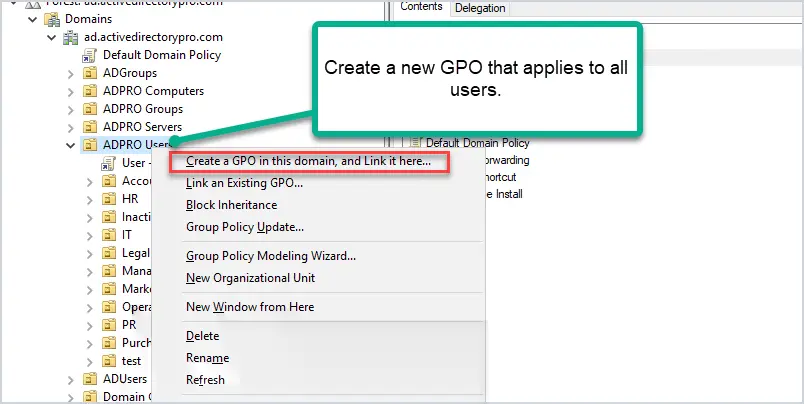 Give the GPO a name. I've named mine "Users – Printer Install"
Edit the GPO and browse to User Configuration > Preferences > Control Panel Settings > Printers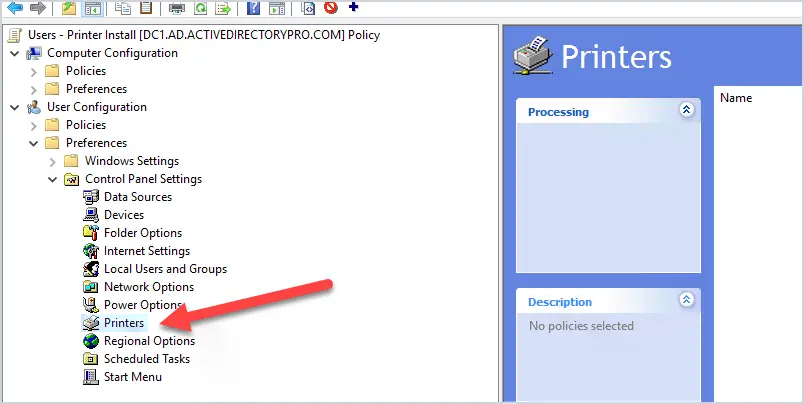 Right click printers, select new, and click "shared printer"
In this example, I'm installing printers from a printer server, you can use TCP/IP or a local printer.
My printer server is "srvwef" and the printer share name is "HR-OfficeJet9025" so the share path will be \\srvwef\HR-OfficeJet9025.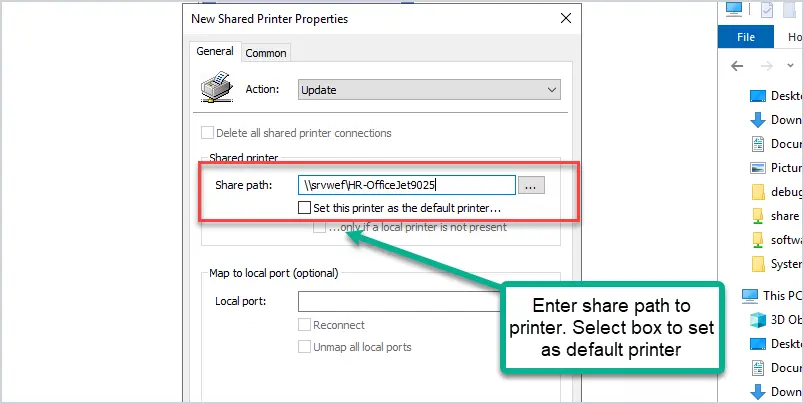 This is the HR department's printer so I want this to only apply to the HR department security group. This is done using item level targeting.
Click on Common
Check the box "Run in logged-on user's security context (user policy option).
Select Item-level targeting and click the Targeting button.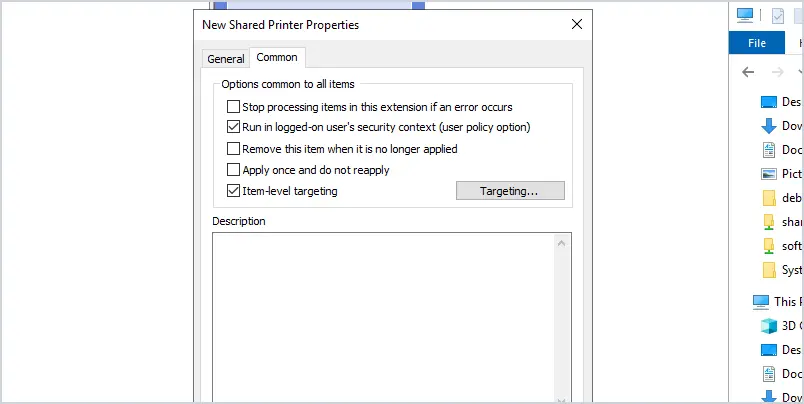 Click the new item arrow and select security group. Enter the security group you want the printer to install for, I selected my HR_Printers group.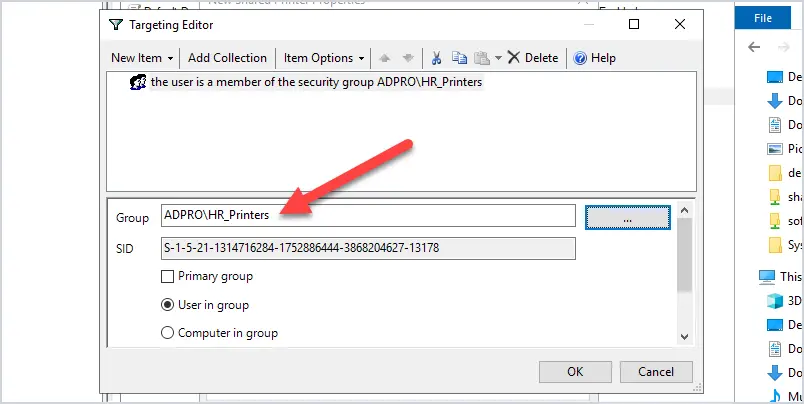 Click ok to get back to the Group Policy Management screen.
This completes the GPO configuration.
Step 3: Reboot or run the gpupdate command
To test the install you will need to log in as a user that is in the security group.
You will need to run gpupdate /force command to refresh the group policies.
First, let me show you that the printer is not installed.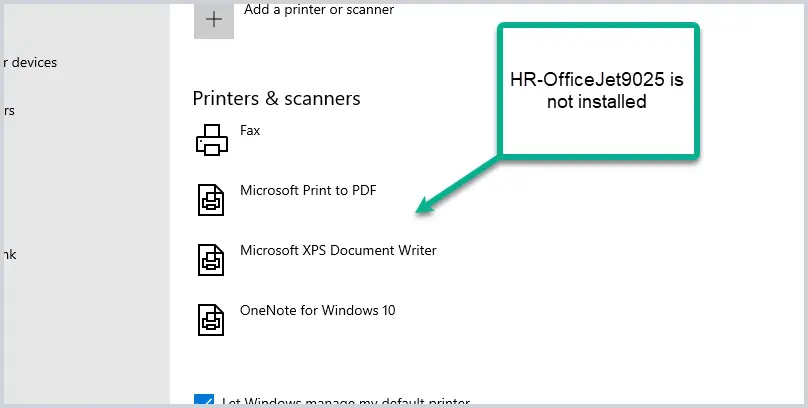 Next, I'll run gpupdate /force and the printer will install. You could also reboot or wait 90 minutes for GPO to refresh on its own.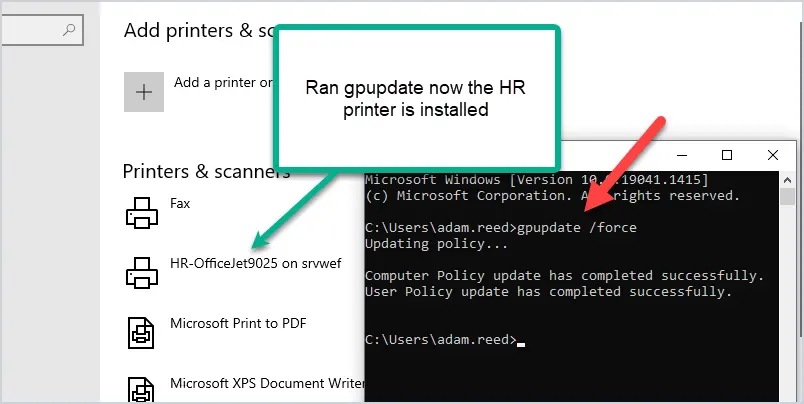 You can see above that the printer is now installed.
Step 4: Repeat for additional printers
Now just repeat this process for any other printers you want to install with group policy. The great thing about this configuration is you don't need to create additional GPOs. You can add additional printers to this one GPO to install all printers.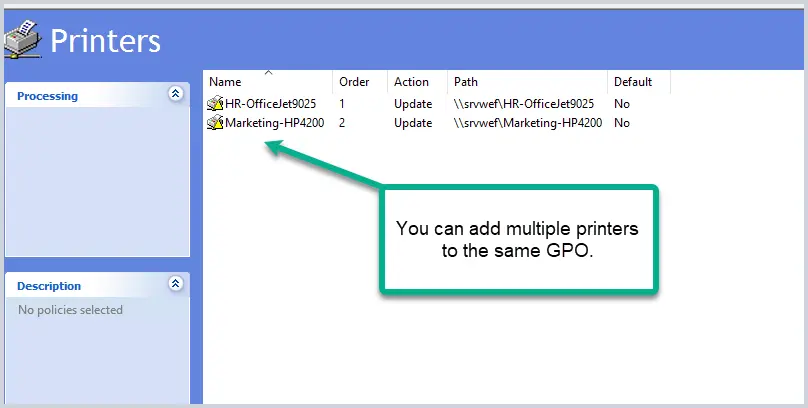 Above you can see I added the Marketing printer to the same GPO. The Marketing printer will only install for users that are part of the Marketing_printers security group.
Summary
Installing printers is often an extra step the helpdesk does when installing computers. By using group policy you can automate the printer install for users. This is a big win for users and staff that configure computers.