Active Directory Bulk User Creation Tool
Create bulk Active Directory users with this easy to use GUI tool.
Key Features
Import Users from CSV
Set multiple attributes (see below)
Add users to group
Add users to OU
The AD bulk use creation tool imports users from a CSV file. A CSV template is included and allows you to set the following user attributes.
First Name (Required)
Last Name (Required)
Display Name (Created from the First & Last name)
City
Company
Country
Department
Description
Employeeid
Employeenumber
Home Phone
Mobile Phone
Fax
Manager
Initials
Office Phone
Organization
PO Box
State
Streed Address
Title
SamAccountname (Required)
Logon Name (This is set from the samaccountname)
Email (Auto-created from the samaccountname + domain name)
Domain name
User Principal Name (this is created from the SamAccountName + the domain name)
Password (Required)
Create users in a specific Organizational Unit (OU)
Add users to a group
Enable or Disable Account
Change Password at next logon
The AD Bulk User Creation Tool is very easy to use.... it takes just two steps.
See the steps below
Step 1: Setup CSV Template
Open the "Bulk User Create Template.csv" file that is included with the download and fill it out. See below for required fields. All other fields are optional.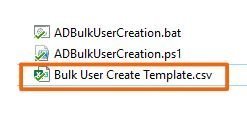 **Important**
Required Fields - These CSV fields must be filled out for each user, all other fields are optional.
firstname
lastname
samaccountname
password
Auto Created Fields
Displayname = Firstname + lastname
Logon Name = This is set from the samaccountname
UPN = Set from the samaccountname
Email = samaccountname + domain
Other
Manager field must be a samaccountname
OU field must be the distinguishedName of the Organizational Unit
Example CSV screenshot below
When the CSV file is filled out you can move to step two.
Step 2: Run AD Bulk Creation Tool
Open the tool by clicking on the ADBulkUserCreation.bat file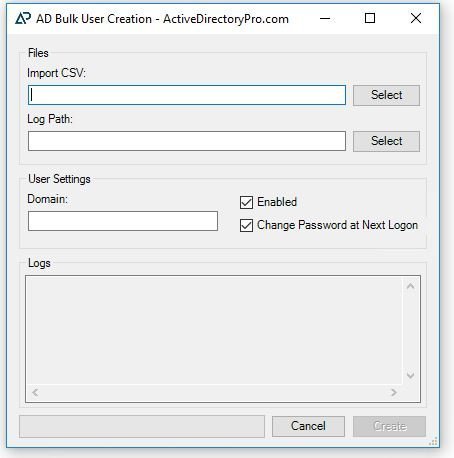 Select the CSV file
Enter a log file path (This is for logging errors)
Enter your domain
By default accounts are set to enabled and change password at next logon, uncheck these boxes to disable them.
Click the create button.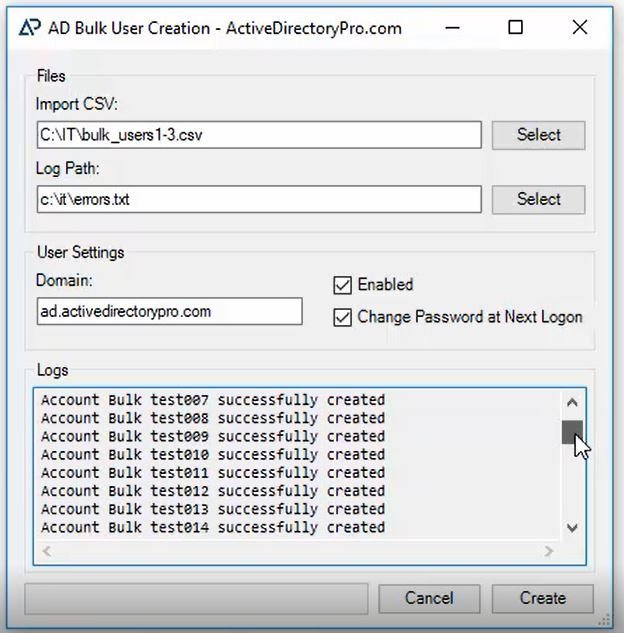 That's it. It took about 10 seconds to create 100 accounts.
Now I can open up Active Directory Users and computers and verify the accounts. If there are errors it will be displayed in the GUI for which account failed. You will then need to check the log files for error details.
The screenshot below confirms the 100 accounts did get created.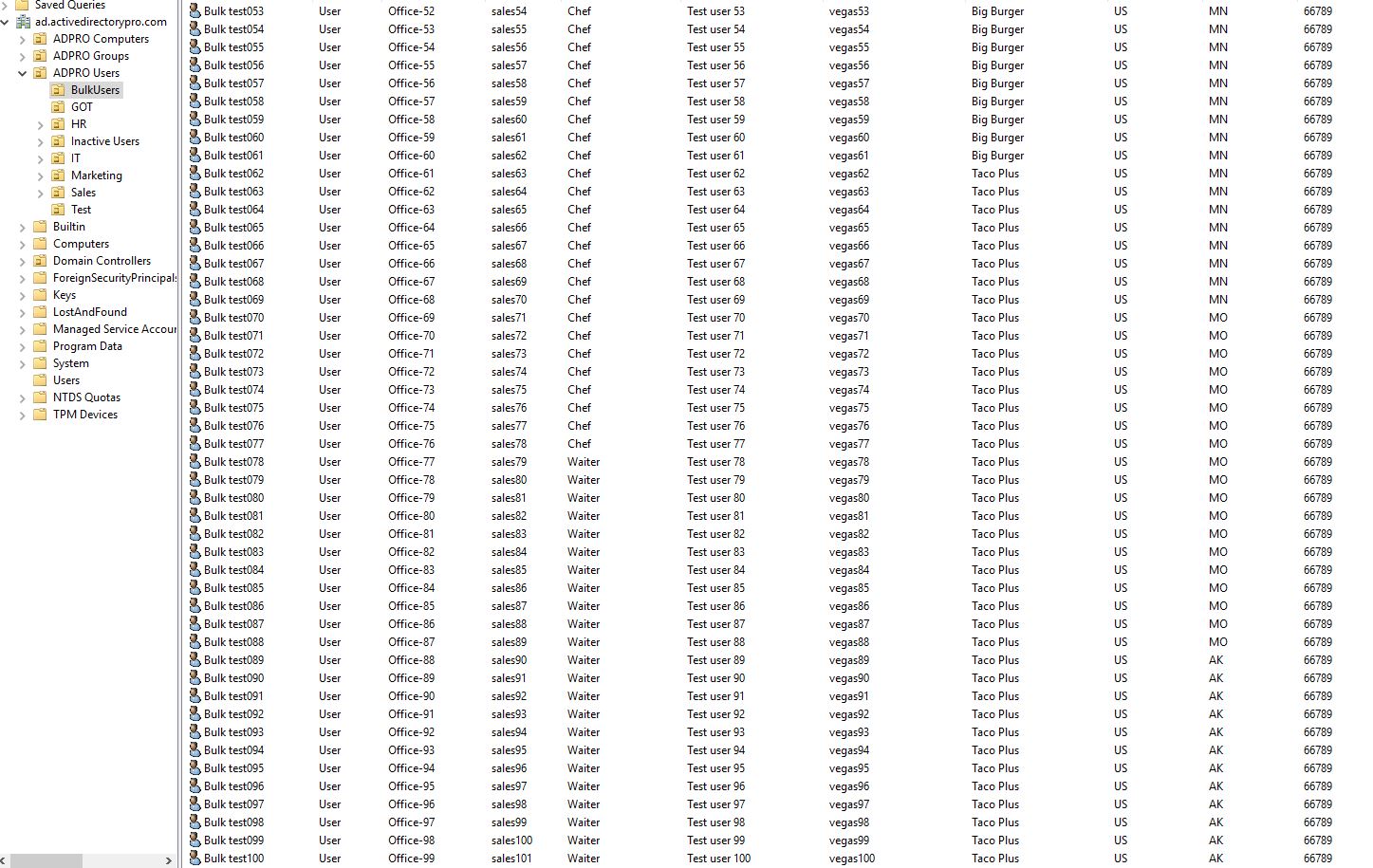 Send feature requests to robert@activedirectorypro.com