Active Directory Bulk
User Creation Tool
Bulk import Active Directory users from CSV with
this easy-to-use tool.
Save Hours of Time
Bulk Import users
Includes CSV template
Key Features
Here are the advantages of using the bulk import tool.
Save Hours of Time
Easily mass import user accounts directly in Active Directory to avoid hours of manual work.
Bulk Update Accounts
Do you need to bulk update user accounts? No problem the bulk importer can also modify existing user accounts.
Powerful Integrations
Integrates with other AD Pro tools to streamline your Active Directory management.
Migrate Users
Easily export users from one domain and import them into a new domain or server
No Scripting Required
No scripting is required to create mass users. The GUI tool is fast and easy to use.
Add Users to Groups
Add users to single or multiple AD groups during the import process to stay on top of access permissions.
Simple Automation
Bulk import accounts in two clicks (seriously) to make repetitive manual work a thing of the past.
Includes CSV Template
The CSV template includes 30 of the most common user account fields. You can add more if needed.

"Amazing Software! We utilize the bulk import tool for importing and updating new students. It saved hours of manual updating and was very easy to use. "

Anthony Gannon – Systems Administrator
How Does it Work?
The AD Bulk import is very easy to use. Here are the steps to bulk import new user accounts.
Step 1: Fill out the CSV Template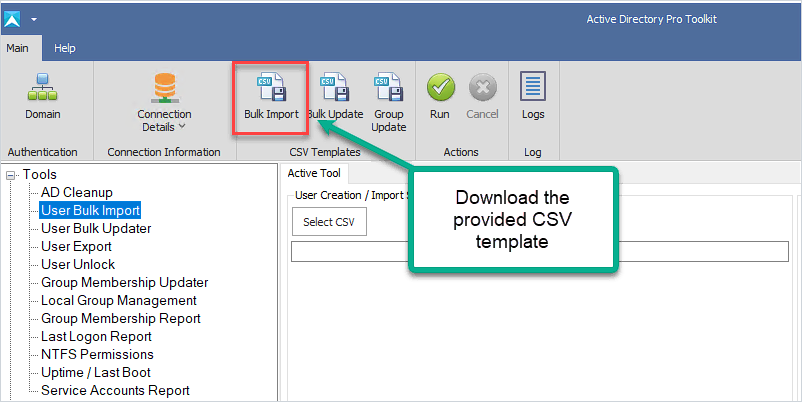 Download the provided import template. See the above video or the administrator guide for details on what to include the in CSV file.
Step 2: Import New User Accounts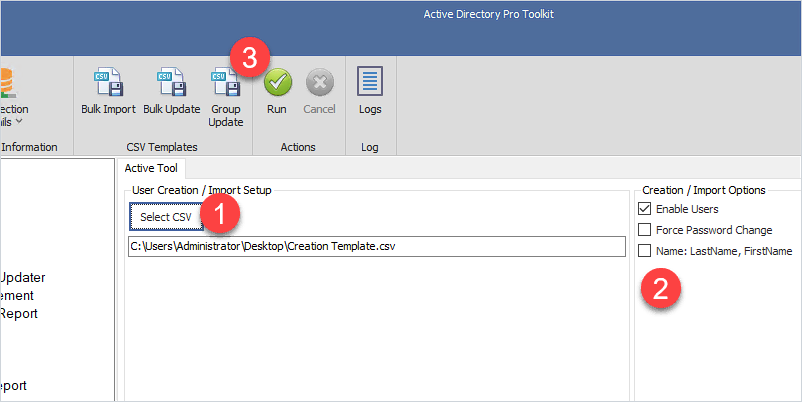 Next, select the CSV file, select your import options and click run. The software will create new user accounts from your CSV file.
Review Logs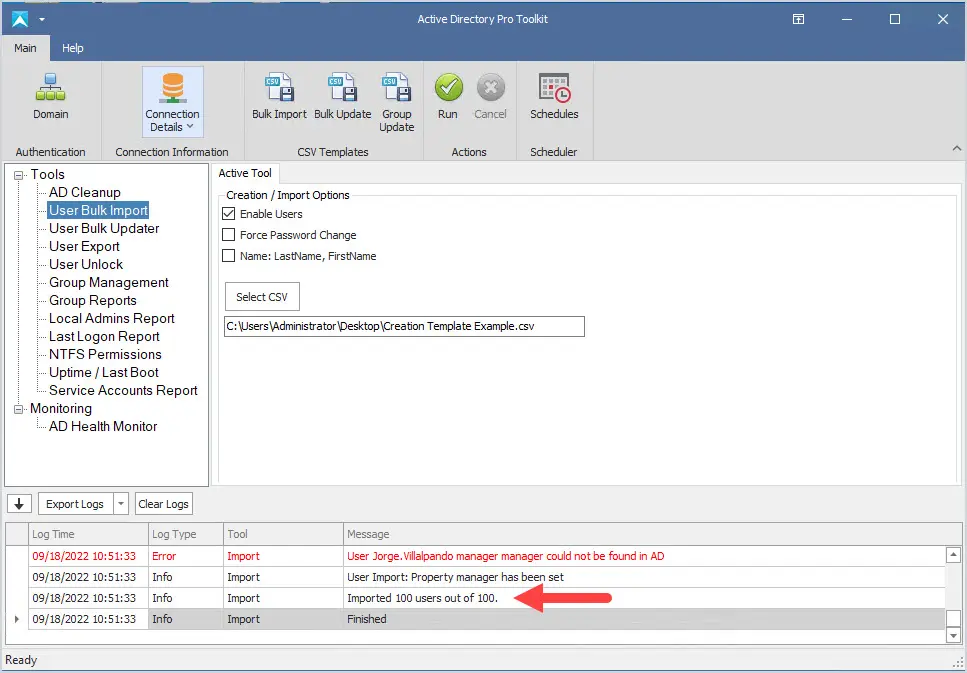 When the import is complete, click the logs button to review the import logs.
Try The Bulk User Creation Tool For
FREE
Join thousands of IT professionals using the Bulk User Creation Tool to automate the process of account management and enjoy greater freedom over your time.