Active Directory User Creation Tool
Bulk import Active users from CSV with this easy to use tool.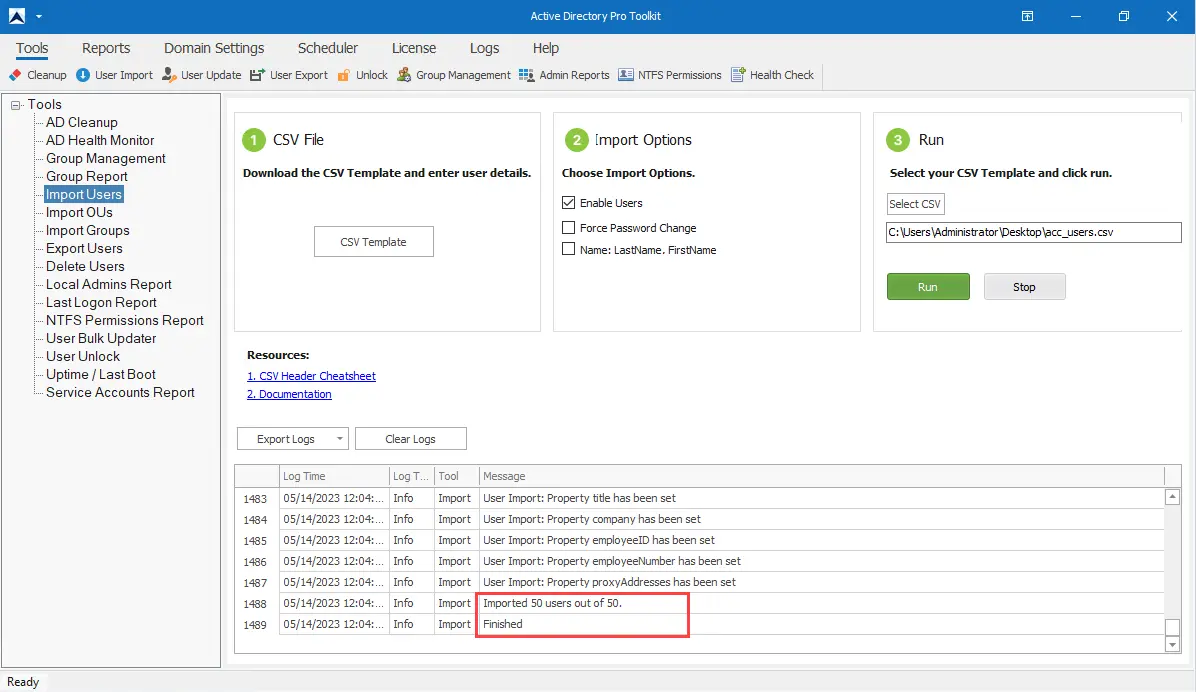 Key Features
Quickly provision and manage user accounts
Go from manually creating hundreds (or thousands) of users to bulk actions that save you
hours of work and free up your schedule to focus on critical IT tasks instead.
Import Users
Easily import user accounts with the included CSV template file. Create 1 or hundreds of AD users at once.
Bulk User Management
Simplify user management and perform bulk actions like bulk updating accounts, exporting, and importing users.
AD Pro Toolkit
In addition to the export tool, the AD Pro Toolkit includes 14 tools to simplify AD Management and reporting.
No Scripting Required
The bulk import tool is a graphical tool and requires no scripting or coding. Very easy to use.
Bulk Update Passwords
You can easily bulk reset account passwords using the included bulk updater tool.
Includes 200 Reports
In addition to the user management tools, the AD Pro toolkit includes over 200 AD Reports for users, groups, computers, and more.

"Amazing Software! We utilize the bulk import tool for importing and updating new students. It saved hours of manual updating and was very easy to use. "

Anthony Gannon – Systems Administrator
Frequently Asked Questions
Have a different question and can't find the answer you're looking for? Reach out to our
support team by sending us an email and we'll get back to you as soon as we can.
Can I import 500 user accounts at once?
Yes, you can import as many accounts at once as needed.
Can I import users into a new domain?
Yes, you can export users from one domain and import them into a new or another domain.
When I create new users can I add them into groups at the same time?
Yes, to add users to groups during the import add the groups to the memberof column. Separate multiple groups with a comma.

How do I set the users primary email address?
In the proxyAddresses column enter SMTP:user@yourdomain.com. The capitalized SMTP will set the user's primary email address.

How do I set the manager during import?
Enter the manager's logon name into the manager column.
The User Creation tool is 1 of 14 Active Directory Tools included in the AD Pro Toolkit.