NTFS Permissions Reporter

Quickly analyze and report NTFS permissions with this easy-to-use GUI tool
Easy to Use
Scan folder permissions
Export report to csv
Key Features
Here are the advantages of using the NTFS Permissions Reporter
Get AD User NTFS Permissions
See what Active Directory groups and users have permissions to what. You can use the filter to remove local permissions and just display permissions from Active Directory.
View Remote Folders
Browse and select a folder on the local computer or type in a UNC path to check permissions. The tool will return results in a tree structure or grid view.
Easy To Use, No Scripting Required
This easy-to-use GUI tool required no coding or scripts. This saves you lots of time by not having to update or change complicated scripts.
Get Subfolder Permissions
Use the folder depth option to specify how many folders deep you want to report on. The results are displayed in a tree format making it easy to view only the folder you want in the report.
Audit Permissions
Don't let folder permissions get out of control. Easily review who has access to what and quickly create reports for auditors and compliance needs.
Export NTFS Report to CSV
Export the report to CSV for further analysis, backups, reporting, compliance, and so on. Managers and auditors often need a report showing who has access to folders.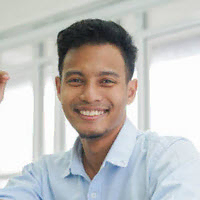 "Very easy to use. I use the NTFS reports for our users. This makes it easy to create a compliance report. I can also quickly review folder permissions on our servers. "

Cory Tran – Network Manager
How to Create NTFS Permissions Report
The NTFS permissions reporter makes it very easy to generate a report on NTFS permissions
for windows shared folder. See the steps below.
Step 1: Browse or Enter the Folder Path
Enter the folder path or click the browse button. In this example, I entered the shared folder path \\srv-vm\share.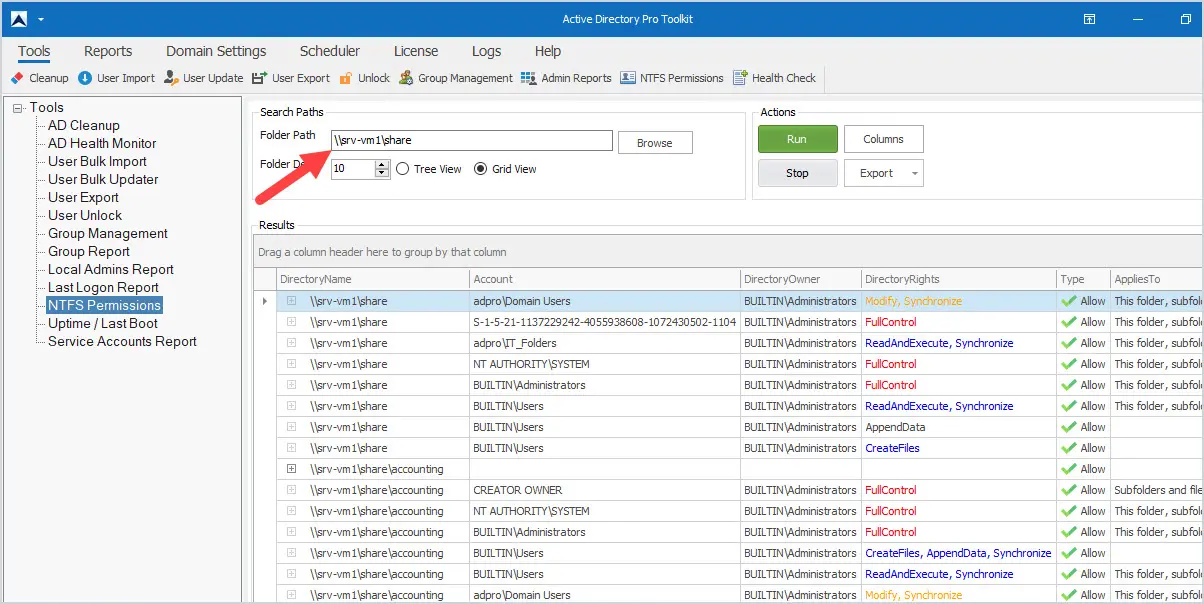 Step 2: Enter Folder Depth
The folder depth is how many subfolders you want to get the NTFS permissions on. For unlimited enter 0.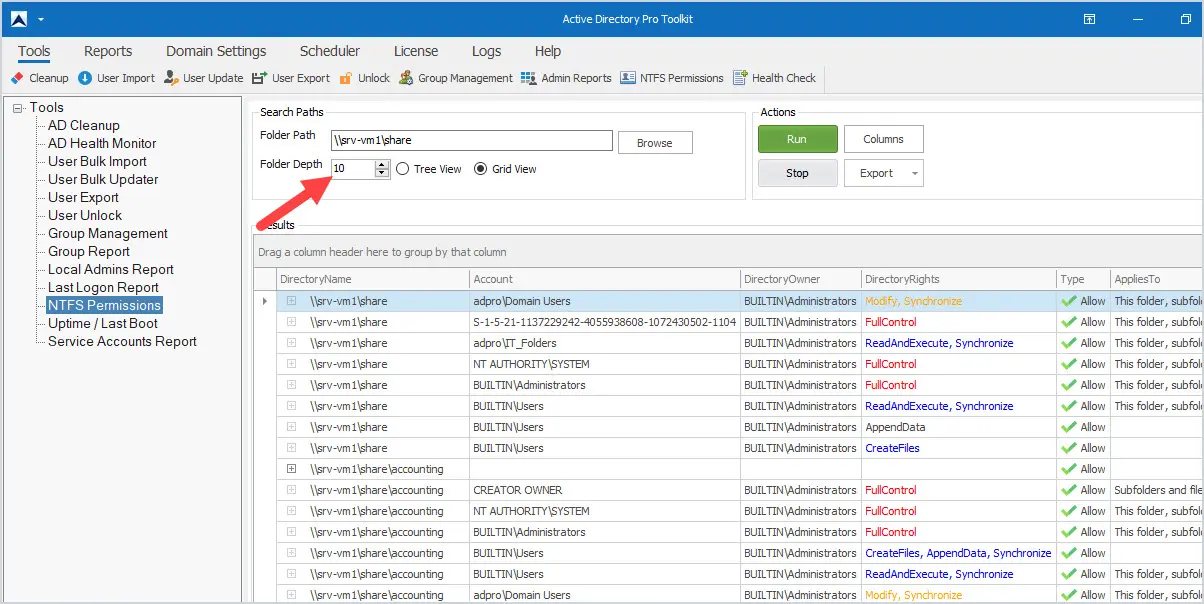 Step 3: Click Run
Now click the run button and the tool will analyze NTFS permissions and display the results.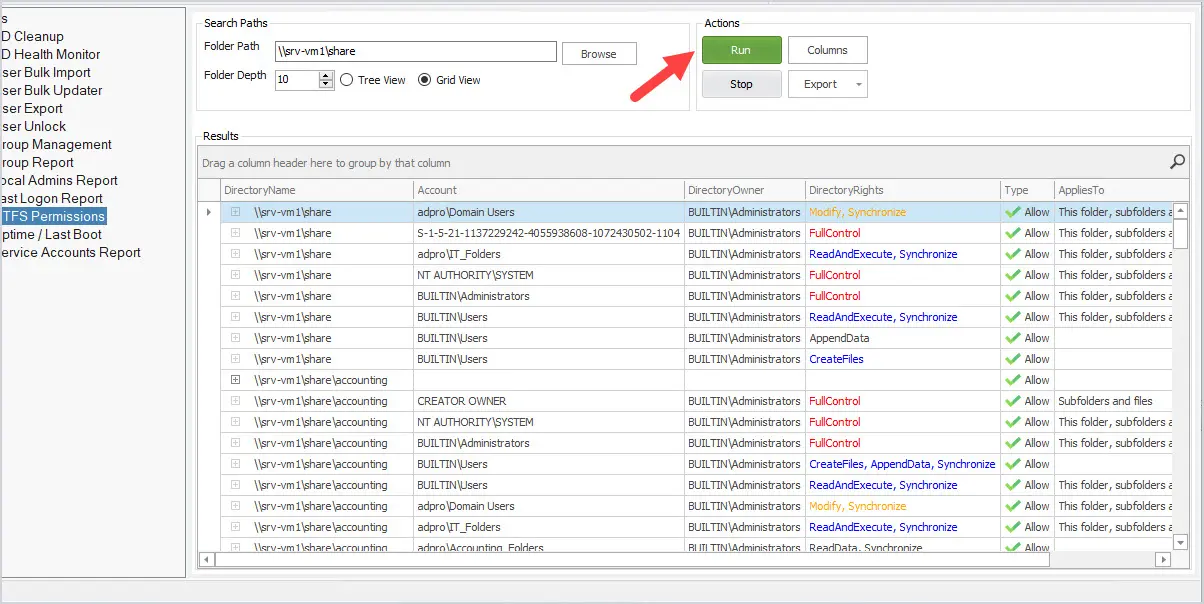 Export NTFS Report to CSV File
To export the report to CSV click the export button.
You can sort and filter on any column. For example, if you want to filter for a specific Active Directory
Security Group click on the account column and select or search for a group.

In this example, I'll select the Active Directory group "Accounting_Folders". Now the tool will only
display the folders this group has permission to.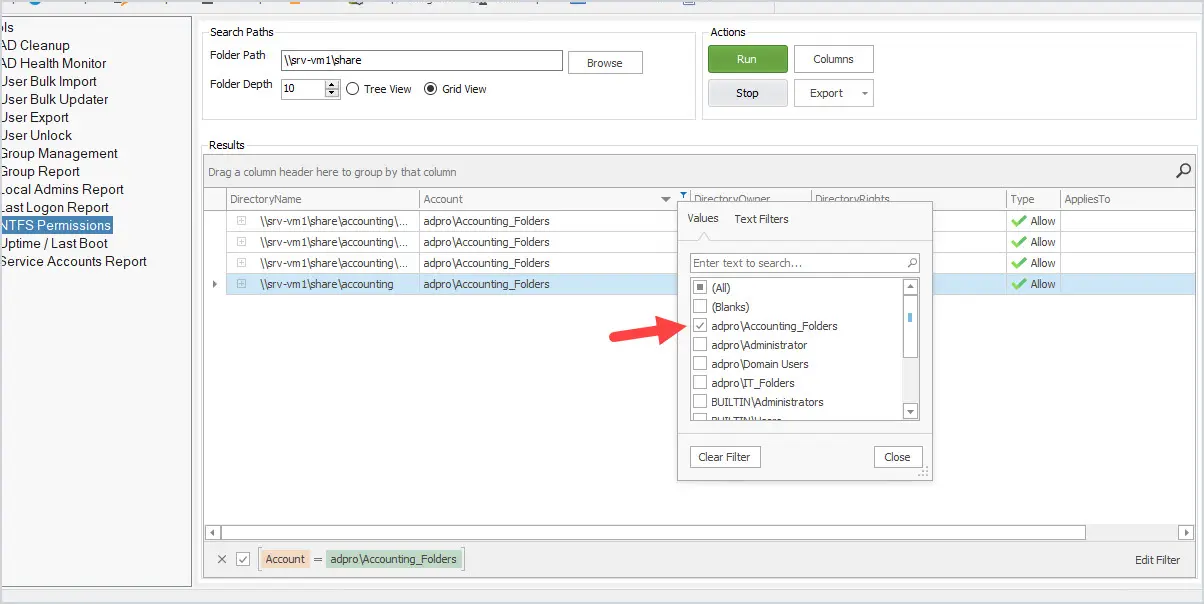 To find all users or groups that have denied access to a folder click on the type column and select Deny.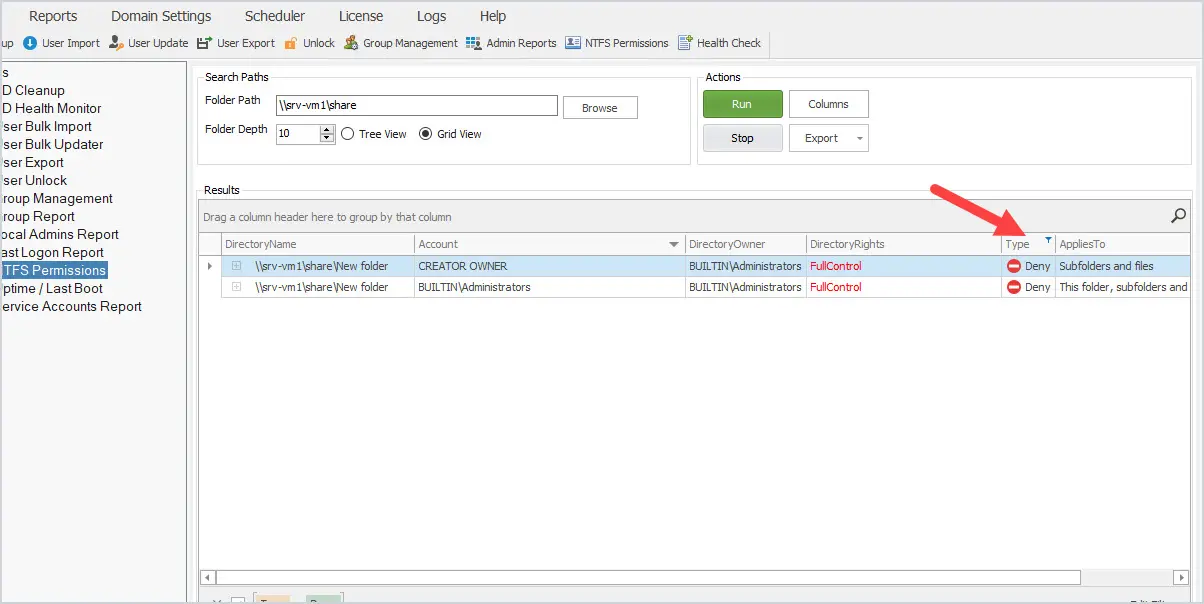 Try The NTFS Permissions Reporter for
FREE
Quickly analyze and report on Windows shared folders and see who has permission to what. Export the NTFS permissions report to CSV for audit reports or further analysis.