Local Administrators
Report Tool
Scan remote computers to see the members of the
local Administrators group.
Get local group members
Find who has local administrator rights
Export to CSV, Excel or PDF
Key Features
Easy to Use
This GUI tool makes it easy to scan your computers to see who has local administrator permissions.
Increase Security
To increase domain security you need to know which users have local administrator rights and take action to secure them. This tool makes it really easy to audit your endpoints.
Export Results to CSV
The admin report can be exported to csv. This makes it easy to share the information with other team members.
Scan Multiple Computers
Scan all domain computers, a group, OU, or a single computer.
Scan All Local Groups
By default, this tool displays the members of the Administrators group. You can optionally select to show members of all local groups.
How to Guide
Here are the steps to scan the local administrators group on remote computers.
Requirements:
1. WMI needs to be open on the windows firewall. – Click here for instructions.
2. You will need admin rights on the remote computer to scan it.
Step 1: Select Computers to Scan
Select the entire domain (all computers), select and OU or group, or search for a specific computer.
Optionally, select "Show All Groups" to see members of all local groups.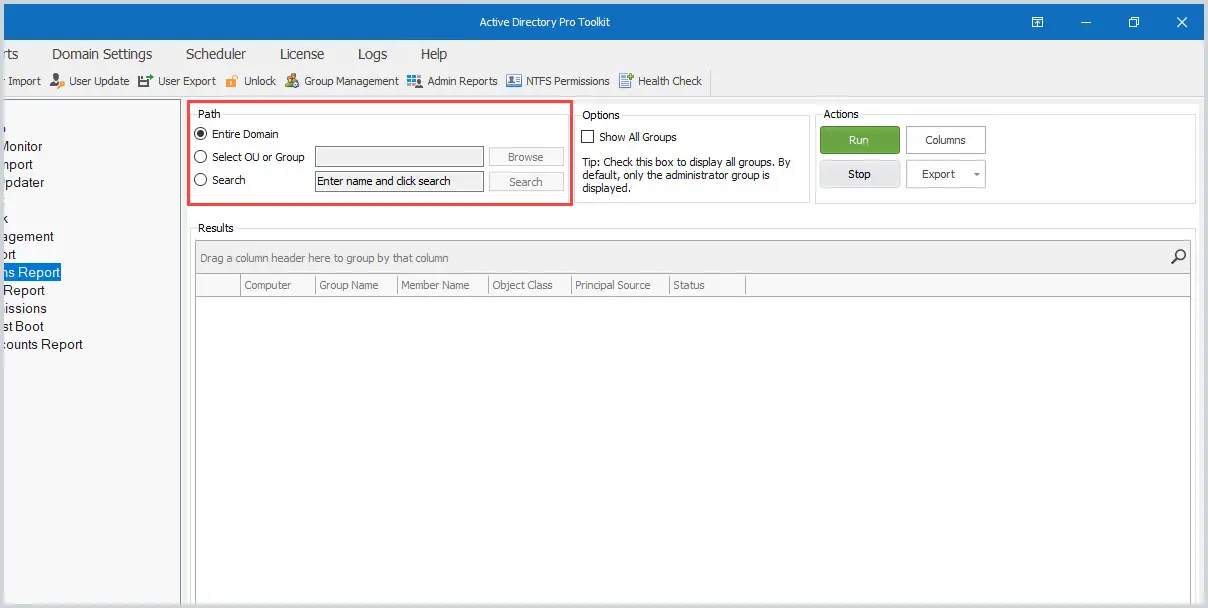 Step 2: Click Run
Click the run button to start scanning the remote computers.
Each computer will display the local administrators group and each member. Additionally, the object class and principal name are displayed. This lets you know if the member is a group or user and if it is a local object or domain object.
For example, below you can see computer "PC1" has a domain group "IT_Printers" that is a member of the local administrators group.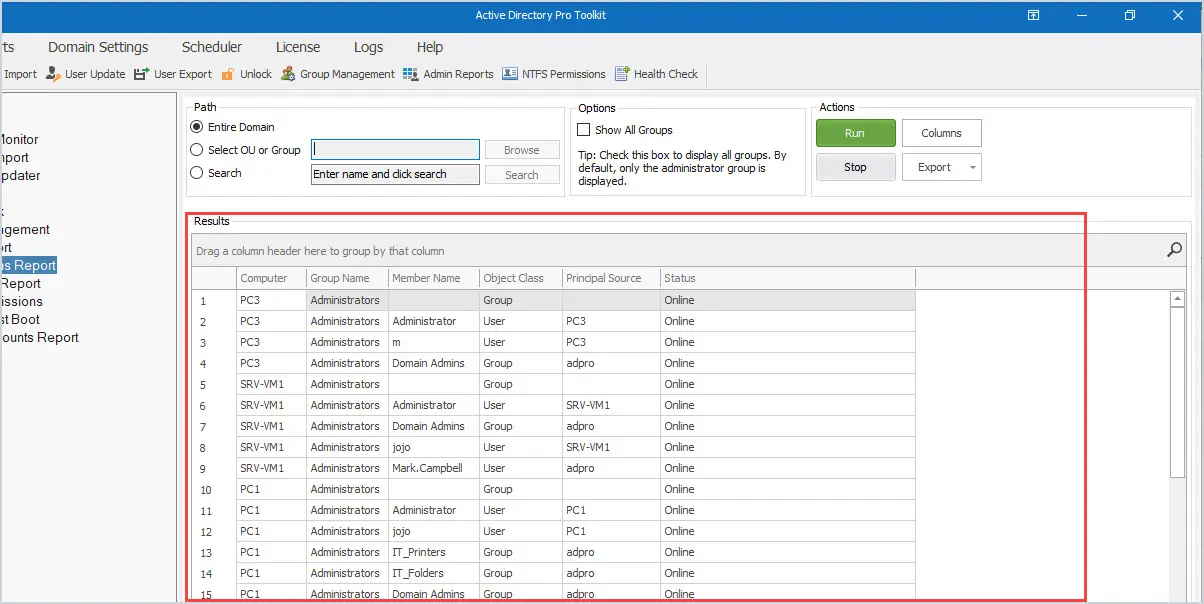 You can click on any column to sort and filter the results. If you want to export the report click the export button.
Try The Local Admin Report For FREE
Join 100,000+ global IT professionals and enjoy efficient, optimized, and intuitive Active Directory management that saves time and makes your job easier.