Active Directory Bulk User Update Tool
The AD bulk user update tool makes it easy to modify, change or remove multiple Active Directory users attributes.
Key Features
Easy to use no scripting experience required

Bulk modify multiple attributes at once

Update, change or remove bulk user attributes

Use CSV to bulk update different attributes for different users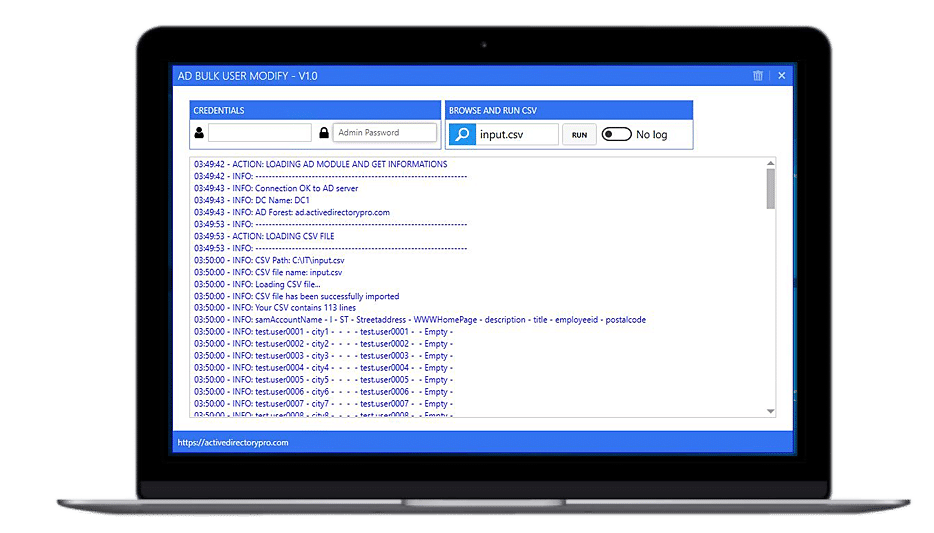 Easy to Use, Impressive Results
The most powerful and easiest to use bulk user modification tool in the world.
Update Single or Multiple Users Attributes
Bulk update any Active Directory attribute: office, email, street, city, state, home folder, job title, department, company, manager, employee id, employee number and more
Update, Modify or Remove Attributes in Bulk
Not only can you modify and update bulk attributes you can also remove attributes. By using a CSV it allows you to target different attributes for each user. It's a huge time saver.
Simple GUI Interface, NO Scripting required
With the easy to use interface, you can get started right away. Scripting changes to Active Directory can get complicated, this program requires no scripting experience.
Questions?
Contact our team. Anytime