Active Directory Bulk
User Updater Tool
Bulk update/modify existing Active Directory User
accounts with this easy-to-use tool.
Mass update user accounts
Bulk add users to groups
Save hours of time
Key Features
Here are the advantages of using the bulk updater tool.
Update Active Directory Users
Mass update or remove user account properties with this easy-to-use GUI tool. Update single or multiple attributes all at once, update the title, state, manager, employee id, and much much more.
No Scripting Required
Bulk update users in just a few clicks (seriously). No scripting or coding is required.
Bulk Update User Passwords
Do you need to bulk update user's passwords? This task is very easy to do with the bulk updater tool. Very easy for quick bulk password resets.
Update Group Membership
Included with the toolkit is the bulk group management tool that allows you to mass add or remove users to groups.
Save Hours of Work
Updating Active Directory user account properties is a common task. If you have many accounts to update this can be very time-consuming. This tool saves you hours of manual work.
Task Scheduler (Automation)
The built-in task scheduler enables you to run the bulk updater on a daily, weekly, or monthly schedule.
Bulk Update ProxyAddresses
The bulk update tool supports updating or removing the proxyaddresses field. You can also set the primary SMTP addresses for users.
Export Users to CSV
Also included with the toolkit is the user export tool. Quickly export all domain users, users from groups, and OUs to a CSV file.
Customer Feedback
Very easy to use
"I like the ease of use, it has helped me complete bulk uploads and bulk updates into our AD."

Sr. IT Lead
Education

Amazing software!
"We utilize the tools in Active Directory Pro for importing new students. A great product and we're absolutely stoked!"

IT Manager
Education

Saved me a lot of time
"I used the tool to import and update users when moving to a new domain. That saved me a lot of time."

IT Specialist
Professional Services

How Does it Work?
The AD Bulk User Updater is very easy to use. All it takes is 2 simple steps.
Step 1: Create a CSV Template
Download the provided CSV template and fill it out.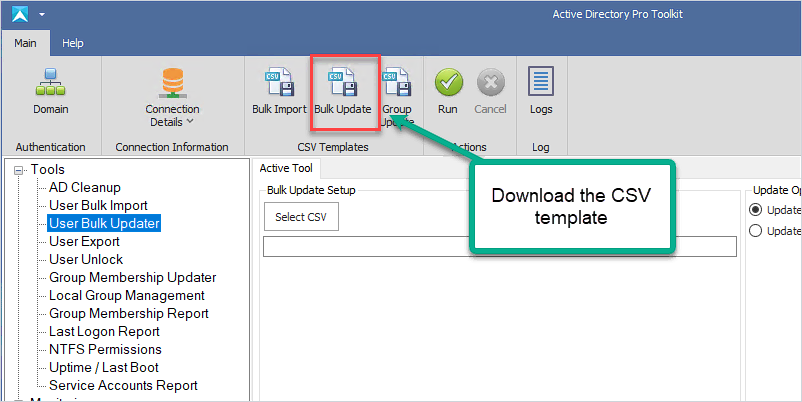 Fill out the CSV with the user information you want to update.
Step 2: Run the User Bulk Updater
Select the CSV and click run.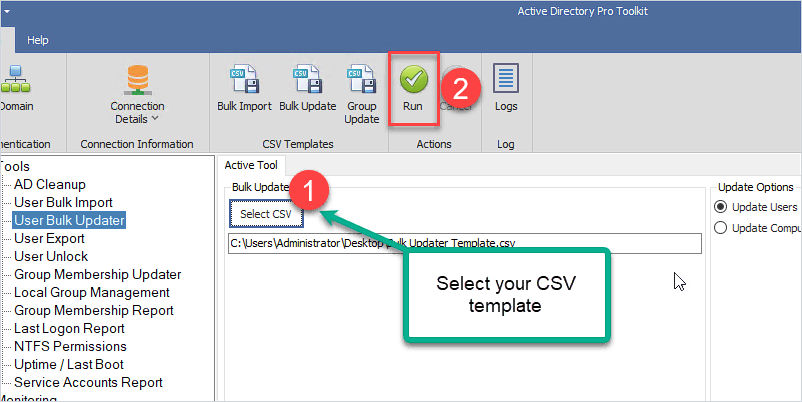 The log manager makes it easy to verify the update was successful for all accounts.
Any errors will be flagged.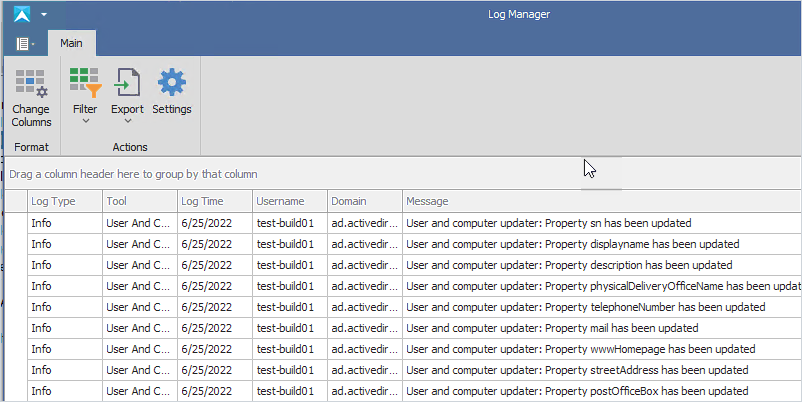 Try The User Updater Tool For
FREE
Join 100,000+ global IT professionals and enjoy efficient, optimized, and intuitive Active Directory management that saves time and makes your job easier.