Active Directory User
Export Tool
Export all Active Directory User Accounts to CSV with this easy to use GUI tool.
Features
Export All Users to CSV file
It's very easy to export all users with this GUI tool. Just select the root domain folder path and click the run button.
Export Users From Organizational Units
This is the same as all users and groups, just pick your path to export and click run. This is a great feature to easily export users from organizational units.
Easy To Use, No Scripting Required
This easy-to-use GUI tool required no coding or scripts. This saves you lots of time by not having to update or change complicated scripts.
Export Users From Groups
Select the groups you want to export and click run. If you want to add additional user fields just select the column picker and add or remove any columns you wish.
Add or Remove User Fields to the report
The column picker lets you add or remove user fields so you can get the export information exactly how you need it. There are 60+ user fields to choose from.
Bulk Move users to Another Domain
You can use the export from this tool with the bulk import and update tool.
How Does it Work?
Easily export AD users with 3 simple steps..
Step 1: Select the Users to Export
You can export all users from the domain, all users from an OU or group, or you can search.
Step 2: Click Run
Next, click the Run button to preview the export. Optionally you can click the "Change Columns"
button to add or remove user columns.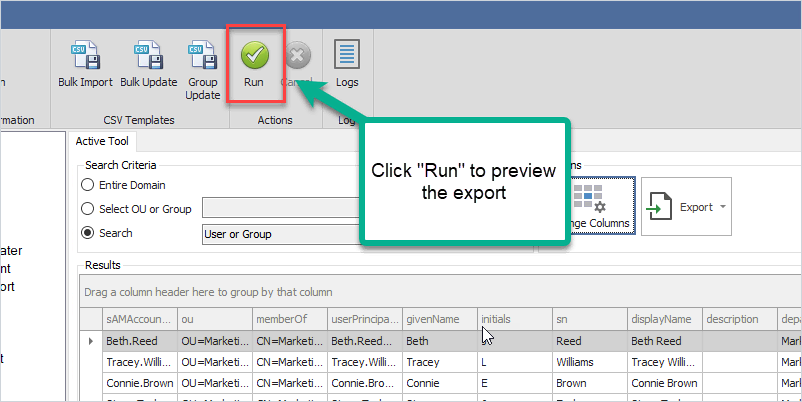 Step 3: Click Export
The last step is to click the export button to save the users to a CSV file.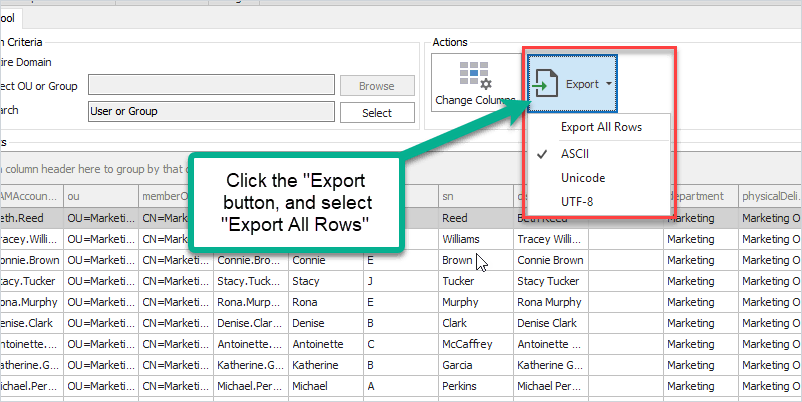 Customer Feedback
Recommend in a heartbeat
"I have saved a lot of time with this product which I was then able to use elsewhere in my job tasks… I would recommend this product in a heartbeat "

Sr. Systems Engineer
Commerce

Exceptional!
" The AD Toolkit was invaluable during our recent merger. We had to combine two different AD domains and the bulk User export tools were exceptional."

Directory of Technology
Education

I have saved a lot of time
"I used the tool to import and update users when moving to a new domain. That saved me a lot of time. Easy to use. Very good guide."

Systems Engineer
Health Services