Active Directory User
Export Tool
Export all Active Directory User Accounts to CSV with this easy-to-use GUI tool.
Easy to Use
Save hours of time
Export all users
Key Features
Here are the advantages of using the User Export tool.
Save Hours of Time
Easily export user accounts from the entire domain, groups, or organizational units.
Export Group Membership
Do you need to export a list of groups and their group membership? No problem the user export tool can also export all groups and their members. Select a single group, multiple or all domain groups.
Filter and Sort
Create filters to refine user reports so you can avoid wasting time writing complex PowerShell scripts.
No Scripting Required
This easy-to-use GUI tool makes it easy to export the users you need with no scripting.
Accurate Reports
Choose from over 60 user fields to include in the export. This provides you with accurate data from your domain. You can easily add or remove user fields such as an address, phone, email, manager, street, and so on.
Migrate Users (New Domain)
You can export users from one domain and import them to a new domain. This is useful for migrating users to a new server or domain.
Customer Feedback
Recommend in a heartbeat
"I have saved a lot of time with this product which I was then able to use elsewhere in my job tasks… I would recommend this product in a heartbeat "

Sr. Systems Engineer
Commerce

Exceptional!
" The AD Toolkit was invaluable during our recent merger. We had to combine two different AD domains and the bulk User export tools were exceptional."

Directory of Technology
Education

I have saved a lot of time
"I used the tool to import and update users when moving to a new domain. That saved me a lot of time. Easy to use. Very good guide."

Systems Engineer
Health Services

How to use the export tool?
The AD User Export Tool is very easy to use, it only takes two simple steps.
Step 1: Select the Users to Export
The first step is to select which users to export. Select from the entire domain (all users), select OU or group or search the domain.
In this example, I selected an OU, clicked the Browse button, and select a group called "Marketing_Folders".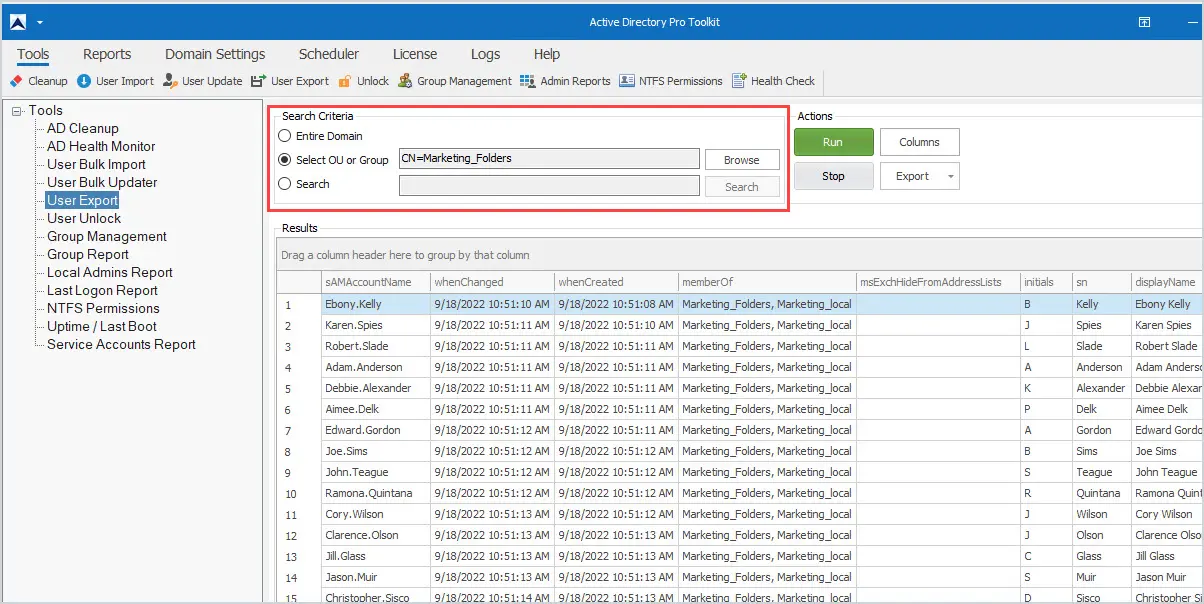 Step 2: Click Run to Generate the list of users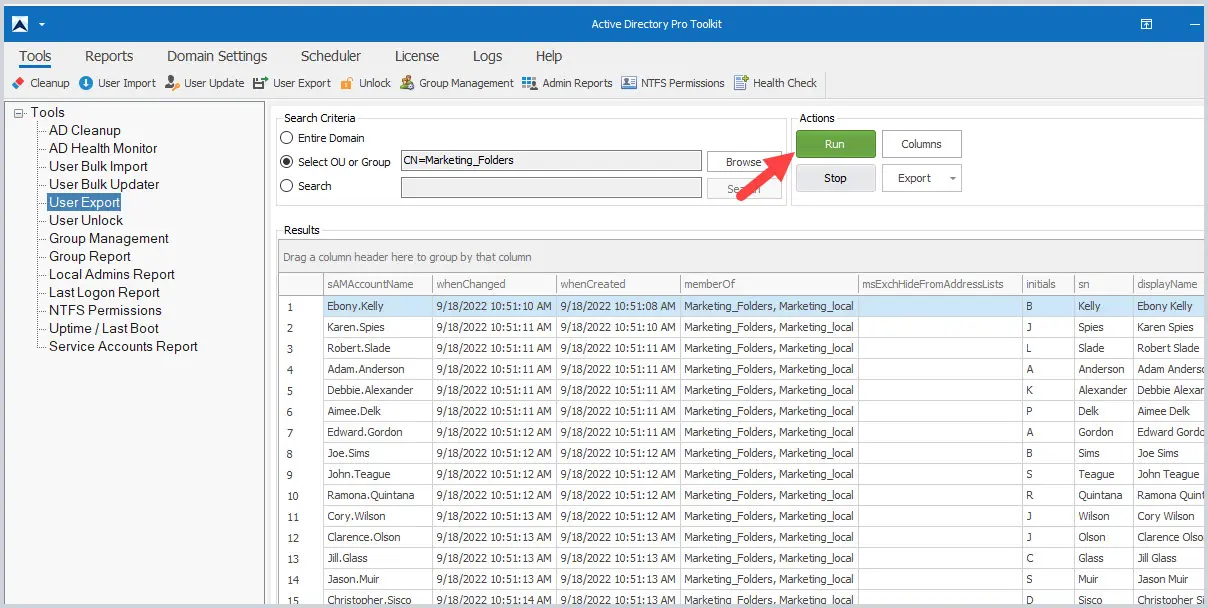 Step 3: Click the Export button
To export the list of users to CSV click the export button.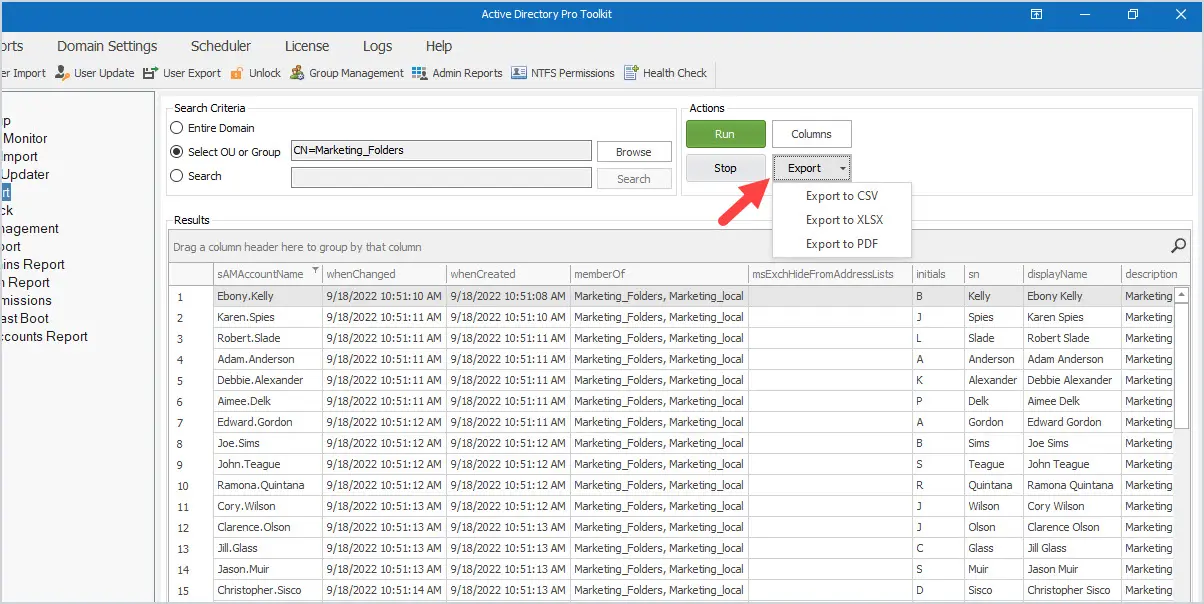 Add or Remove User Properties
If you want to add or remove user properties (attributes) click the columns button. Then use the arrows to add or remove user properties. You can also move them up or down the list.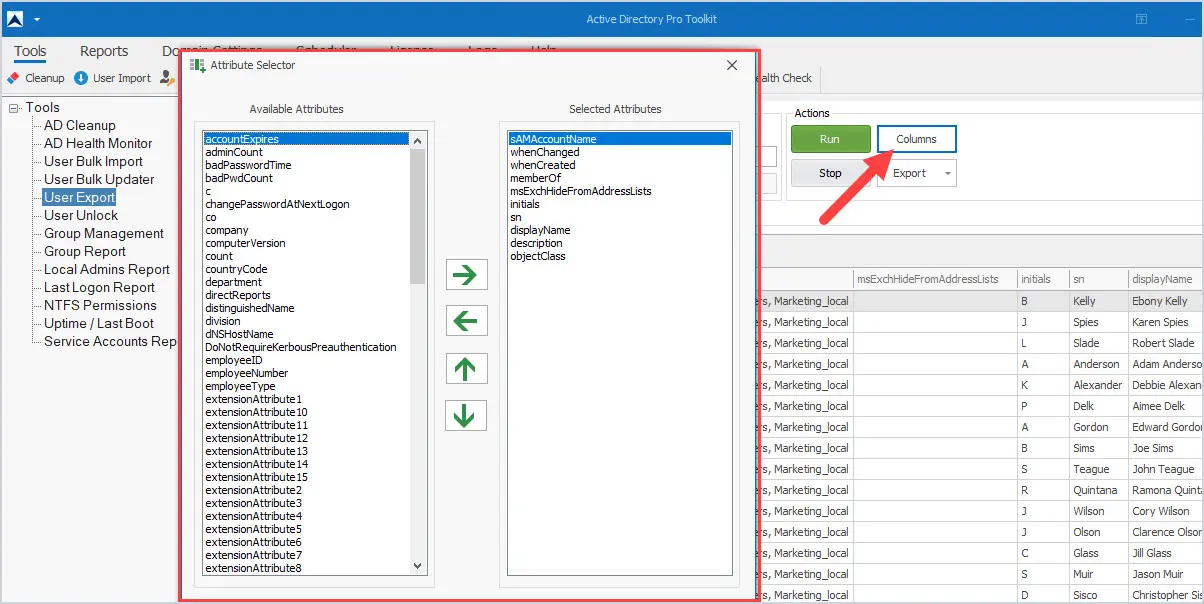 Try The User Export Tool For
FREE
Join 100,000+ global IT professionals and enjoy efficient, optimized, and intuitive Active Directory management that saves time and makes your job easier.