Active Directory Group Management Tool
Simplify Active Directory group management with this easy-to-use GUI tool.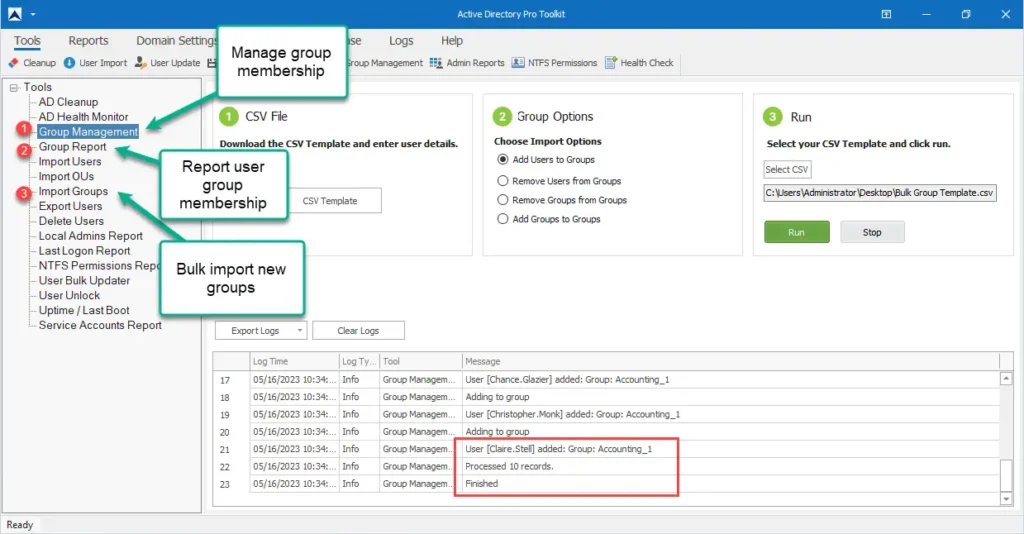 Key Features
Here are the advantages of using the AD Group Management Tool
AD Group Management
Manage your existing Active Directory groups with ease. Bulk add or remove users to your existing groups. Bulk import new OUs and sub-ous.
Bulk Import AD Groups
Easily bulk import new groups. Fill out the included CSV template and click run. It's that easy!
Create Group Reports
The AD Pro Toolkit includes over 200 AD Reports. Report on all security group types, recently created groups, and more.
Save Hours of Work
Don't waste time manually trying to manage your groups. Automate AD group management and save yourself hours of work.
No Scripting Required
This tool requires no scripting. The graphical interface is easy to use, don't spend time updating and modifying scripts.
Group Membership Reports
Do you need a report of all groups and their members? No problem the toolkit can get all users, and group membership including recursive membership.
Video Demo
The Active Directory group management tool is very easy to use. In this example, I'll show you how to add and remove users from groups.
Try The AD Group Management Tool For
FREE
Join 100,000+ global IT professionals and enjoy efficient, optimized, and intuitive Active Directory management that saves time and makes your job easier.