Active Directory Cleanup Tool
Leaving stale, expired, and inactive accounts in Active Directory is a security risk.
This tool quickly finds old accounts and allows you to bulk disable, delete, and more.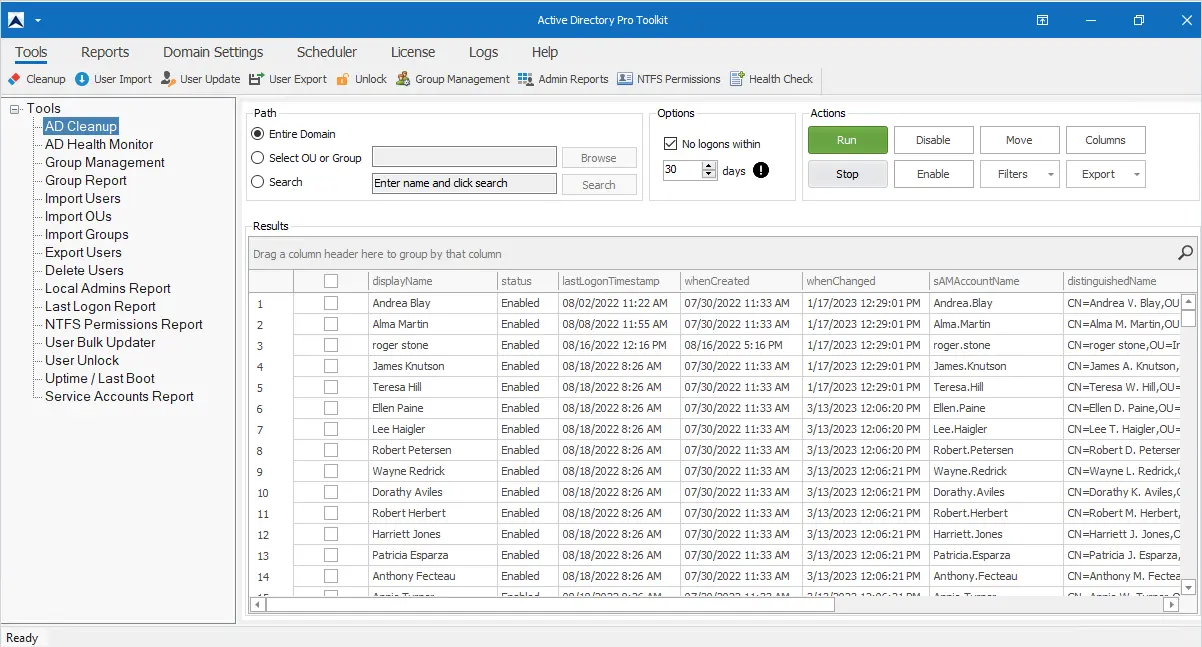 Key Features
Cleanup Active Directory with this easy-to-use GUI Tool
Save hours of work and increase the security of your domain by automating the cleanup of Active Directory.
Quickly find inactive user and computer accounts that can lead to vulnerabilities in your network.
Active Directory Cleanup
Attackers can use inactive accounts to try and hack into an organization. It is important to find these inactive accounts and disable them on a routine maintenance schedule. This tool can quickly find inactive accounts and lets you take action on them.
Inactive Computers
Quickly find inactive computers in your domain. Inactive computer objects can store sensitive data that hackers can use and gain access to other critical systems.
Identify Unused Accounts
You might be surprised at how many user accounts have never been used. This tool will easily display all accounts that have no logon activity. Carefully review these accounts and take action on them such as bulk moving to another OU or bulk disabling.
Improve AD Security
The AD Cleanup Tool will help reduce security risks by finding stale AD objects that hackers or bad actors can use to gain unauthorized access to your networks.
Bulk Move & Disable
A safe first step to cleaning up inactive accounts is to move them into another organizational unit. The Active Directory cleanup tool makes this easy. Just select the OU and all the selected accounts will be moved.
Find Empty Groups
Find all Active Directory groups that have no members. This is a task most administrators don't think to do because it's hard to do unless you have the right tools.

"Our Active Directory was a huge mess. We used the AD Cleanup tool to find unused computer accounts and disabled them. We started with over 900 computers and found 300+ inactive accounts."

Brian Stillwell – Sr. System Administrator
Frequently Asked Questions
Have a different question and can't find the answer you're looking for? Reach out to our
support team by sending us an email and we'll get back to you as soon as we can.
Can this tool list accounts that have not been used in 90 days?
Yes, select the box "No logons within" and enter 90 days. The tool will search your domain and display user and computer accounts that have no logon activity within 90 days.
Can the cleanup tool find inactive computers?
Yes, by default the tool will search for both inactive user and computer accounts. If you want to limit the results to just computers select filters and uncheck users.
I need to find inactive users in a specific OU, how can I do that with the cleanup tool?
To limit the search to a specific ou select OU or group under the path box. Then click the browse button and select your OU.
How do I delete user accounts?
To delete accounts export the report to CSV and use the delete users tool.
See this step by step guide for details.
https://docs.activedirectorypro.com/delete-active-directory-users/
How do I find unused groups?
You can select the filter button and choose groups without members. This will show you all the groups that have no members. This is not the same as unused groups, you would need to scan your entire network to determine if a group is in use or not.
Can I schedule the cleanup of old accounts?
There are several inactive user account reports that can be used with the built in scheduler. These reports can be emailed to you on a daily basis.
The AD Cleanup Tool is 1 of 14 Active Directory tools included in the AD Pro Toolkit.