Active Directory User Unlock Tool
Quickly find and unlock user accounts, reset passwords,
and troubleshoot account lockouts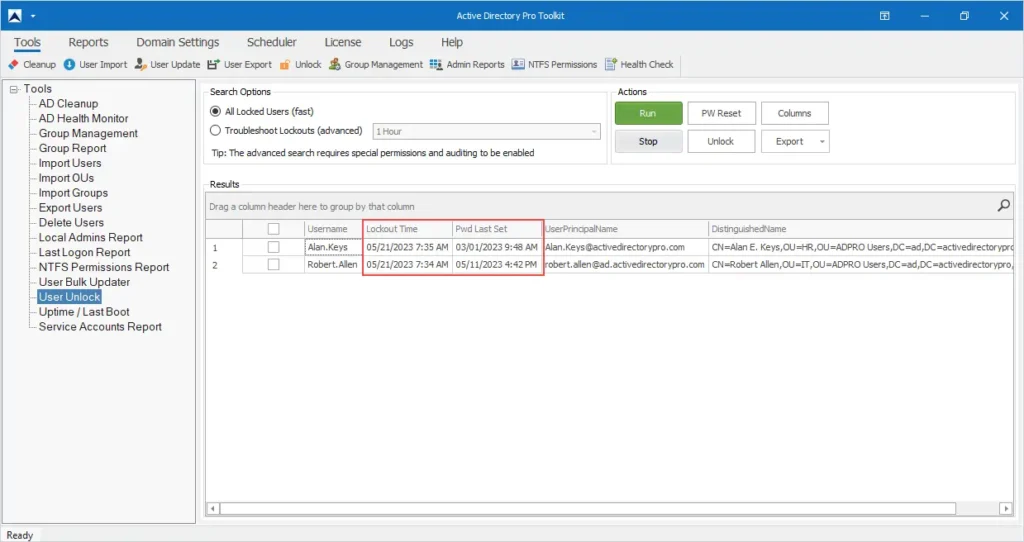 Key Features
Easily Unlock Users and Reset Passwords
User lockouts are a top call to the helpdesk. This tools saves the helpdesk the time of manually
looking up users to check if they are locked. Instantly find all locked users with a click of the button.
Unlock Active Directory Accounts
Unlocking user accounts is a common call to the helpdesk. This tool makes it easy for staff to find, unlock and reset passwords when users call.
Reset User Passwords
The reset password feature included options for randomly creating passwords or manually entering passwords. Also, includes the option for user must change the password at the next logon.
Find Lockout Source
Repeated lockouts are frustrating! This tool will pull the logs from the domain controller and display the source computer of the lockout.
Easy to Use
The simple interface makes this tool very easy to use. Your staff can easily find and unlock user accounts with a click of a button.
Save Hours of Work
The built-in Microsoft tools do not provide the most efficient way of handling locked accounts. This tool makes it incredibly simple to unlock and reset passwords when a user calls the support line.
AD Pro Toolkit
In addition to the export tool, the AD Pro Toolkit includes 14 tools to simplify AD Management and reporting.

"We purchased Active Directory Pro so that our Helpdesk could quickly unlock user accounts, it is a top support call. It has also been a lifesaver in troubleshooting repeat lockouts and finding where users were getting locked out from."

Diana Frye – IT Support Manager
How to use the User Unlock Tool?
The User Unlock Tool is very easy to use, it only takes a few steps.
Requirements:
To use the troubleshoot Lockouts feature the audit logs need to be enabled. – Click here for instructions.
Step 1: Find Locked Users
To find all locked user accounts click on "All Locked Users" and click the run button.
All locked accounts will be displayed.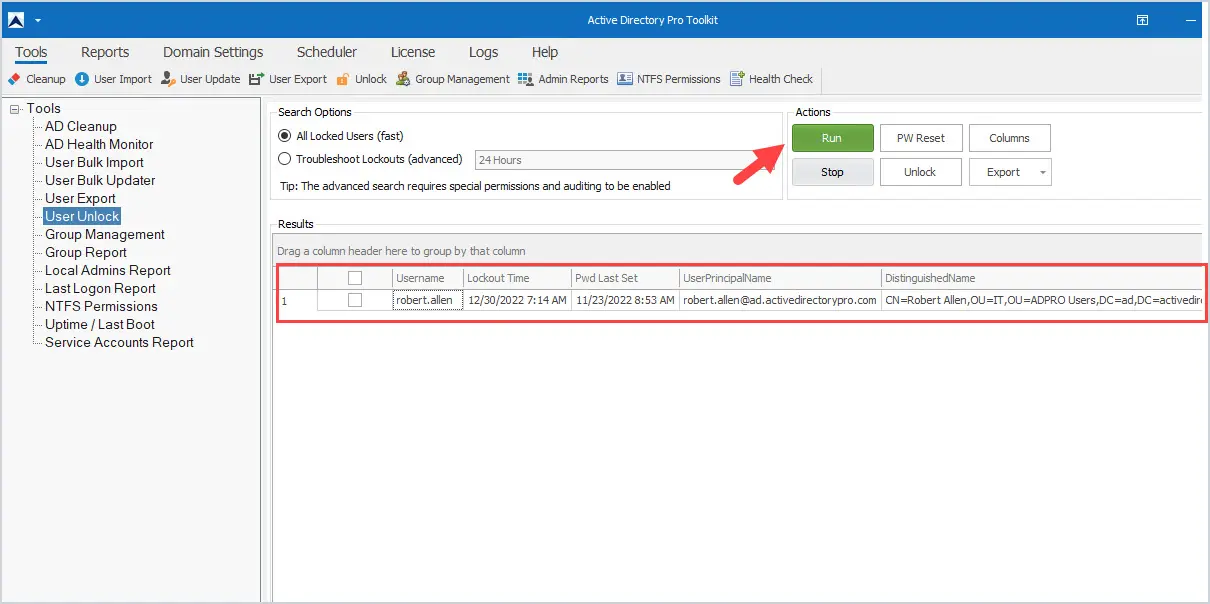 Step 2: Unlock User Accounts
To unlock accounts select one or multiple accounts and click the unlock button.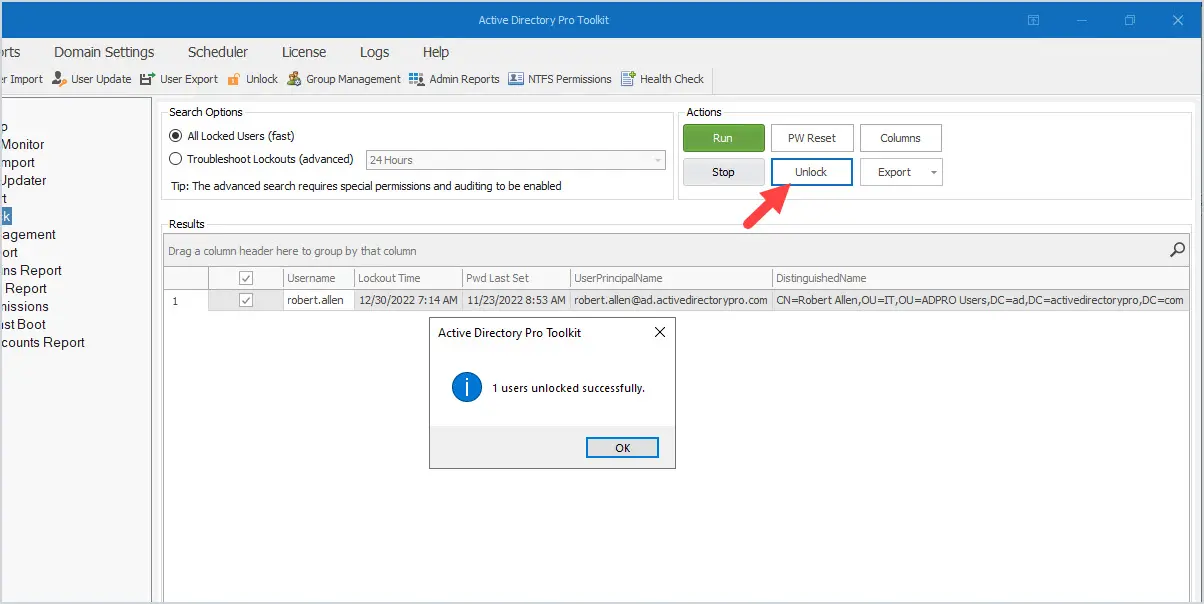 To reset an account's password select the account and click the PW Reset button. You can choose to generate a password or manually enter a password.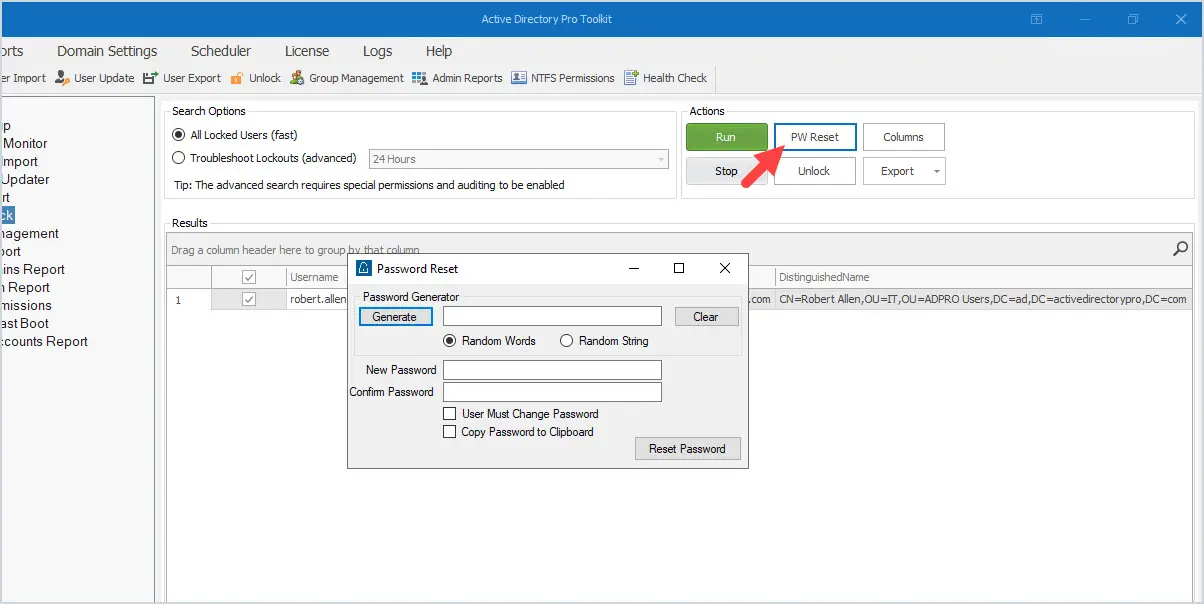 Find the Source of Account Lockouts
Select "Troubleshoot Lockouts" then click run. By default, the tool will search the last 4 hours of the domain controller logs for lockout events. Use the drop-down menu to select 1, 4, 8, 12, or 24 hours.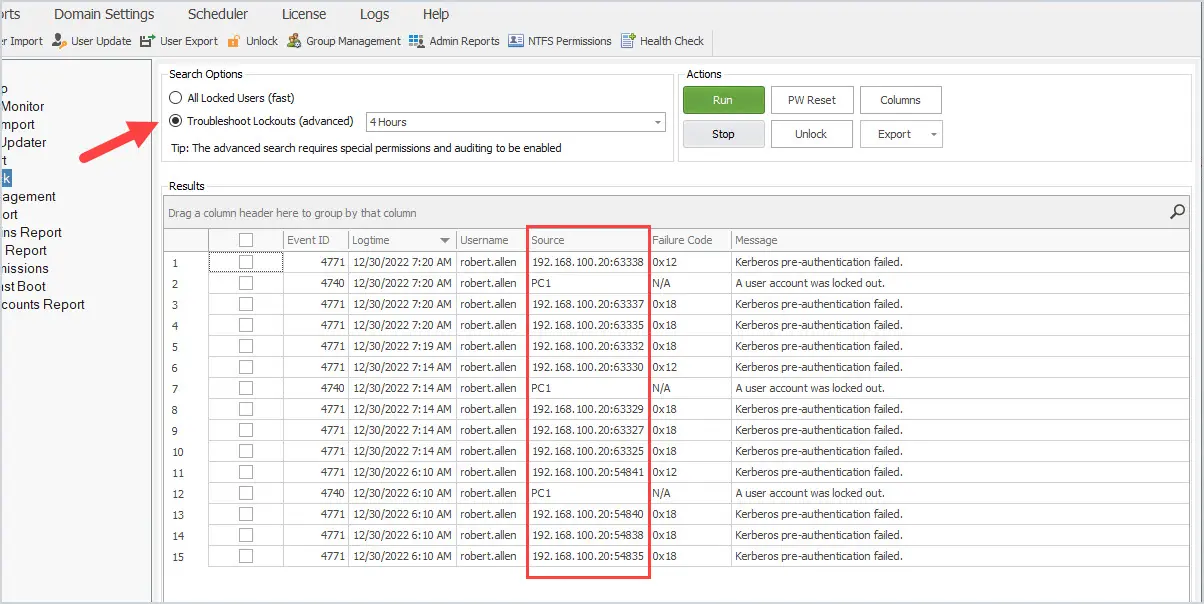 The source of the account lockout will be displayed in the source column. These details will only display if the correct auditing logs are enabled. Refer to the administrator guide for steps to enable it.
The source logs will also display the source of failed authentication attempts.
Try The User Unlock Tool For FREE
Join 100,000+ global IT professionals and enjoy efficient, optimized, and intuitive Active Directory management that saves time and makes your job easier.