Active Directory Management Tools
Used by thousands of Professionals to Simplify and Automate Active Directory Management.
AD Pro Toolkit Last Updated: 4-6-2021
Version: 2.1.0.16
Easy to Use Active Directory Tools
The AD Pro Toolkit is a collection of PowerShell and GUI tools that simplify AD management, such as bulk updating accounts, exporting users, creating bulk accounts, reporting on group membership, and much more. The AD Toolkit will make your job easier.
Get the TRUE last logon date for active directory users.
This tool can query all domain controllers or you can select a single domain controller to check the last logon date for user accounts.
You can also select to run this tool for a single user or all users in an organizational unit. Results can be exported to CSV.
The AD bulk user creation tool lets you create new Active Directory users from a CSV file. It comes with a CSV template, you just fill out the user details and click create.
You can choose to add users to groups, add to an OU, change password at next logon, enable or disable, and so on.
**One of the most popular tools from the AD Pro Toolkit**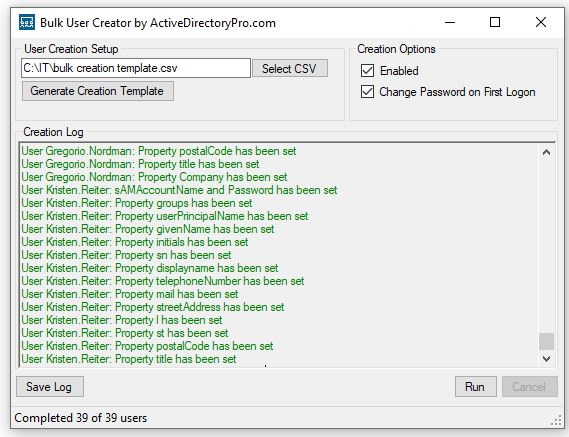 The Active Directory Cleanup tool finds obsolete computers, groups, and user accounts. Accounts can then be moved to another OU, disabled, or exported to CSV.
This is a must have tool for anyone that has an Active Directory environment. Stale Active Directory accounts can lead to big security threats and compliance issues.
The AD User export tool makes it easy to export users from Active Directory. You can choose to export all users, all users from an organizational unit, or members from a security group.
Each export includes several user attributes such as last name, sAmAccountName, office, street, PO box, company, manager, and more.
Bulk update existing Active Directory Accounts.
You can bulk update attributes like the phone number, manager, employee id, department, address, and so on?
The tool comes with a CSV template that includes the most common user attributes, you can add more attributes if needed.
The bulk group management tool makes it easy to manage Active Directory group membership.
With this tool, you can quickly bulk add or bulk remove users to Active Directory groups.
I've had to bulk update group membership for many organizations and this little tool has saved me hours and hours of time
The Group membership report tool allows you to report on all groups and group membership. You can choose to report on all groups, single group or all groups from an OU.
You can also get the group membership for a single user.
Results can be sorted in the grid view or exported to CSV. Great tool for reporting, migration, or backing up group members.
The uptime tool lets you check the last boot and uptime of remote computers.
You can check the uptime on a single computer or multiple computers by selecting an organizational unit. The report can be exported to CSV or HTML.
Need a report of who has permissions to what folders?
NTFS Permissions Reporter displays the NTFS permissions on folders and subfolders, the folder can be local or a remote UNC path.
By default, it will display permissions for the first level of folders, you can choose to specify how many folders deep to report.
With one click you can display all locked user accounts and unlock them.
Additional features include password reset, check account status, display detailed information such as bad password count, account lockout time, and the source computer.
Displaying the source computer of the lockout can help track down those repeated account lockouts.
Monitor Active Directory with this easy to use GUI tool. Choose to run all 27 health tests or you can choose to run specific tests. You can automate the tests by selecting to run on a schedule and get email reports. Use the detailed logs to diagnose issues. This tool is only available with the advanced AD Pro Toolkit
The PowerShell Snippet Manager makes it easy to manage and run your PowerShell scripts and code snippets from a single console. This tool also includes the AD PowerShell Libray. This tool is only available with the advanced AD Pro Toolkit
AD Pro Toolkit Release Notes
v2.1.0.16 (4-6-2021)
User Export Tool: Added more attributes
Last Logon Reporter: Fixed display issue
Included AD Monitoring Tool in MSP and advanced versions.
v2.1.0.13 (3-14-2021)
Bulk User Creation Tool: Fixed a bug caused by missing fields. sn or givenName is now a required field.
v2.1.0.12 (1-16-2021)
Bulk Updater Tool: Added the ability to bulk update computer accounts
Bulk User Creation Tool: CSV will read regional settings
Bulk Updater & Creation Tool: Added domain controller to the logs
Added EULA to installer
v2.1.0.8 (11-11-2020)
Bulk User Creator: Added option to set name as LastName, FirstName
AD User Export: Added Employee ID and Employee Number
All tools will now display "New Version Available" when a new version is released.
v2.1.05 (10-23-2020)
Bulk User Updater: Added CLI version
AD User Export Tool: Added UAC flag and UAC decimal attribute
AD User Export Tool: Moved attribute picker to the main window
9-24-2020
Last Logon Reporter: Fixed sorting issue
Bulk Group Management: Fixed issue with an empty value for user field
AD Cleanup Tool: Fixed sorting issue
Bulk User Updater – Fixed issue with LDAP query that identifies sAMAcountname
Bulk Group Report – Changed recurse to Include nested group membership
8-31-2020
Bulk Group Report Tool: Fixed cross-store reference issue with a single group
Bulk Creation Tool: Fixed issue with adding multiple proxyaddresses
8-29-2020
AD User Export Tool: Added UserPrincipal name and WhenCreated attributes
How to Install the AD Pro Toolkit
Installing the toolkit is very easy.
1. Once you download the free trial or purchase the full version just run the installer.msi file. The Full version will upgrade the demo version.
2. On the welcome screen click next.
3. Click next on the Select install folder screen. I recommend picking the default install folder.
4. Click next on confirm installation screen
5. Installation complete. Click Close
Tools will be added to your start menu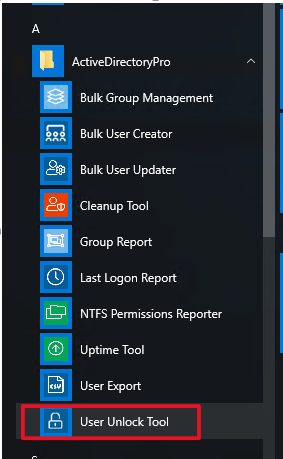 7 Key Feature of Active Directory Tools
Here are the top features you get with the AD Pro Toolkit.
1. Simplify On-Boarding New User Accounts (Bulk Import)
On-boarding new user accounts can be a very time consuming task if done manually. Plus with all the manual data entry errors can occur. The Bulk User Creation tool simplifies this process by allowing you to bulk import accounts from a CSV template. This is the easiest and fastest tool on the market for bulk importing new user accounts into Active Directory. This tool is a huge time saver and anyone in IT can use it.
2. Perform Bulk Actions on User and Computer Accounts
The built in Active Directory User and Computer tool provides very little options for performing bulk actions. There are many times when you need to bulk update user accounts, export all users, bulk add or remove users to groups, unlock multiple accounts, etc. The AD Pro Toolkit provides tools that make it very easy to perform bulk actions on user accounts.
3. Secure Active Directory
Leaving stale and unused accounts in Active Directory can become a major security risk. It should be a routine task to find these old accounts and disable and them. There is no easy way to find these old accounts with Active Directory Users and Computers. The Last Logon Reporter and the AD Cleanup Tool can both be used to find these accounts. The AD Cleanup tool allows you to perform additional actions like bulk moving the accounts and bulk disabling them.
I run this process each month on Active Directory environments I manage.
4. Customize Tools to Your Needs
Included with the PowerShell Snippet manager is the PowerShell version of these tools. If you're into PowerShell this allows you to view and modify the source code. You can add or remove options allowing you to customize the tool to your exact needs. This is totally optional, if you're not into PowerShell then no problem just continue to use the regular GUI tools.
The AD Pro Toolkit is very easy to use. I designed these tools with a very simple and minimal interface making it easy for anyone to use. Most of the tools don't event need domain administrator rights which allows you to delegate tasks to none system administrators. For example, you could give the helpdesk or a supervisor the User Export tool and they could handle requests for user account exports.
I often get requests for a report of who is in a group or who has access to an application or folder. The Group Membership report tool and AD user export tool make this a simple task. The best part is I can have anyone run this tool as it does not require domain admin rights.
The AD Pro Toolkit is a very powerful collection of tools that comes at a very low cost.
I created this toolset to make my job easier and it did. It also made my team more efficient by automating many routine system administrator tasks. I decided to bundle all these tools and sell them at a very low cost so others could use them. There are some very expensive tools on the market and I believe this toolset is just as PowerFul and easier to use but comes at a fraction of the cost. For whatever reason, some companies make licensing very complicated and require you to contact them to even get a price. I hate that. The AD Pro Toolkit is a simple price and simple license model.
If you are a system administrator or manage Active Directory the learning PowerShell is a must. If you have no coding or scripting experience it can be an intimating subject to learn.
With the PowerShell Snippet Manager and included snippet library learning and running Active Directory PowerShell commands is a no brainer.
My snippet library includes hundreds of pre-built commands that allow you to just select the snippet and click the run button. The full script syntax will be displayed which allows you to learn PowerShell and saving you time at the same time.
For example, you want to display all user accounts that have been creating in the last 7 days. You just select the snippet and click run. The snippet syntax will be displayed so you can understand the commands that are needed to run this type of query. Once you get the hang of the PowerShell commands you can start to modify existing snippets and create your own.