Active Directory Management Tools- AD Pro Toolkit
Used by thousands of IT Professionals to Simplify and Automate Active Directory Management.
AD Pro Toolkit Last Updated: 11-14-2021
Version 1.3.7
Easy to Use Active Directory Tools
The AD Pro Toolkit is a collection of PowerShell and GUI tools that simplify AD management, such as bulk updating accounts, exporting users, creating bulk accounts, reporting on group membership, and much more. The AD Toolkit will make your job easier.
Tools included in the AD Pro Toolkit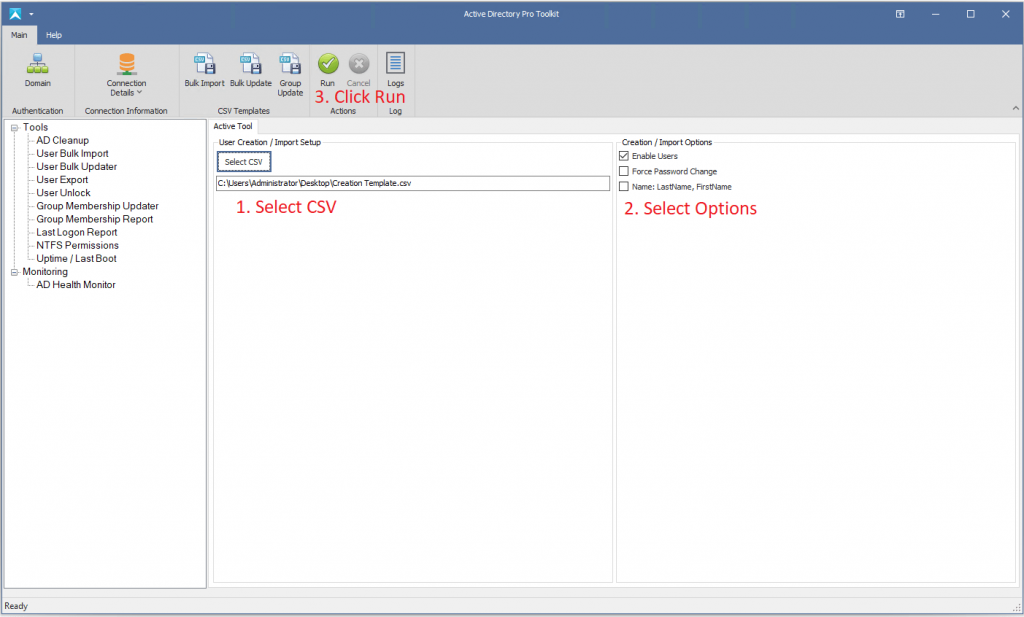 The Bulk Import tool makes it easy to import new user accounts into Active Directory from CSV. Includes a CSV template, sets multiple user attributes and adds users to groups during the import. This is one of the most popular tools in the toolkit. It is a huge time saver for those that need to provision AD accounts.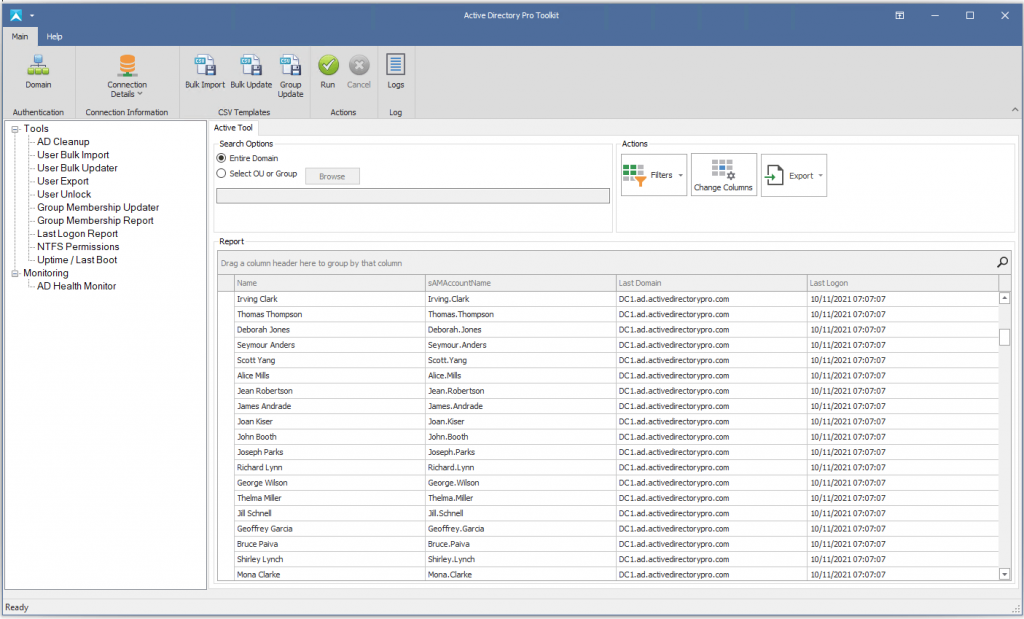 The last logon reporter tool will get users TRUE last logon time from all domain controllers in your domain. You can limit the search to the entire domain, organizational unit, or groups.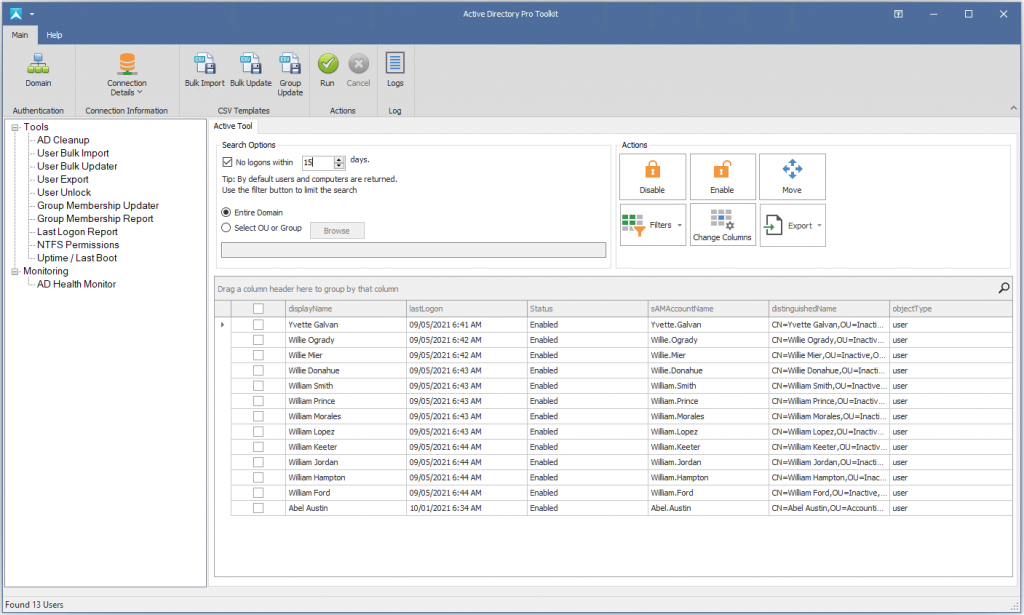 The AD Cleanup tool searches your domain for stale and inactive user accounts based on the account's lastlogon attribute. You can also find disabled, expired, accounts that have never been used and empty groups. It is recommended to run a cleanup process on your domain at least once a month, this tool can help simplify that cleanup process.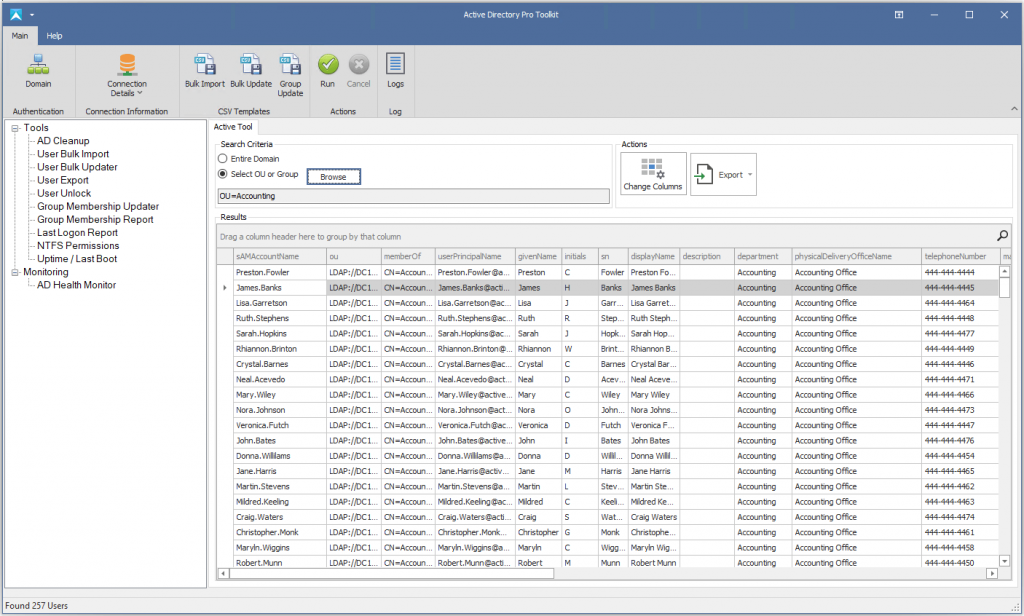 The user export tool lets you export all uses plus all common user fields to a CSV. Over 40 user fields can be added to the export by clicking the change columns button. This is a great tool if you need a report of all users, the groups they are a member of, OU, and more.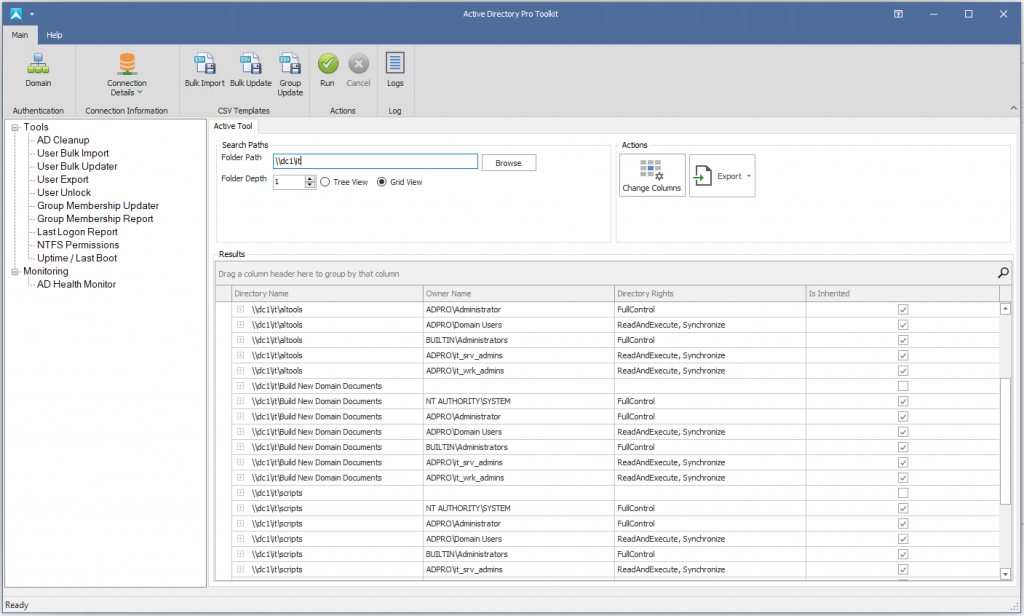 The NTFS permissions tool will report folder security for local, remote, and UNC folder permissions. The grid view comes with a powerful filter so you can search and limit the results to find specific permissions such as Active Directory groups.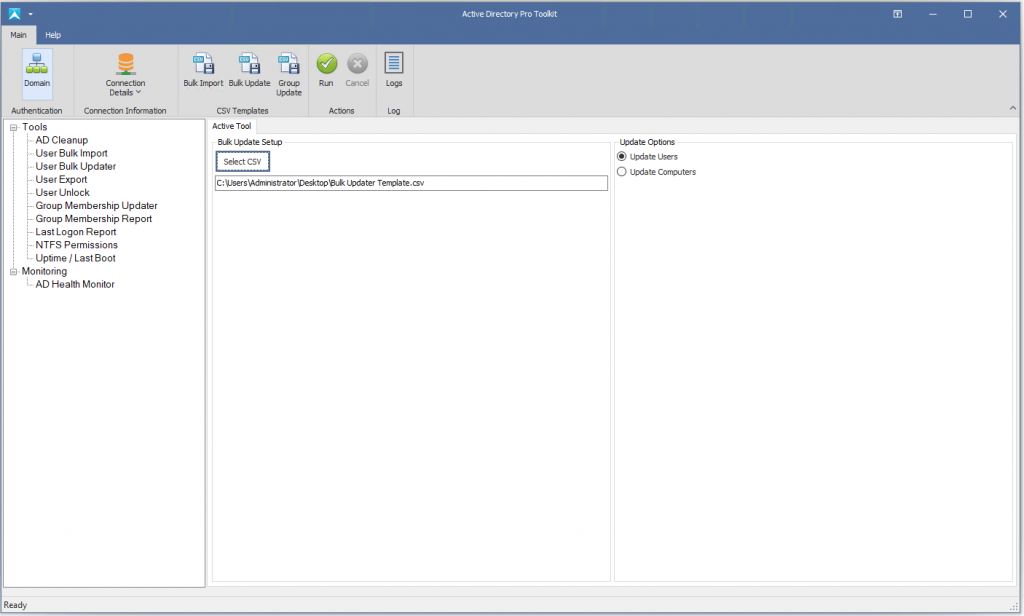 This tool lets you bulk updater user account properties from CSV. Some popular use cases are bulk updating user's proxyaddresses, employeeid, addresses, manager, and so on.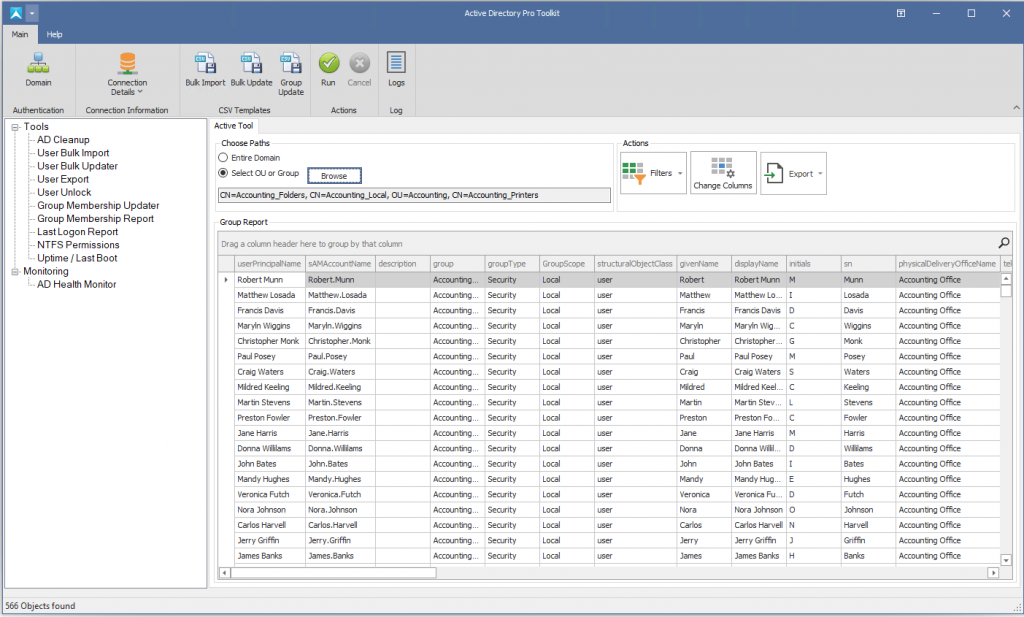 This is one of my favorite tools from the toolkit. Report and export group membership has never been easier, select from the entire domain, groups, or organizational unit. This tool also helps to find nested security groups.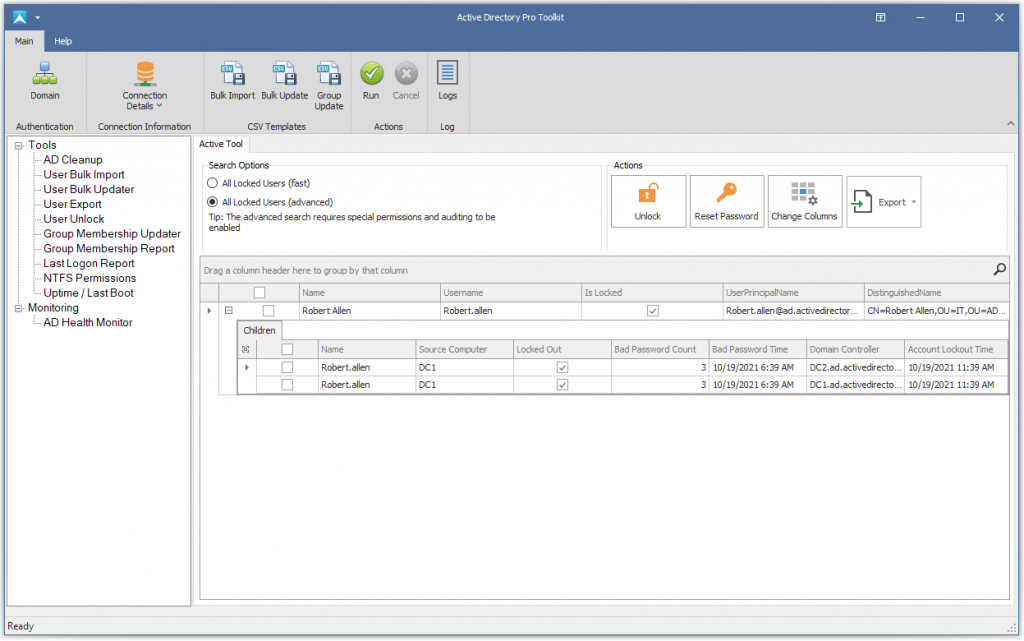 Find all locked users with the click of a button. Unlock, reset passwords or show advanced details like the source of the lockout and more. To pull the source computer you need to have auditing enabled, check the administrator guide for how to enable this.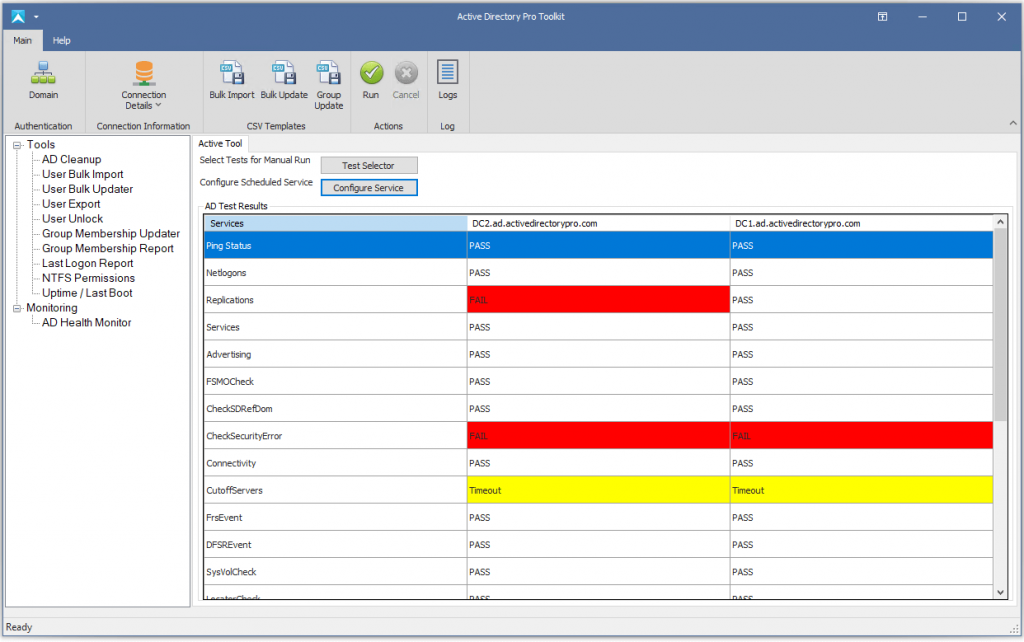 Monitor single or multiple domain controller's health status. Easily see the status of multiple critical domain controller services. This tool is included in the advanced version only.
10. Local Group Management
This tool gets the local groups and group members on remote computers. You can quickly sort or filter the groups to get a list of all users and groups that have local administrator rights. See the video walk through below.
Get the last boot and uptime for computers and servers
Bulk add or remove users to AD security groups.
Over 200 PowerShell reports for users, computers, groups, Office 365, and OUs. Included in advanced version only.
What our customers say…
"The bulk import tool has saved me a lot of time. We have to create new students accounts each semester and this tool makes it very easy. The cleanup tool also helps us remove old student accounts. Nice work!
Joe Reaves
Network Administrator
"Our Active Directory was a huge mess. We used the AD Cleanup tool to find unused computer accounts and disabled them. We started with over 900 computers and found 300+ inactive accounts"
Justin Phillips
Sr. System Administrator
"I want to thank you for the AD PRO Toolkit, we were able to use it right away to export all group members and all user accounts. We have to provide reports to department heads each quarter and this toolkit makes it easy."
Dana Catherman
Director of IT