Solutions
We developed the AD Pro Toolkit to simplify and automate the management of Active Directory. Our set of Active Directory Tools provides quick and easy solutions to some of the most common Active Directory Administrative tasks. Below are some of our popular solutions that our customers love.
Secure and Cleanup Active Directory
The Active Directory Cleanup Tool simplifies the process of finding stale accounts in Active Directory. This is an important administrative task to help secure and keep AD clean.
The AD Cleanup tool solutions include:
Find inactive user accounts
Find all expired user account
Bulk move or disable accounts
Search the entire domain or specify an OU or group.
Secure and cleanup your domain by finding stale accounts.
Search and filter for accounts by the lastLogonTimestamp, whenCreated, whenChanged and other user attributes.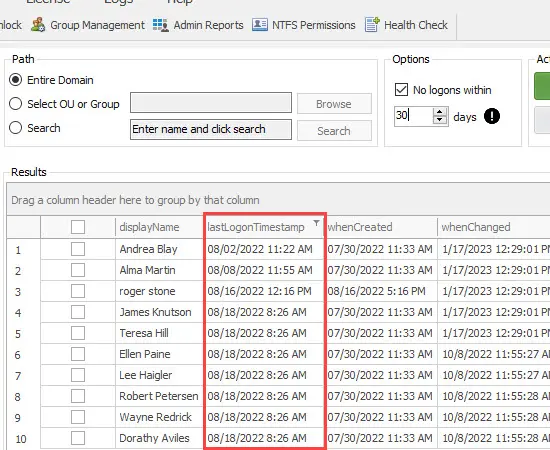 Check the Health of Active Directory
The Active Directory health check tool will scan your domain controllers and provide a pass or fail on various checks. Your domain controllers are critical for the authentication and authorization to network resources.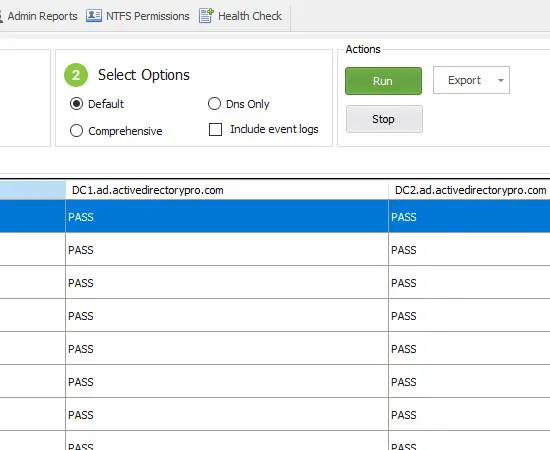 Scan the following domain controller services and dependencies:
Advertising
CheckSDRefDom
Connectivity
DNS
SysVolCheck
KccEvent
Replications
RidManager
VerifyReplicas
and more
Import New User Accounts
The Active Directory User Creation tool simplifies the process of creating new user accounts. Creating new user accounts is one of the most common tasks an Administrator can do. The AD User creation tool simplifies this process by importing new accounts from a CSV file. This way you can import accounts and set multiple user fields at once.
Create 1 or 100s of accounts at once
Add users to groups during the import process
Set user attributes during the import process
Require password change at next logon
Set proxyAddresses
Set account address details
Set the manager for each account
Set organization details
Set profile details such as profile path and logon script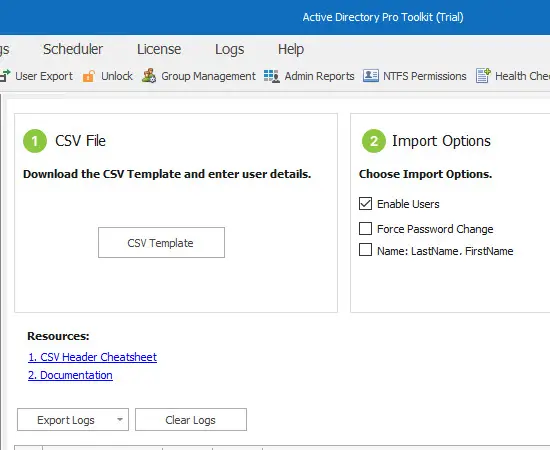 Bulk User Management
Do you need to bulk modify user accounts such as modify user properties or update group membership? The User Bulk Updater tool is one of out most popular tools allowing you to update multiple users at once.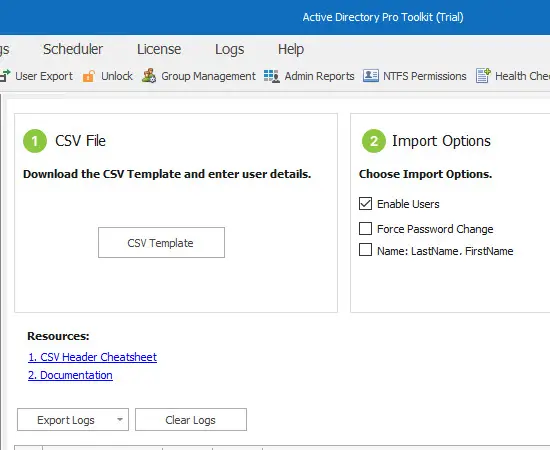 Modify manager
Update users telephone numbers
Update users addresses details such as street, city, state, and zip code.
Modify users group membership
Generate User Reports
The toolkit includes multiple tools for creating user reports. You can easily export all user accounts and selected user fields or choose from the large list of built-in reports.
Export all users
Add or remove from over 30 user attributes
Report on all users proxyaddresses
Get all users address information
Report on all enabled or disabled users
Get all users with a manager or no manager
Users created in the last 7, 30, or 60 days
Export report to CSV, excel, or pdf.
Get all users groups
Over 200 built in Active Directory Reports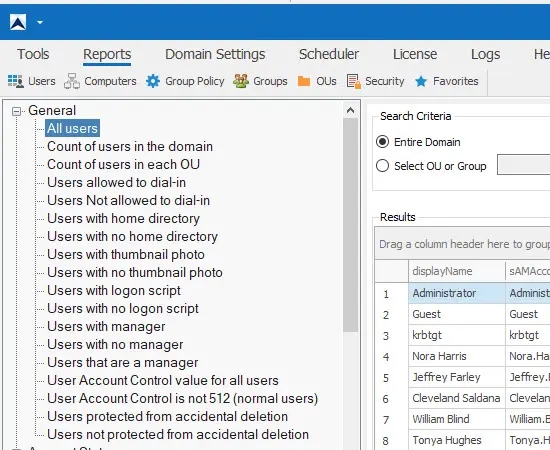 Troubleshoot Account Lockouts
The user unlock tool will display all locked user accounts and quickly unlock them or reset their passwords. This is a common task the helpdesk must do on a daily basis. This tool provides a quick solution to finding locked accounts and unlocking them. In addition, you can display the source of the lockout.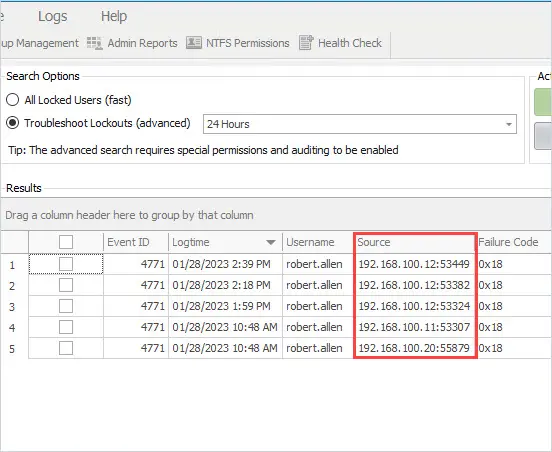 Unlock all user accounts
Display the source of account lockouts
Display lockout time
Get event ID 4771
Get Password last set date
Get last logon time
Source IP or computer of the lockout
AD Group Management Solutions
The AD Pro Toolkit includes tools to manage group membership and report on groups and membership. The AD Group Management Tool allows you to easily bulk add or remove users to groups. In addition, the built-in group reports can generate a report on all domain groups.
Bulk add users to groups
Bulk remove users from groups
Report on users group membership
Export all groups and their members to CSV
Find nested groups
Report on all domain groups by type
Report on recently modified groups
Report on recently created groups
Display the source of account lockouts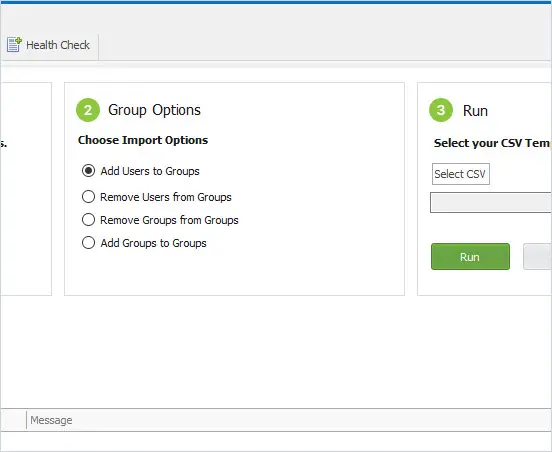 Comprehensive Active Directory Reports
The AD Pro Toolkit includes over 200 built in reports. Choose from the user, computers, group policy, OUs, or security reporting category. Easily create reports for auditing, management, or other needs. Below is a short list of some of the built in reports.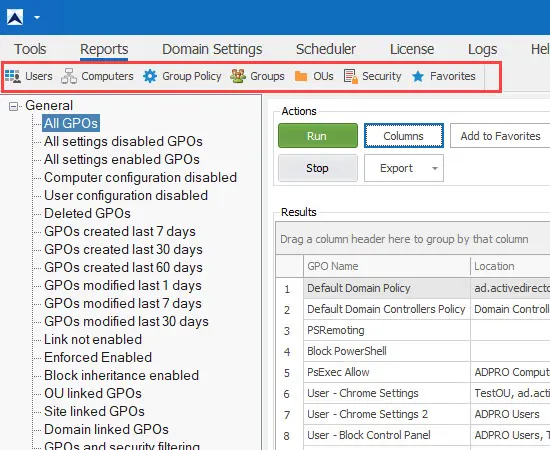 Recently created users
Recently modified users
Report admins with old passwords
Report on the built-in privileged groups
Get LAPS passwords
SID history
Bulk remove users from groups
Report on users group membership
Export all groups and their members to CSV
Find nested groups
Report on all domain groups by type
Report on recently modified groups
Active Directory Password Management
Reset user passwords, set user must change password at next logon, report on bad password attempts, and set other user account options.
Set passwords to never expire
Report users with expired passwords
Report admins with old passwords
Get LAPS passwords
User must change the password at next logon
Get bad password attempts
Users that recently changed their password
Users that don't require a password
Users that require a password change in next 7 days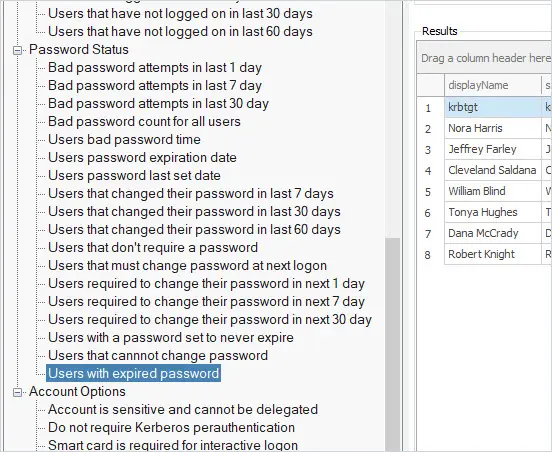 Ready to Easily
Manage Active Directory

and Save Hours of Manual Work?

Join 100,000+ global IT professionals and enjoy efficient, optimized, and intuitive Active Directory management that saves time and makes your job easier.