Service Accounts Report Tool
Easily find all Windows services and scheduled tasks on computers and servers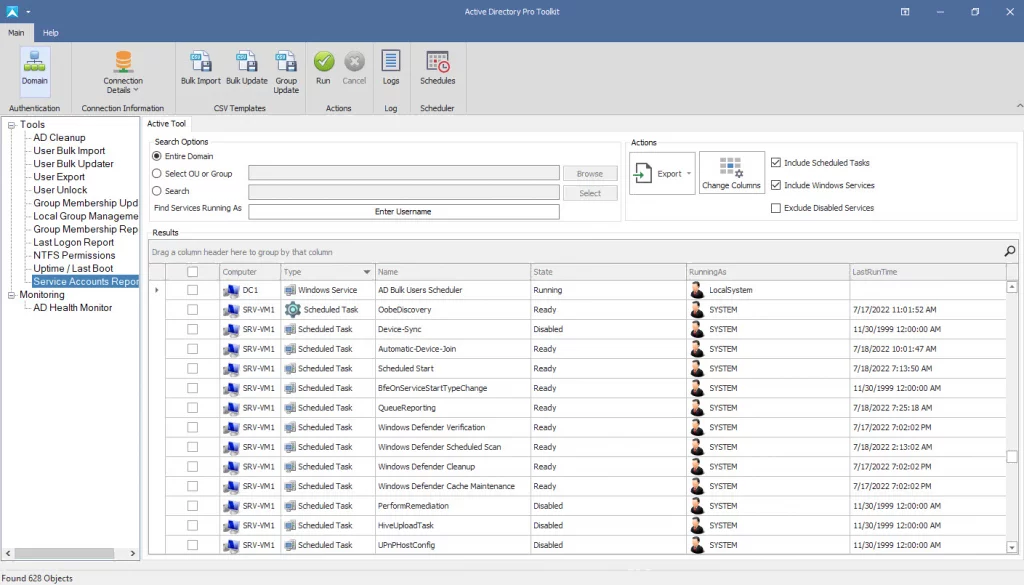 Key Features
Save Hours of Time
Scan any number of computers or servers to automatically find windows services and scheduled tasks. You can limit results to specific accounts.
Find Running Tasks
Scan your computers to see what scheduled tasks are configured and running on your computers.
No Scripting Required
This easy-to-use GUI tool required no coding or scripts. This saves you lots of time by not having to update or change complicated scripts.
Find Service Accounts
Service accounts can be a security risk as they often have their passwords set to never expire. Scan computers to find service accounts in your domain.
Find Specific Accounts
Looking for a specific account that is being used for a service or task? No problem, enter the account name and the tool will scan for a specific account.
Export Results
Export the list of results to a CSV file.
How Does it Work?
The Service Accounts Report tool is very easy to use.
Try The Service Report Tool
FREE
Join 100,000+ global IT professionals and enjoy efficient, optimized, and intuitive Active Directory management that saves time and makes your job easier.