In this guide, I'll walk through step by step how to create a group in Active Directory.
I'll first demonstrate creating a group with the Active Directory users and computers console (ADUC), and then I'll create a group using the AD Group Management Tool. The group management tool is part of the AD Pro Toolkit and includes tools for creating groups, adding or removing group membership, and group reporting.
Let's get started.
Method 1. Create a Group using the Active Directory users and computers console (ADUC)
Step 1. Open ADUC
Click on Start, navigate to the Windows Administration Tools folder, and click on ADUC.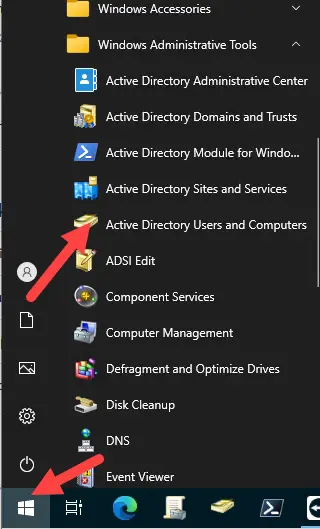 Step 2. Create a new group
In your domain tree right click the OU in which you want to add a new group.
Select New -> Group
Tip: I like to create an OU for all my groups, this helps to keep groups organized and easy to find. You can create additional OUs if needed to further organize them.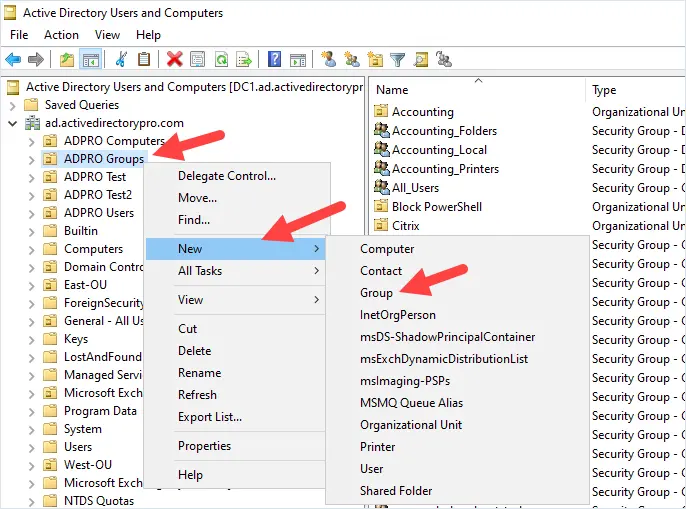 Next, give the group a name, and select the group scope and group type.
Tip: Come up with a naming convention for your users, groups, and computers. For groups you want to be descriptive so your admins can easily understand what the group is for. Also, use the description field to provide more details about the group.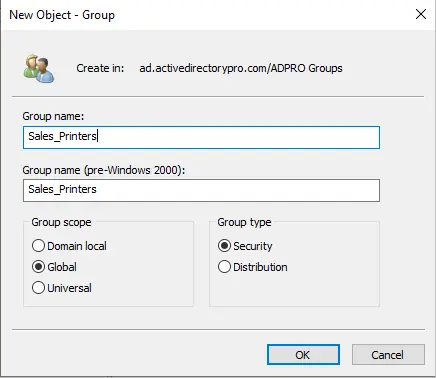 In this example, I created a group called "Sales_Printers". This group will be used to give all sales staff access to the sales printer.
Open the group and give it a description, the more details the better.
Click ok.
If you have followed along you should now have a new group created. The last step is to add members to the group.
Step 3. Add group members
To add users to the group click on the members tab.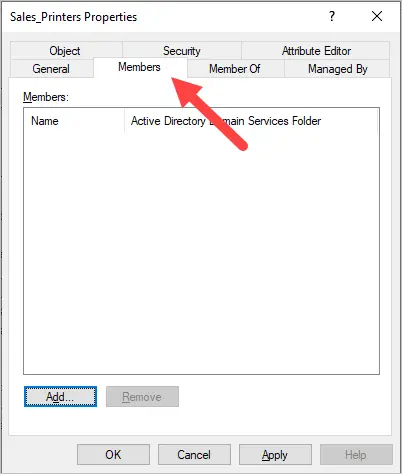 Click the add button and enter or search for a user or computer to add. If you have a bunch of users you need to add to the group then I recommend using the group management tool from option 2.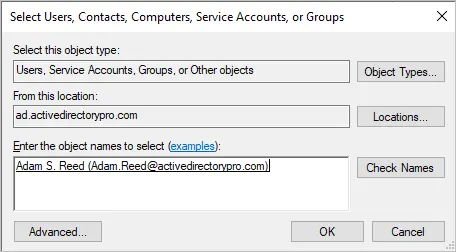 Click OK.
Click Apply and OK.
You are done. You have just completed creating a group in Active Directory and adding a member. If you need to add several users to the group then check out the next option.
Method 2. Create a Group in Active Directory using the AD Pro Toolkit
The AD Pro Toolkit is a collection of tools to simplify the management of Active Directory. In this example, I'll use the group management tools to create and bulk add users to groups.
The benefit of using the toolkit is you can easily bulk create groups and bulk add or remove users to groups. This is a huge time saver and eliminates manual work.
Step 1. Click on Import groups
Click here to download a free trial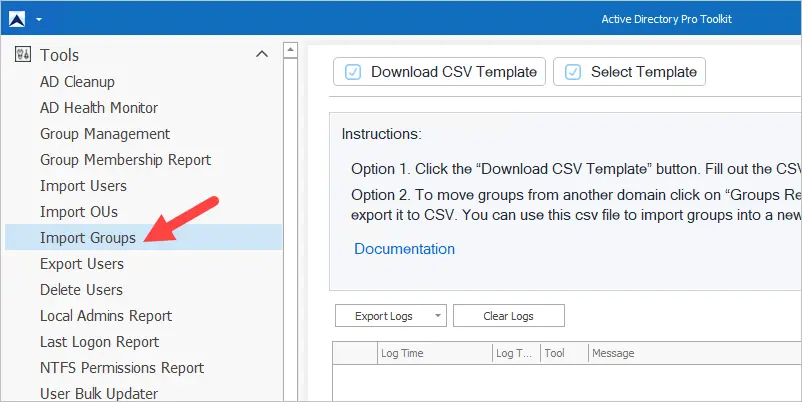 Click on download CSV template.
Save the template to your computer.
Step 2. Edit CSV Template
Open the CSV file and enter your group details.
In this example, I'm going to create 20 groups and add them to the AD Pro Groups -> Sales OU. I've added all the group details to the CSV file.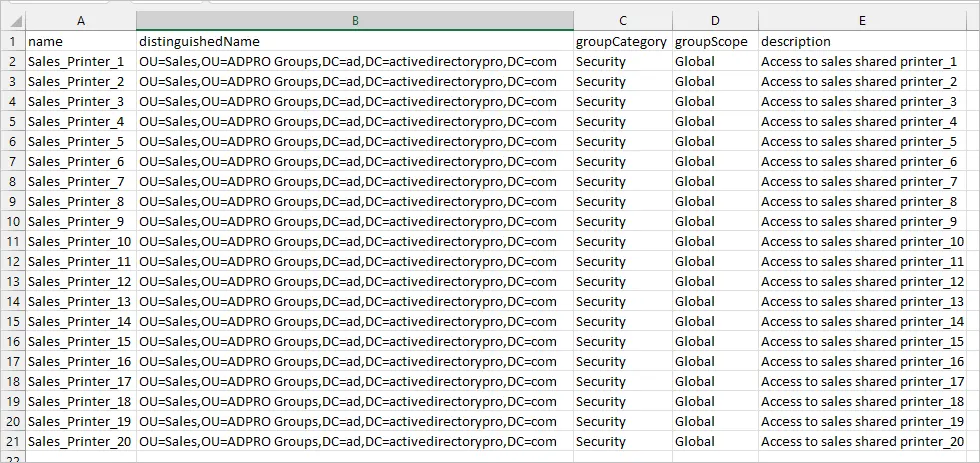 Step 3. Select the template and click run
The last step is to select your template and click run.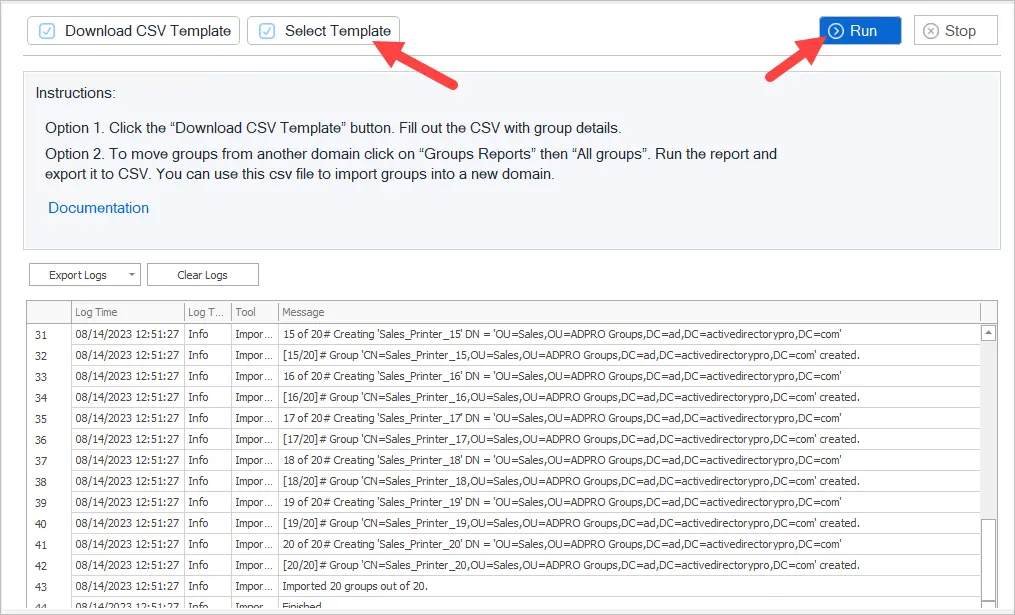 I can see from the logs 20 groups out of 20 were imported.
I'll open ADUC and verify the groups have been added.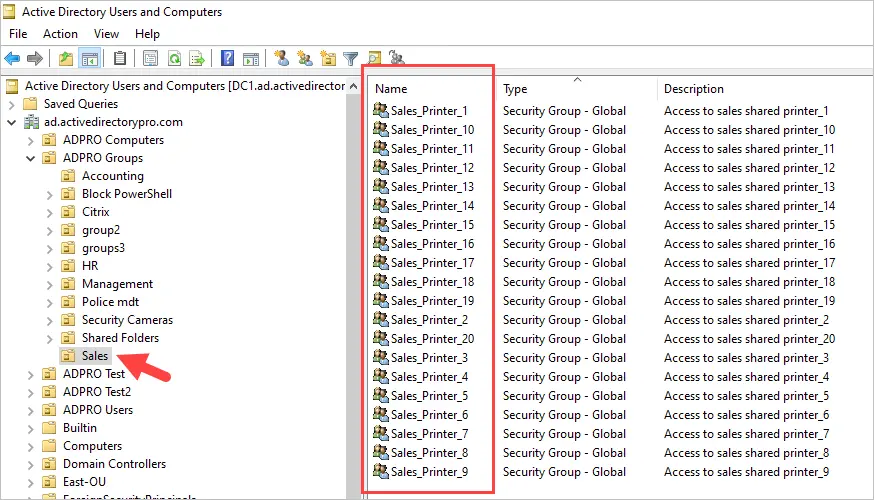 Success! By using the AD Pro Tool I was able to quickly bulk add 20 groups to my domain.
Step 4. Bulk Add Users to Groups
I have 100 users that I need to add to these groups. This would be a lot of manual work using ADUC, it would also be very time consuming. To save time I'll use the AD Pro Toolkit.
Click on group management.
Download the CSV template.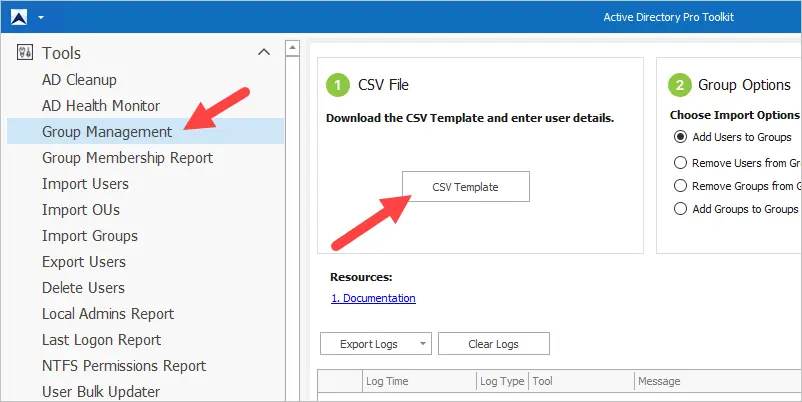 Edit the CSV file to include the user and the groups you want to add them to.
You can add users to multiple groups by separating them with a column.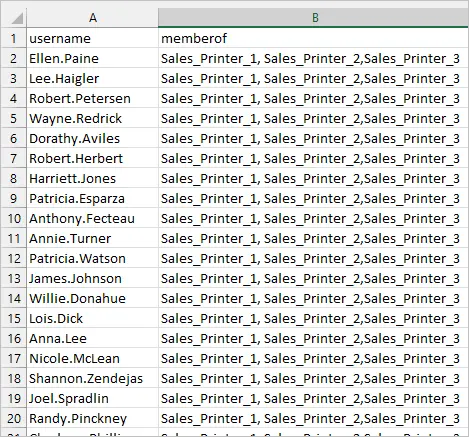 Tip. To quickly get a list of usernames, you can copy the results from the AD Pro toolkit. For example, I ran the export users tool, selected my sales OU and clicked run. I then copied the results to a CSV file. This gave me a list of all the user names that I copied to my template.
In the group management tool, make sure "Add users to groups" is selected.
Select your CSV file and click run.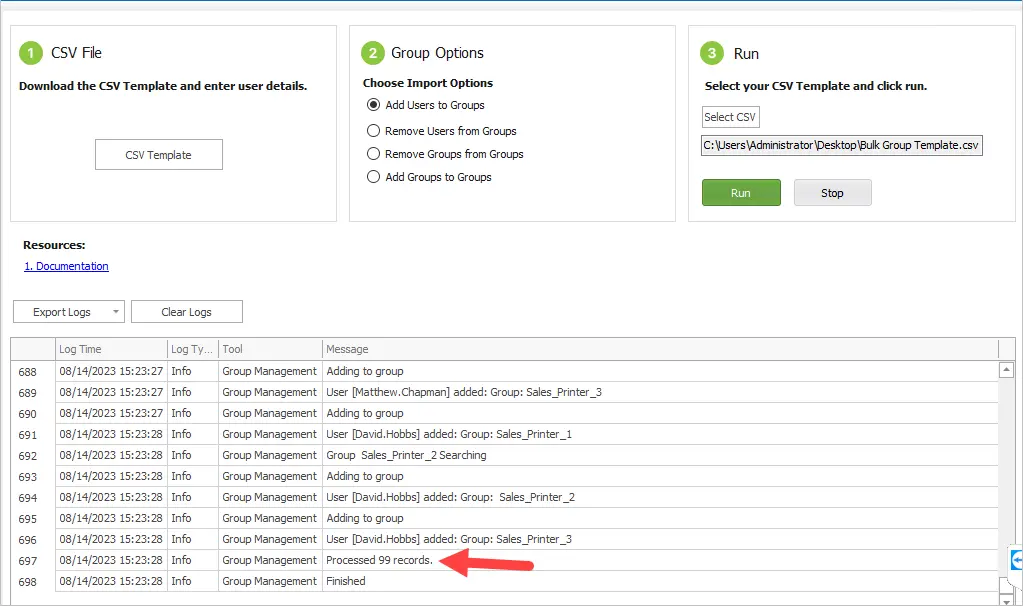 Now if I check the group, I can see that all 100 users have been added.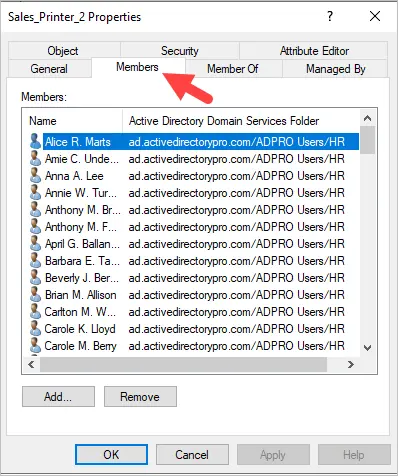 Conclusion
In this guide, I showed you two methods for creating groups in Active Directory. If you need to create 1 or 2 groups then the ADUC is a good choice. If you need to create many groups then the group management tool will save you a lot of time. In addition, the tool makes it very easy to bulk add users to groups, saving you the headache of creating scripts or manually adding the users.