Bulk Update Active Directory Groups
Add or remove multiple users into Active Directory groups from a CSV file
Key Features
Bulk add users into one or multiple Active Directory groups from a CSV file.
Bulk remove users from Active Directory groups
Following these simple steps to bulk add users to groups.
Example 1: Add Multiple Users to Active Directory Groups
1. Create a CSV file and add a user column and a group column.
2. Add users to the user column
3. Add groups to the group column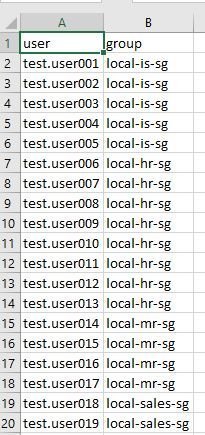 In the above example, you can see I'm adding test.user001 through 5 into group local-is-sg, test.user006 through 13 into group local-hr-sg and so on.
Step 2: Run Bulk Group Management Tool
Open the tool and click the browse button, select the CSV you created in step 1, select "Add Users to Groups" and click run.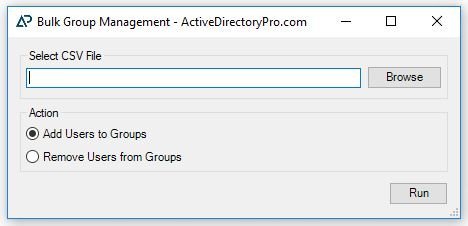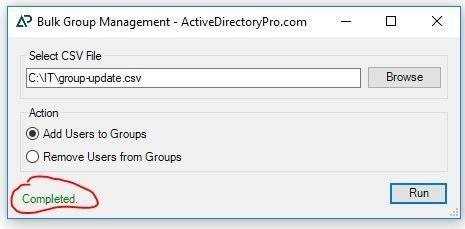 When the tool is done it will display completed in the lower left corner.
Now, I will open one of the groups to verify it updated.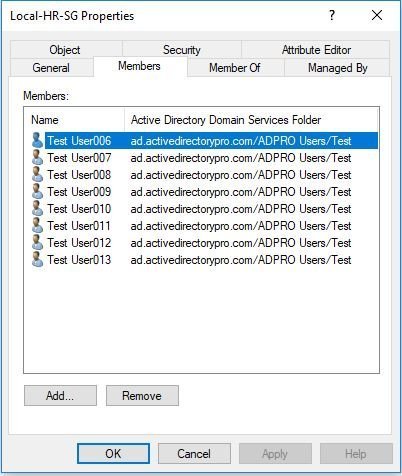 Success, it added all the members from the CSV file.
Example 2: How to Bulk Remove Users from Active Directory Groups
The setup is the same as adding users.
Just setup the CSV file with a list of user names and the groups you want to remove them from.
Run the tool, select the CSV, select "Remove Users from Groups" and click run.