Administrator Guide
Task Scheduler
Description:
This is the administrator guide for using the Scheduler with the AD Pro Toolkit. The scheduler lets you create a schedule that will run the user bulk updater on an automated schedule.
Currently, the scheduler only works with the User Bulk Updater. Other tools will be added upon request.
When the schedule is configured the software can be closed.
You can log out of the computer and the task scheduler will run.
You can create multiple scheduled tasks.
Steps to create a scheduled task.
Step 1. Click on Scheduler from the top menu.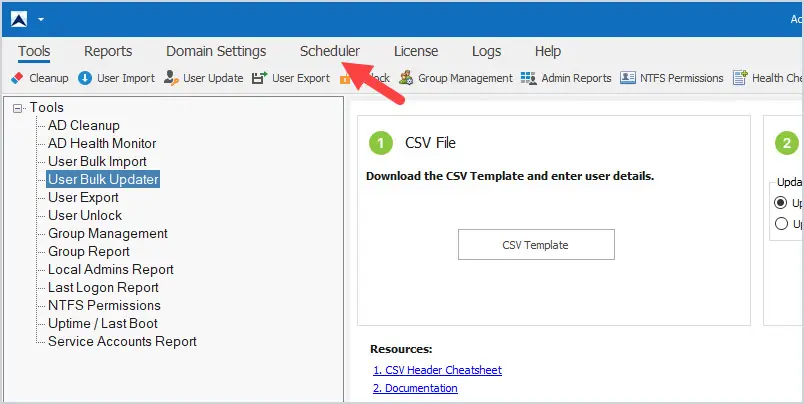 Step 2. Click the Add button to create a new schedule.
Step 3. Setup Task details.
Task name = Name of the task
Credentials = The credentials that the task will run as
Setting = The frequency (how often) the task should run. You can choose daily, weekly or Monthly.
Path = The path to the csv file.
Here is an example schedule. This example will run the bulk updater every day at 11:06 AM and look for a CSV file c:\it\update\schedule_test.csv to use for updates.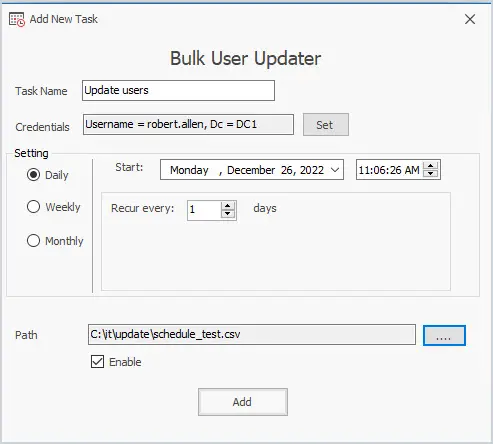 From the Scheduler main screen, you can monitor the task status and next run time.
Log Files
If you want to see the results of a task then view the adtoolkitservice.log file -> C:\ProgramData\ActiveDirectoryPro\AD Pro Toolkit\Logs

Support
If you run into any issues or need to ask a question you can contact us via our contact page.
You can also send us any additional features you would like to see added.