Active Directory Last Logon Reporter
Report Active Directory users TRUE last logon time from all domain controllers.
Export report to CSV or HTML
Report includes users display name, logon name, domain controller, and last logon time.
Reports can be automated using task scheduler. See below for details.
The report can easily be exported to CSV or HTML for further analysis or archiving.
Built with PowerShell so it is easy to use, lightweight and requires no installation.
Search for any user in the table or filter results on any column.
If you are into PowerShell you can completely customize the tool to meet your exact needs.
AD Last Logon is a PowerShell tool that only takes 3 simple steps.....
PowerShell ISE is built into windows, so just open ISE then open the downloaded script. You can also just right click the script and click edit.

In PowerShell ISE, click the run button.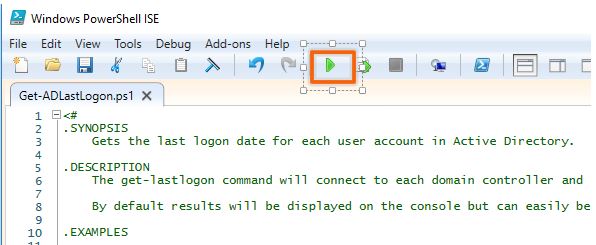 Step 3: Run the command Get-ADLastLogon
In the script pane type the following command and hit enter
Get-ADLastLogon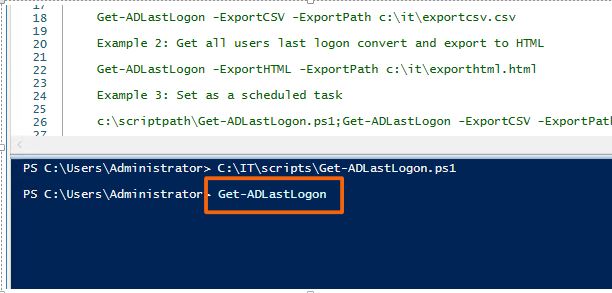 The tool will now connect to each domain controller and find the last logon time for each user.

Once completed results will be displayed in a grid.
You can click on any column to sort the results. The filter box can be used to limit results
to specific criteria like username or specific domain controllers.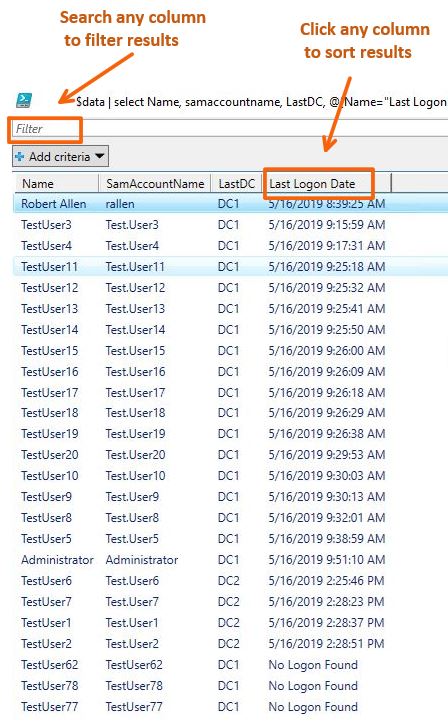 To export results to CSV run this command in the script pane. Change the -ExportPath to whatever location you want.
Get-ADLastLogon -ExportCSV -ExportPath c:\path.csv
To export results to HTML run this command in the script pane.
 Get-ADLastLogon -ExportHTML -ExportPath c:\it\lastlogon.html
Sample HTML Report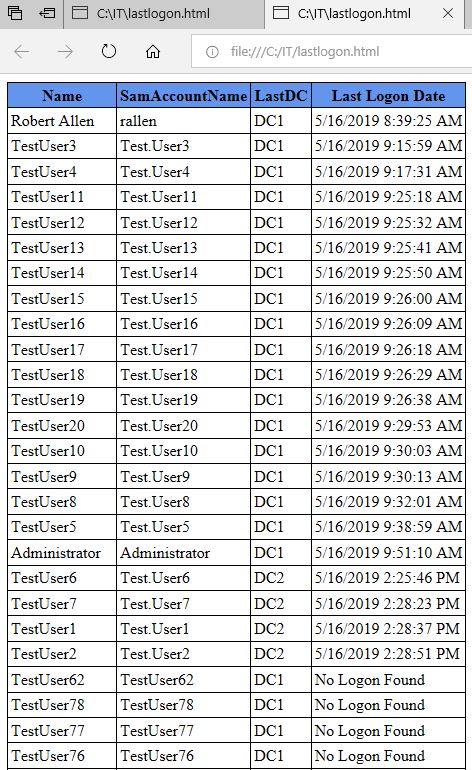 Scheduled Task
You can setup this tool to run as a scheduled task so you can automate reports.
In the action for the scheduled task set the program/script to:
-command ". c:\scriptpath\get-adlastlogon.ps1; get-adlastlogon -ExportCSV -ExportPath c:\csvpath\lastlogon.csv"
Active Directory Pro Toolkit
Huge savings if you buy the pro toolkit. Normally a single tool is $49 each, you can get all 9 tools for only $99
Questions?
Contact our team. Anytime