Active Directory Last
Logon Report Tool
Report users TRUE last logon time for all users, single or users from an organizational unit.
No Scripting Required
Get users REAL last logon
Export to CSV
Key Features
Here are the advantages of using the Last Logon Reporter.
Get Users TRUE Last Logon
This tool will check all domain controllers for the last logon date and report each user's TRUE last logon time.
Save Hours of Work
Manually getting the last logon time for all users is very time-consuming, almost impossible. This would also be a complex script to create. This tool automated that process and saves you hours of work.
Easy To Use, No Scripting
This easy-to-use GUI tool required no coding or scripts. This saves you lots of time by not having to update or change complicated scripts.
Export Report to CSV
The report can be exported to CSV for backup, auditing, compliance, or further investigation.
Customize the Report
The column picker lets you add or remove user fields so you can customize the report to your needs. There are 60+ user fields to choose from, the GUI interface makes it easy to add and remove user fields.
Search and Filter
Choose to report on all users, a single user, or all users from an organizational unit. The GUI makes it very easy to limit the scope of the search to your choice. You can also search the results and filter on any column.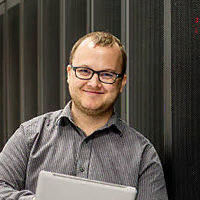 "We use the Last Logon Report tool to create monthly compliance reports for each department. This makes it very easy to export users and their last logon date"

John Teague – IT System Administrator
How to Generate Active Directory Logon Report
The last Logon Report tool is very easy to use, it only takes two simple steps.
Step 1: Select search options
Select to search the entire domain, select an OU, group or search your domain from groups and OUs.
In this example, I will find the last logon for all users.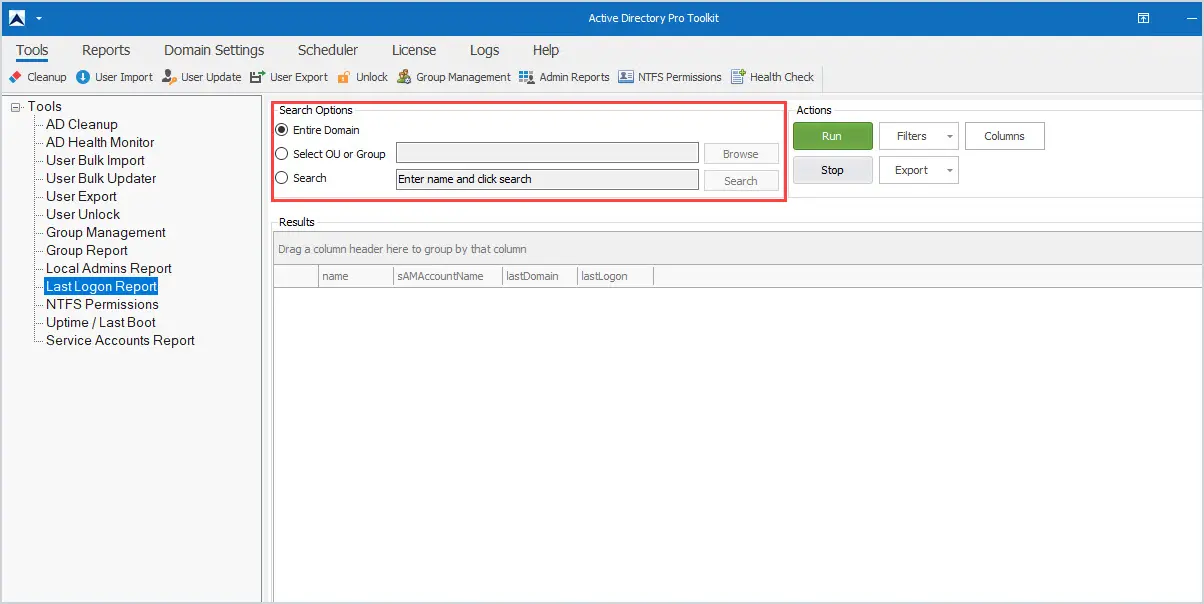 Step 2: Click Run
Now click Run and the tool will get the last logon details for the selected users from all domain controllers in your domain.
Note: The more users and domain controllers you have the longer the report will take. For example, I have 3,000 users and 3 domain controllers and it took 45 seconds to complete.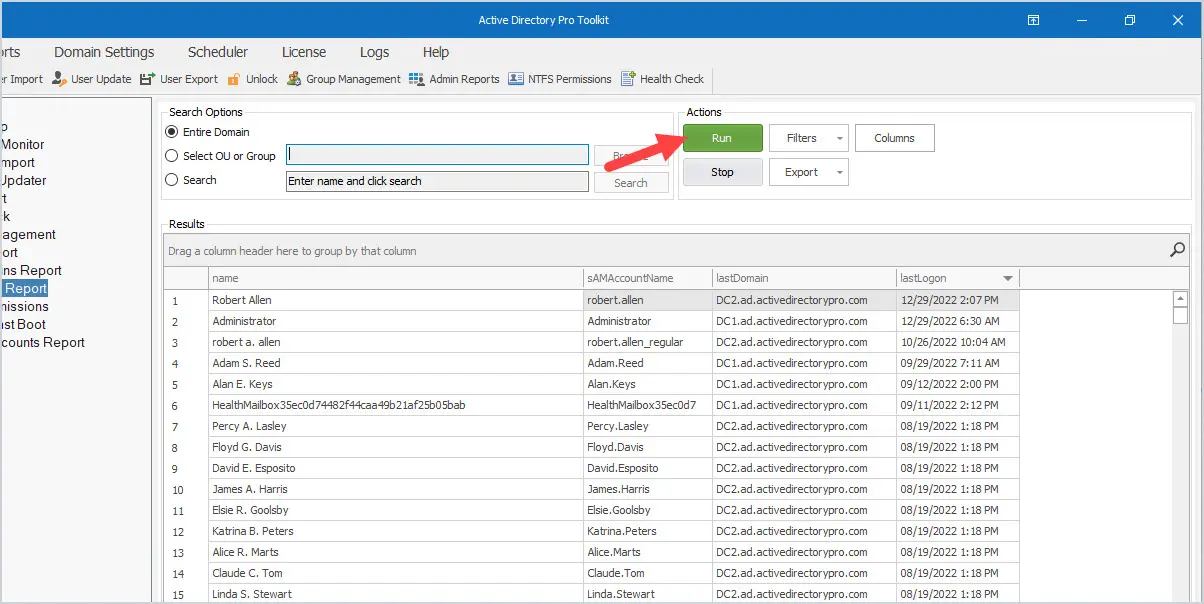 Step 3: Filter and Sort the Report
When the report is completed you can filter and sort on any column. Right-click on any column to display the filtering options.
To export the report to CSV click the "Export" button.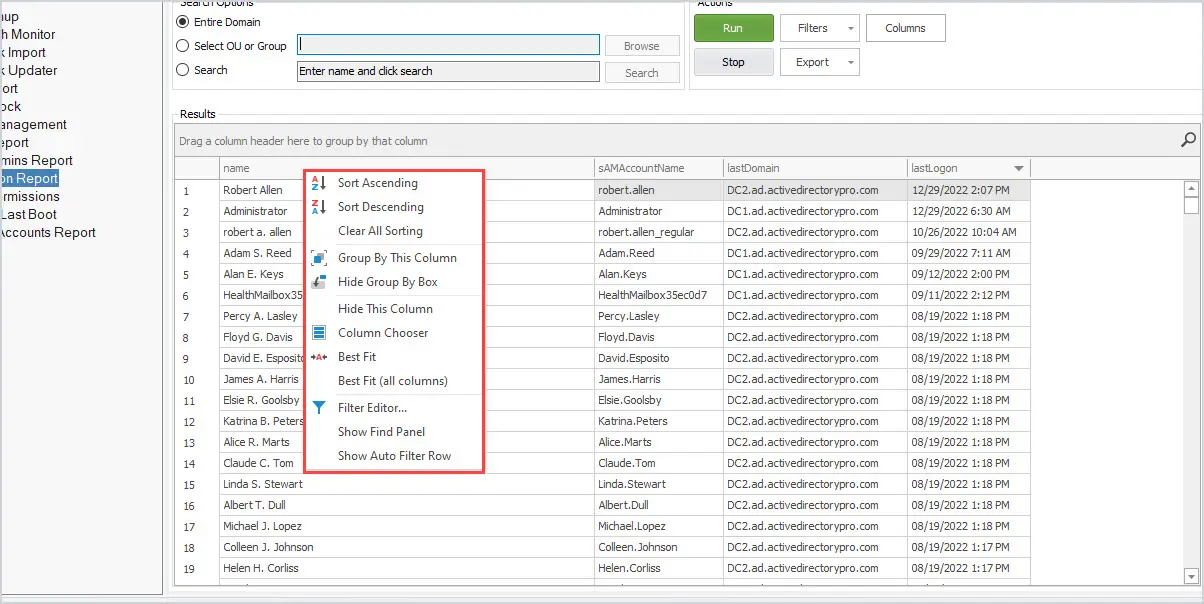 Add or Remove User Properties
To add or remove user properties (attributes) click the columns button. In this example, I added the badPasswordTime and pwdLastSet attributes. You will need to run the report again.
If a user has a blank value it means there is no data for the attribute. For example, you can see below several users do not have any data for LastLogon. This means that the value is blank for the user, the user has never logged into the domain.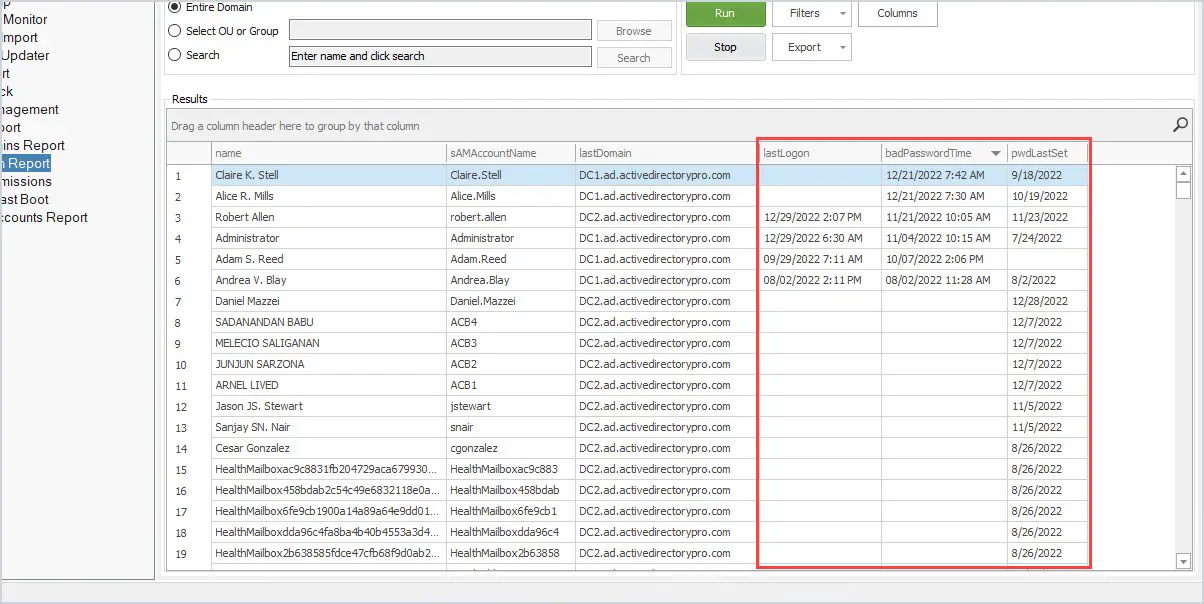 Try The Last Logon Reporter For
FREE
Join 100,000+ global IT professionals and enjoy efficient, optimized, and intuitive Active Directory management that saves time and makes your job easier.