Active Directory Group
Membership Report
Easily generate group reports and group membership reports with this easy-to-use GUI tool.
No Scripting Required
Easy export all groups
Find Nested groups
Features
Here are the advantages of using the Group Membership Report tool.
Easily Report Group Membership
This tool makes it very easy for you to get all user's group membership. You can get all users, users from a group of users from an organizational unit.
Search and Filter the Results
You can filter and sort the results table to quickly find or organize the report. Do you want to just see all the nested groups? No problem, then click the object class column to filter for nest groups.
Easy To Use, No Scripting
This easy-to-use GUI tool required no coding or scripts. This saves you lots of time by not having to update or change complicated scripts.
Get Nested Groups (Recursive)
Group membership can easily get out of control when groups are added to other groups. This tool will help you track down all groups that are added to other groups.
Customize the Report
The column picker lets you add or remove user fields so you can customize the report to your needs. There are 60+ user fields to choose from, the GUI interface makes it easy to add and remove user fields.
Export to CSV
You can easily export the report to CSV for backup, reporting, or migration needs.
List of included Active Directory Group Reports
In addition to the group membership report tool, the AD Pro Toolkit includes over 200 pre-built reports for users, computers, groups, and more. These group reports can be exported to CSV, XLSX, and PDF.
General Group Reports
All groups
Built in groups
Deleted groups
Groups created in last 7 days
Groups created in last 30 days
Groups created in last 60 days
Groups modified in last 7 days
Groups modified in last 30 days
Groups modified in last 60 days
Groups with members
Groups with no members
Managed groups
Unmanaged groups
Security Groups
All security groups
Built in security groups
Global security groups
Local security groups
Universal security groups
Distribution Groups
All distribution groups
Empty distribution groups
Global distribution groups
Local distribution groups
Universal distribution groups
System
Groups not protected from accidental deletion
Groups protected from accidental deletion
Group Membership Reports
Get all domain groups and members
Report users group membership
How to Create
Active Directory Group Reports
Option 1: Create a Group Membership Report
Click on Tools -> Group Report
Then select from the entire domain or browse to select a specific OU or group. In this example, I'll get all groups and members.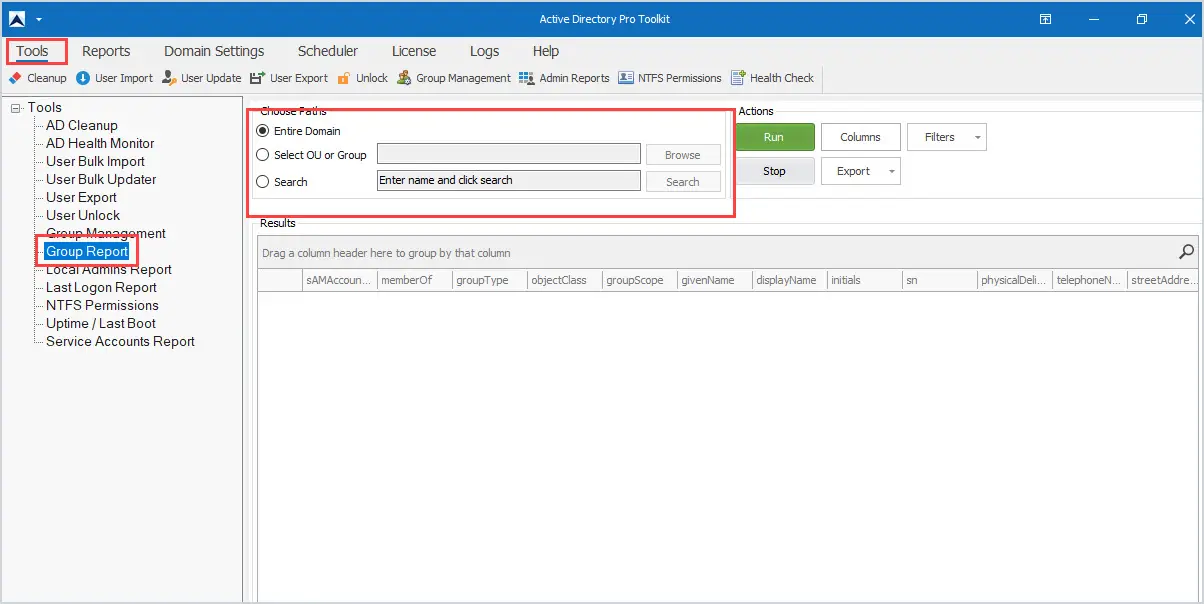 Click the run button to generate the report. If you selected the entire domain it can take a few minutes for the report to complete (depending on how many users and groups you have in your domain).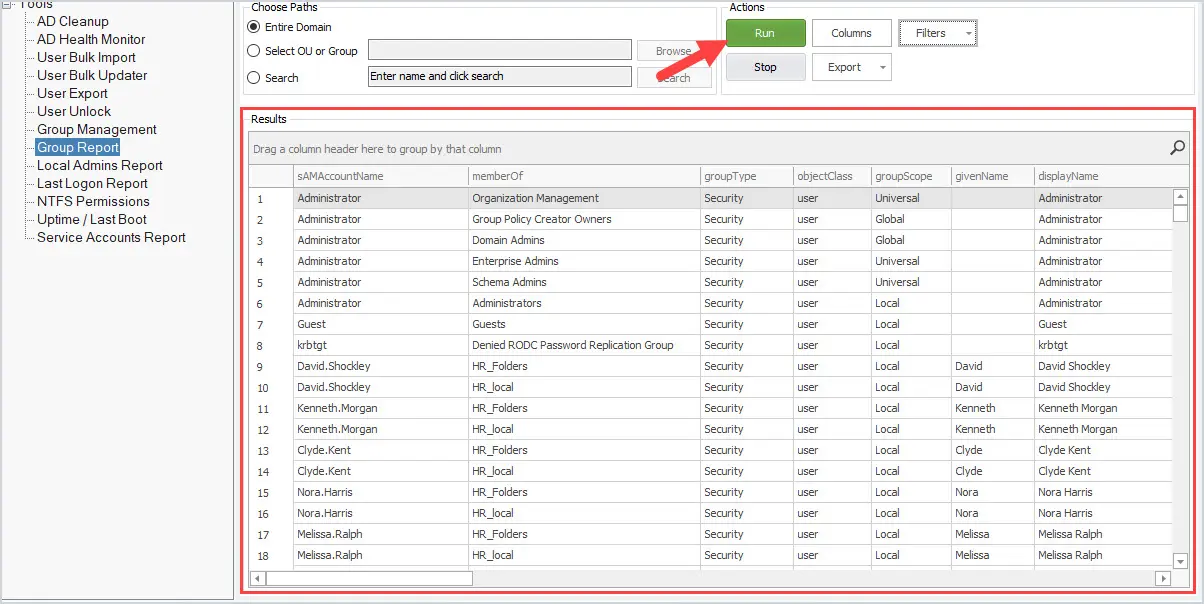 When the report is completed you can click the export button to export to csv or other formats. You can also click on any column to sort and filter the results.
Option 2. Create a group report
Click on Reports -> Groups to see a list of built-in group reports. These reports will only get the groups and details about the groups.
Select a report and click run. In this example, I'll select all groups.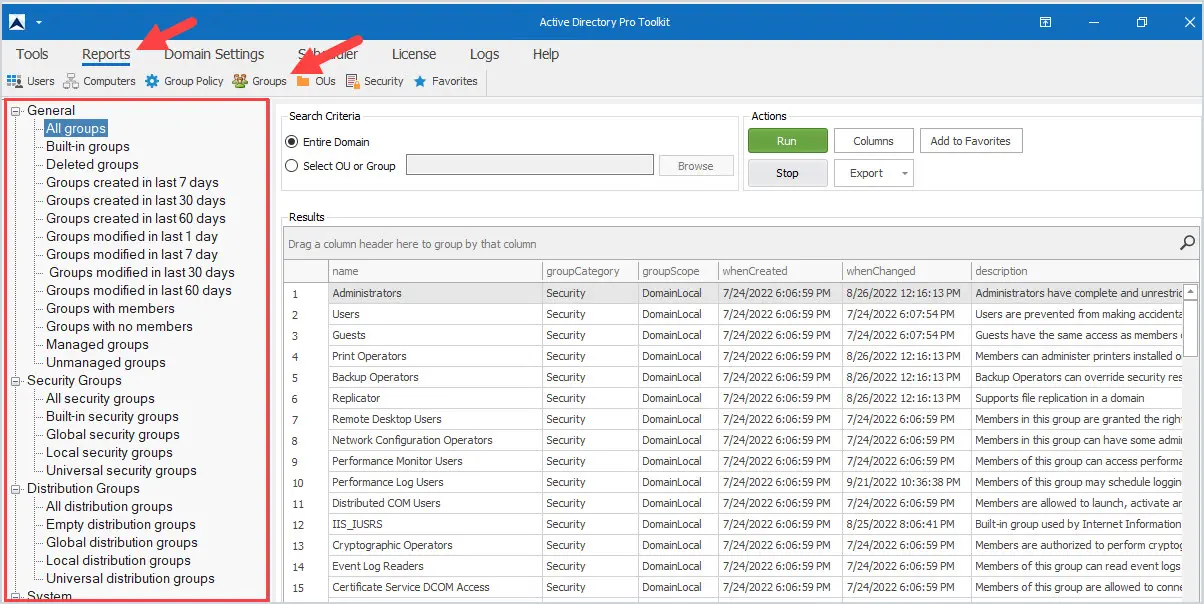 To export the report click the export button.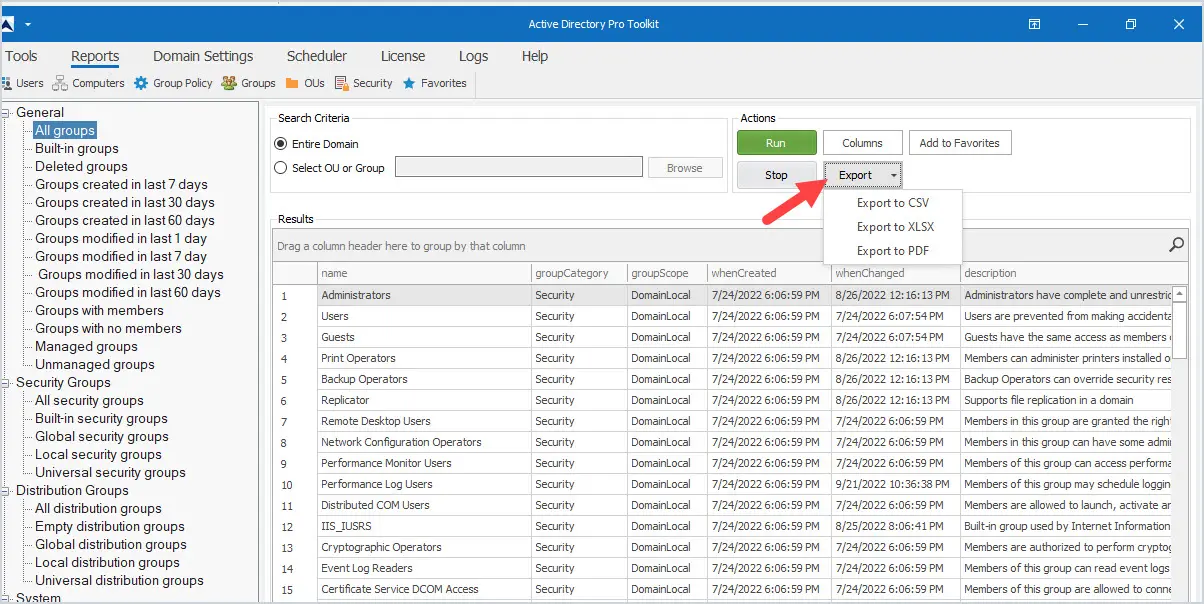 Try The Group Membership Reporter For
FREE
Join 100,000+ global IT professionals and enjoy efficient, optimized, and intuitive Active Directory management that saves time and makes your job easier.